Based on balance and the formal perfection of Neoplasticism, the Mondrian wall-mounted shelving unit is a programme of modular bookcases consisting of open compartments and covered doors with the push-pull opening system that easily adapts to any room and any style of décor.
Mondrian has a minimalist and essential design, where the apparent simplicity of its shapes provides the setting for a solid supporting structure: side panels and shelves are made from blockboard, 30 mm thick, which ensures high structural strength for the furniture piece.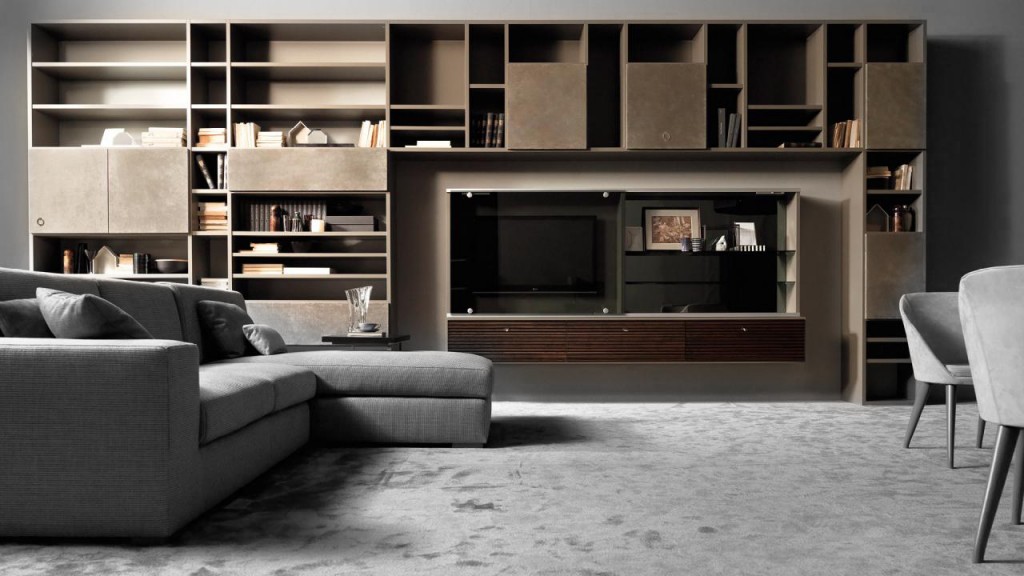 The modules are available in 4 widths, in open versions or with doors, and can reach standard international heights (such as 228 cm and 290 cm). They provide maximum compositional capacity in every room of the house and in every architectural style, as can be seen by the solutions shown here, designed to meet various space requirements. All modules can also be made to measure and with any desired height.
Just like the rest of the Concept collection by Caroti, the Mondrian wall-mounted shelving unit can be produced in any RAL K7 CLASSIC matt effect, coloured lacquer, while the doors can be covered in eco-leather, leather or nubuck, choosing from a broad spectrum of colours in light and dark shades, from beige to brown, to white pearl and charcoal grey.
Industrial, vintage, monochrome, natural chic. Over 1,000 different available colour and design combinations can be chosen from a mix of complementary materials to give your home a unique and original style in tune with your own personality.
In line with current fashion trends, Concept by Caroti proposes for 2016 a series of new, refined and seductive colour combinations with dark intense, coffee and dove tones, matched with the nude look of face powder and grey beige introducing the warm finish of burnished steel.
The result is a charming and sophisticated ambience which blends with all architectural styles, from the metropolitan loft to minimalist villa.
Discover how to create a customised contemporary style project for a wall-mounted shelving unit. Contact our technical staff straight away and receive advice from our style consultants.