The secret for a perfect modular bridge cabinet is to transform a need for space into an elegant and homely design solution, as these esteemed interior design studios have done. Let's find out more about the most creative design proposals.
Modular bridge cabinet: from idea to implementation
The customer needed to optimize the space for a guest room arranged lengthwise, with a entrance door and window on one short side and ample side walls.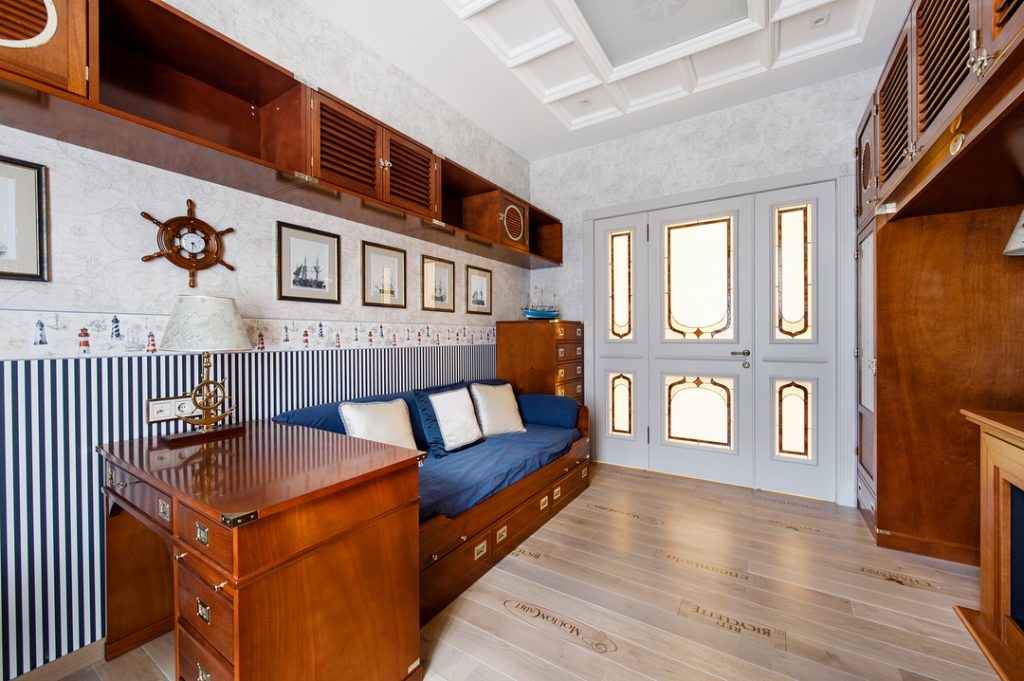 The ideal solution came quickly, thanks to the numerous modular bridge cabinet solutions offered by Caroti and the creative ideas of our partner RADIUS INTERIOR DESIGN, from Kiev, Ukraine.
Modular bridge cabinet with bookcase and sofa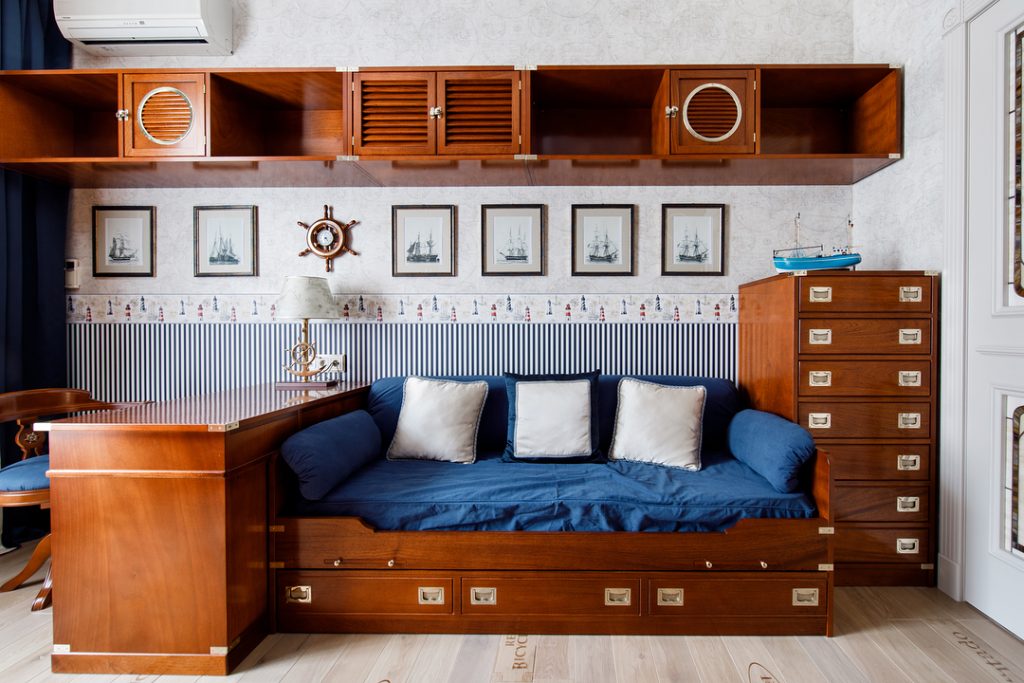 On one side of the room, a composition was created with a suspended bridge bookcase along the entire length of the wall. Below is a chest of drawers, a sofa bed and a desk with a swivel chair.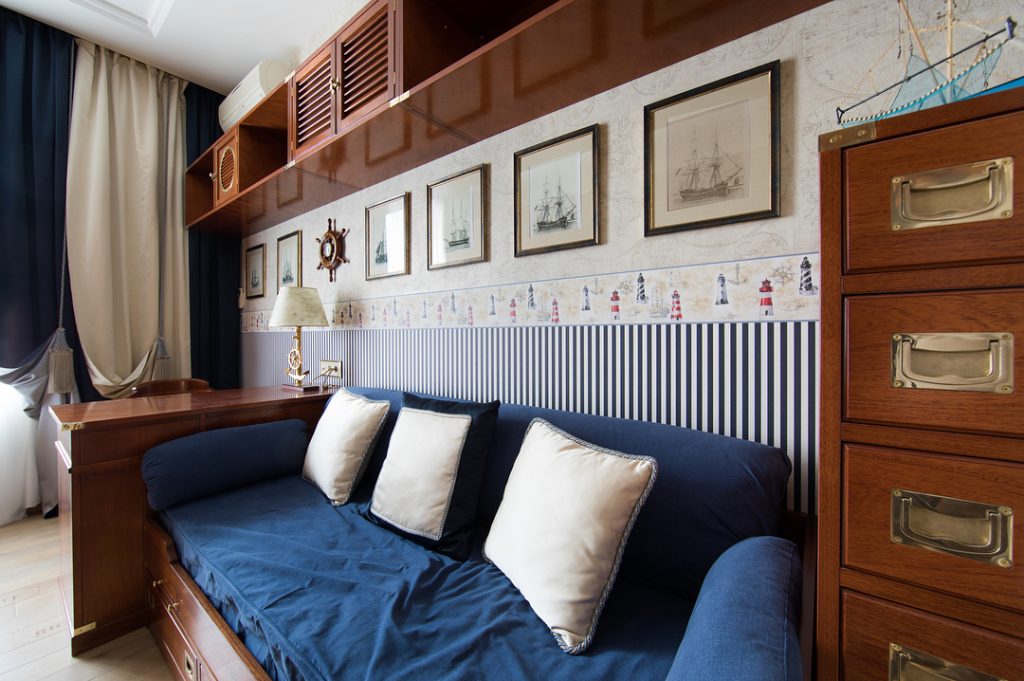 The finish chosen for the furniture is Natural Mahogany, whose warm hazel tones create a soft contrast with the combination of white and blue used for textiles and wallpaper.
Modular bridge cabinet with TV stand and fireplace
On the opposite side of the room, a modular bridge cabinet has been created with a combination of decorated glass and wooden doors, of various sizes and depths, and open compartments and drawers, covering a total length of approximately 4 metres.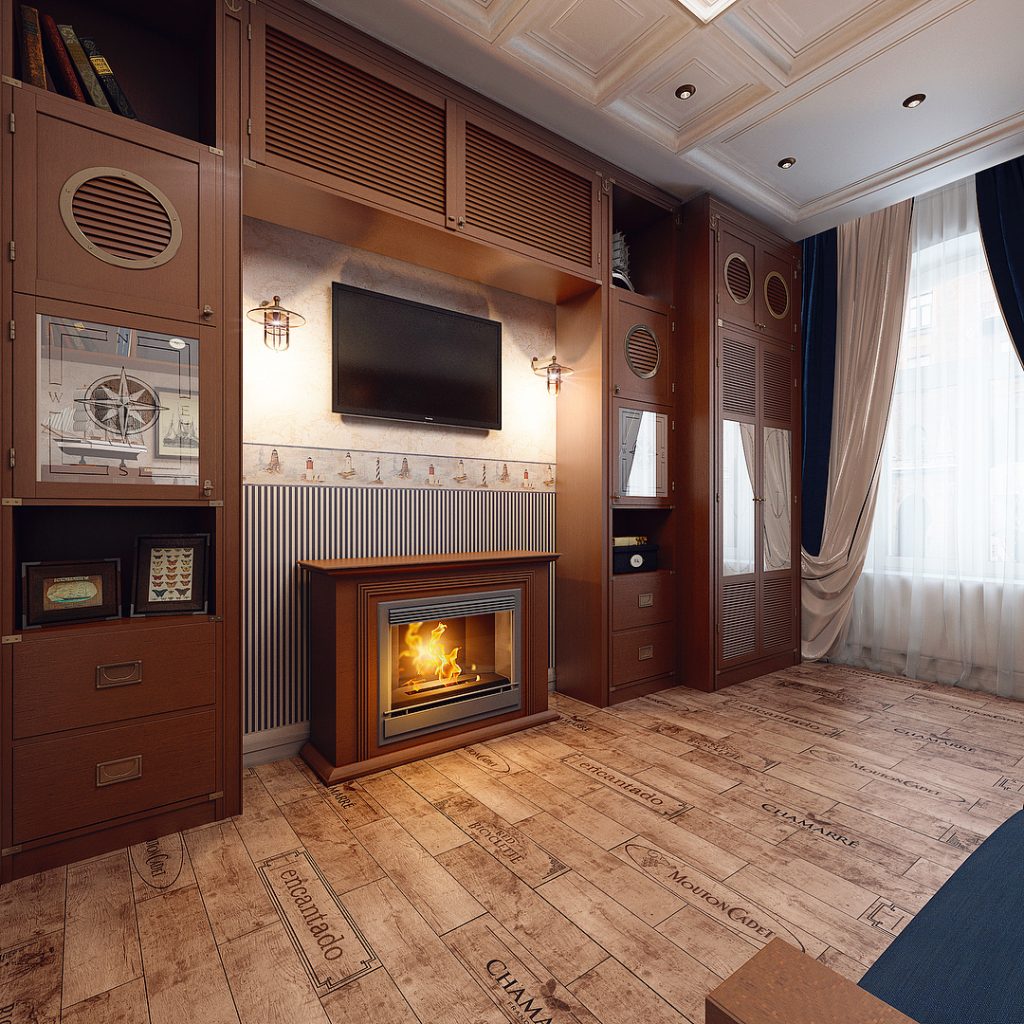 At the centre of the composition is a TV stand and a cosy and suggestive decorative fireplace.
Modular bridge cabinet with door passage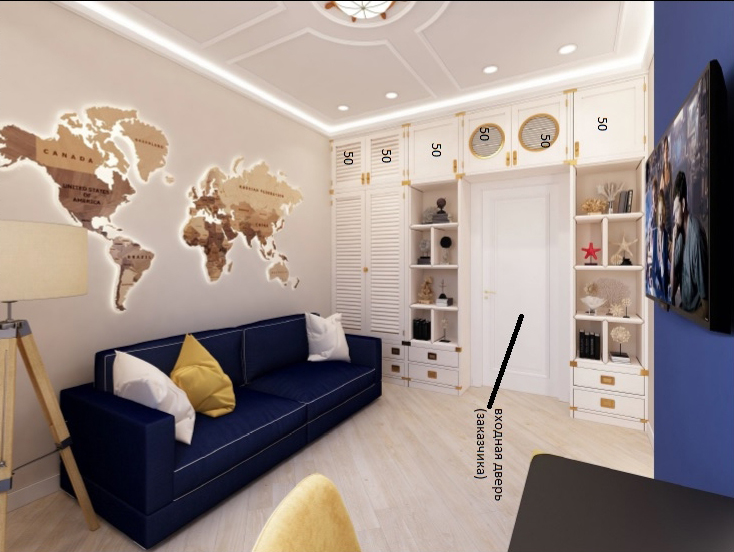 In the second project, the designer used Caroti's modular system to create a modular bridge cabinet above and to the sides of the entrance door to the room. The width of the wall was fully occupied by the piece of furniture to obtain the effect of a wall closet.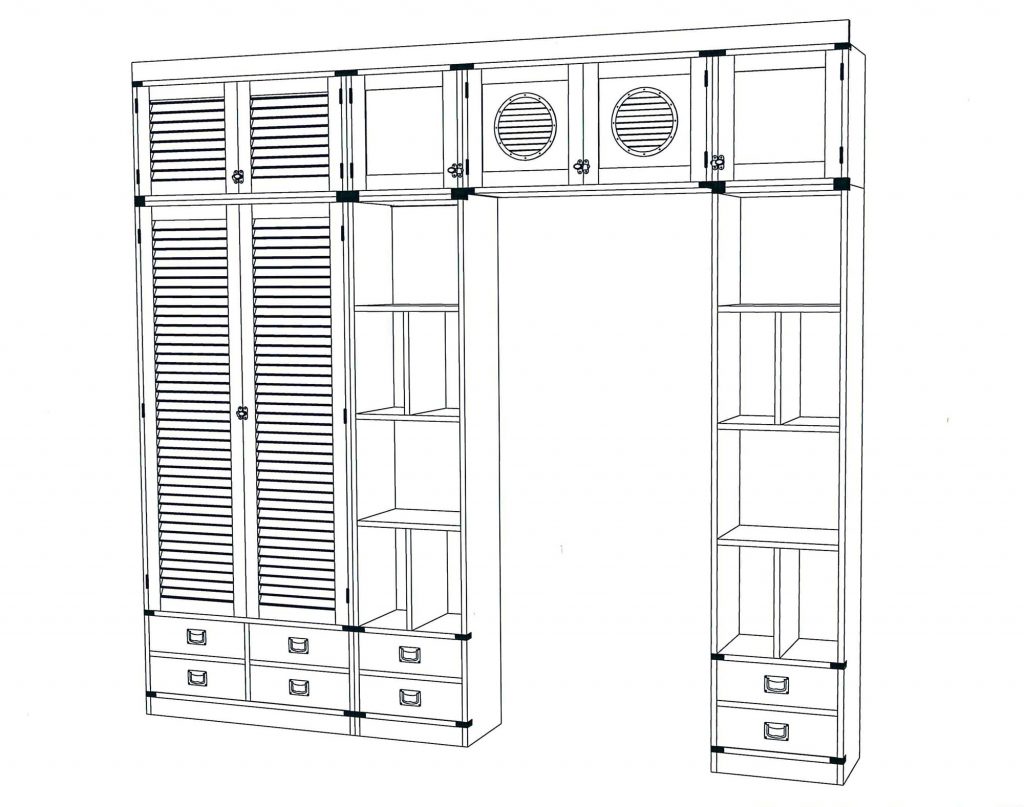 In this way, the room appears airy and spacious, since the furniture is completely integrated with the interior architecture. Furthermore, the combination of glossy lacquer and black mahogany gives this guest room an eminently refined style.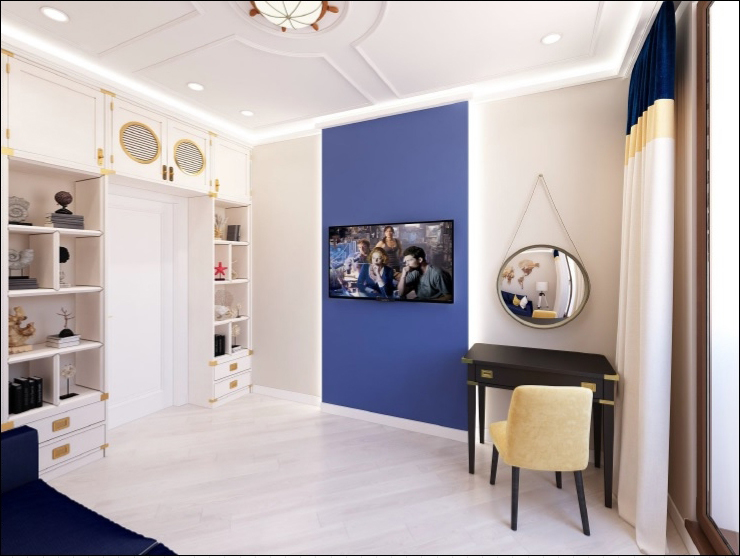 Ceiling and accessories with a nautical touch
The designer's talent emerges from a carefully considered yet highly original choice of nautically-themed details and accessories for furnishing the room, including our polished brass wall lamps with Atlante parchment lampshades and matching desk lamp.
Atlante Table lamp

Atlante wall lamp
Another important element is the ceiling. The first project combines a wooden coffered ceiling and recessed spotlights with a sandblasted mirror skylight. The decorative result is naturally reminiscent of a Rose of the Winds. The second project uses a geometric decoration to suggest cardinal points and features a helm-shaped chandelier in the centre.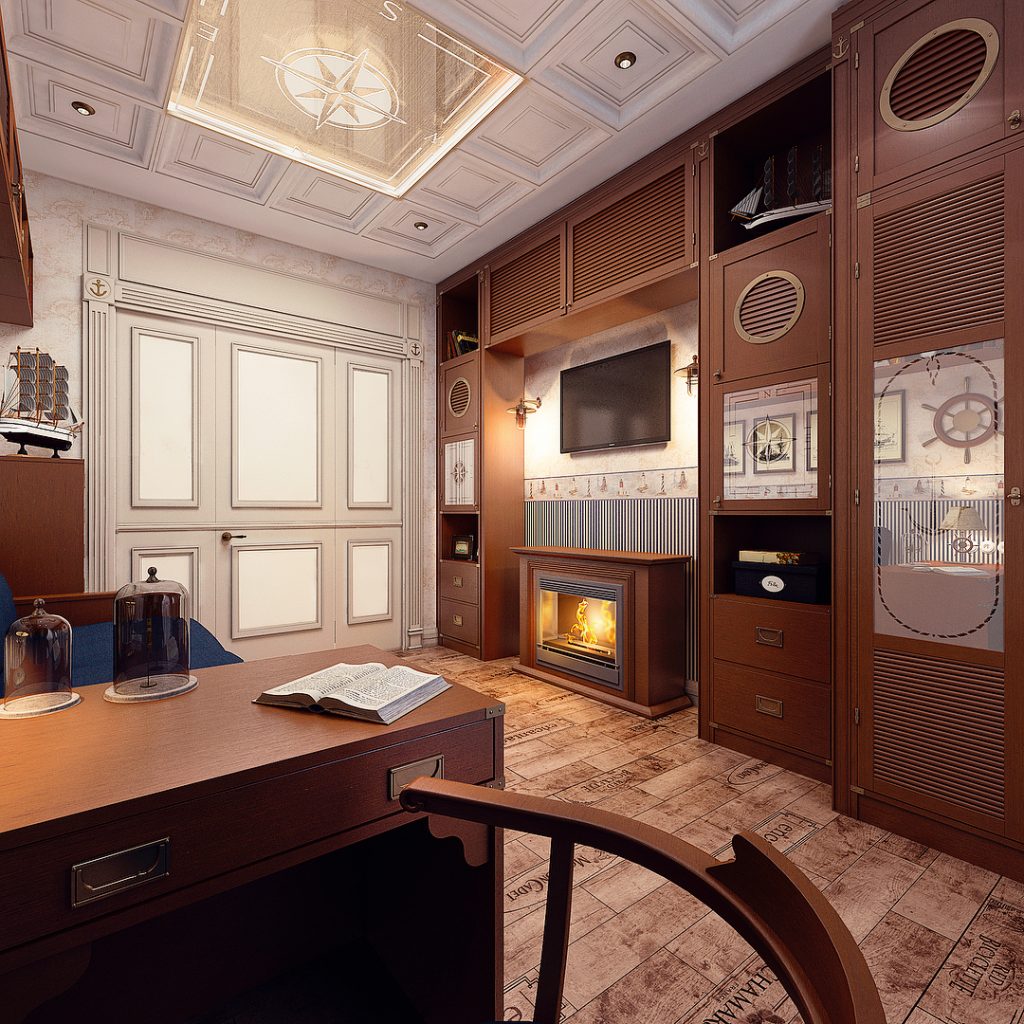 If you have a limited space that could benefit from a standard or tailor-made modular bridge cabinet, get in touch with our office now, and our technicians will start developing the best compositional solution for your needs. You can also visit our company showroom to discover many other furnishing solutions for the whole house.