The dining room is an area in the home where design and aesthetics are at the service of functional features, both in small spaces and in spaces connecting to the living room. For this reason the trends in 2016 involve the return to fashion of round table solutions that make the most of available space while ensuring comfortable seating positions and a sophisticated and elegant design.
The HELIX round table from Concept by Caroti has a diameter of 160 cm and can easily accommodate up to 6 chairs, responding to all these needs. This modern style round table is available with a smoked glass top, 10 mm thick, with a bevelled and polished edge, or with a top in solid ash wood with "Flat" smooth effect, supplied in 5 different colour finishes with "Zero Gloss" matt effect.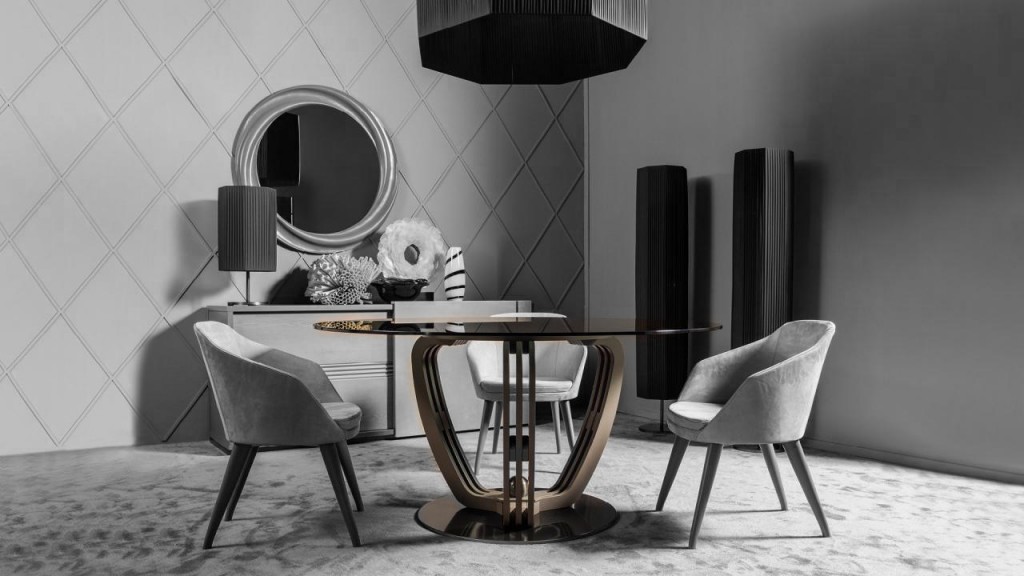 The base of the table consists of a triple helical structure with a concentric base in lacquered wood with satin or burnished steel inserts and accessories. The finish is available in any RAL K7 CLASSIC lacquer colour with matt effect: over 190 colours providing the utmost in customisation to suit the tastes and needs of the most discerning customers.
To complete the living area you can also add the matching Exagon Chair with its wooden legs and available with upholstery in faux leather, leather, nubuck and fabric, choosing from a broad spectrum of colours in light and dark shades, from beige to brown, to white pearl and charcoal grey. The Exagon chair can also be produced with matching coverings, as proposed here, with the interior side in fabric and the exterior in nubuck with contrasting colours.
Every dining area also requires its own storage unit, such as a sideboard. So, Concept by Caroti proposes the matching ZEN sideboard with 2 sliding doors: one in solid ash with smooth "Flat" surface alternating with indented "Bonseki" workmanship, the other covered with faux leather, leather or nubuck with steel inserts. The inside houses 2 crystal glass shelves and you can have LED interior lighting with motion sensors for automatic switching on and off. The finishes match the table and chairs to perfection creating coordinated styling and attention to every detail.
Conversely, if you are looking for a rectangular or square table for the living zone, take a look at all the dining room contemporary style proposals of Concept by Caroti.