Tired of standard modular units? How about a curved, bridge or arched bookcase? Such a model offers a valid alternative and brings a touch of refinement and original style to a room, almost as if it were a work of art on the wall. As we will see in the following projects developed by well-known, international interior design studios, using the Caroti Arkata model, an arched bookcase can be a great addition to a sleeping area, such as in a child's room, but also to a larger sized living area. Let's see 5 ways of using an arched bookcase!
An arched bookcase above a bed
An arched bookcase is ideal for a child's bedroom, since bright colours and sinuous lines give a pleasant effect to the whole room. In addition to offering storage space, the arched bookcase frames the bed like a picture on a wall and can be customized for any particular taste.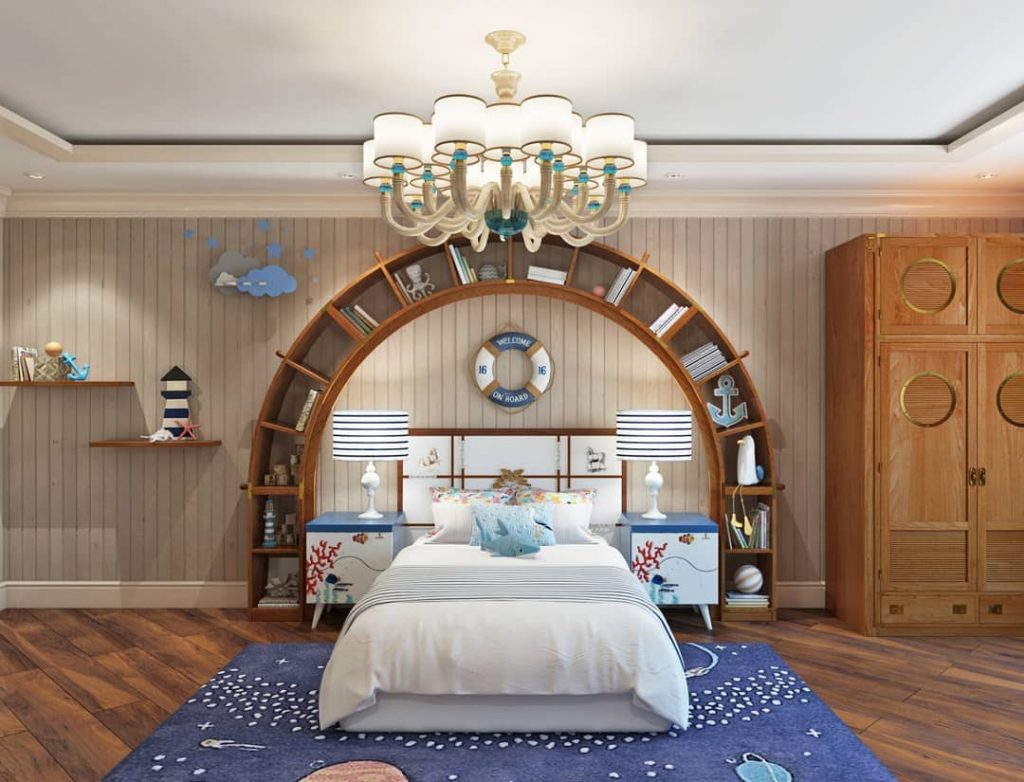 In this custom project developed by Nikolay and Svetlana Efremov, interior designers from Sevastopol, Crimea, a Caroti Arkata bookcase, with a natural mahogany finish, has been combined with furniture collections from several other brands to create an even more fun and sophisticated atmosphere.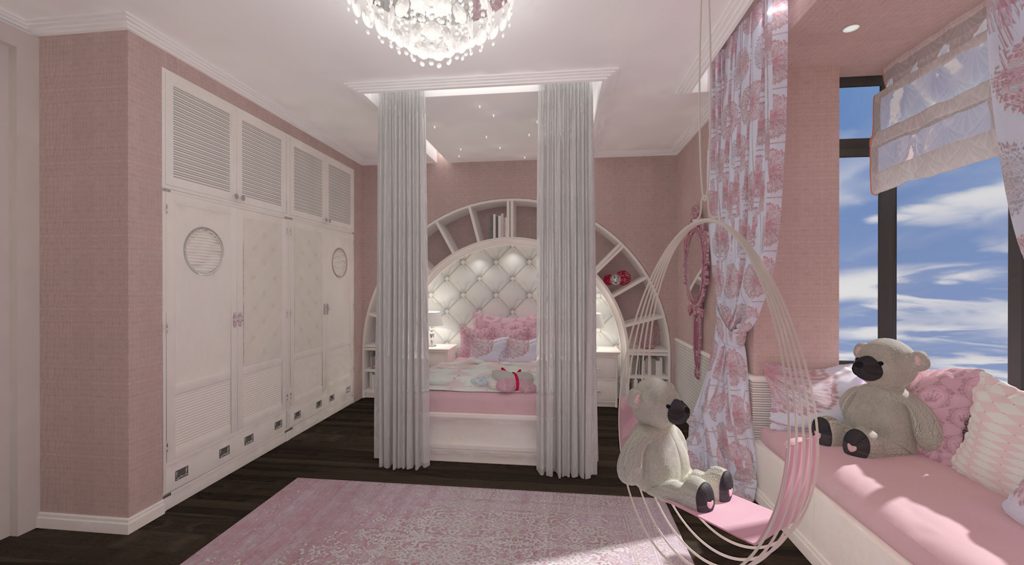 In the second project, the Caroti Arkata bookcase has been customized with a quilted, padded panel, which acts as a soft headboard for a queen-size bed, flanked by two bedside tables. The furniture finish is a white lacquer with satin nickel coloured accessories that complement the romantic powder pink tones chosen for the rest of the space.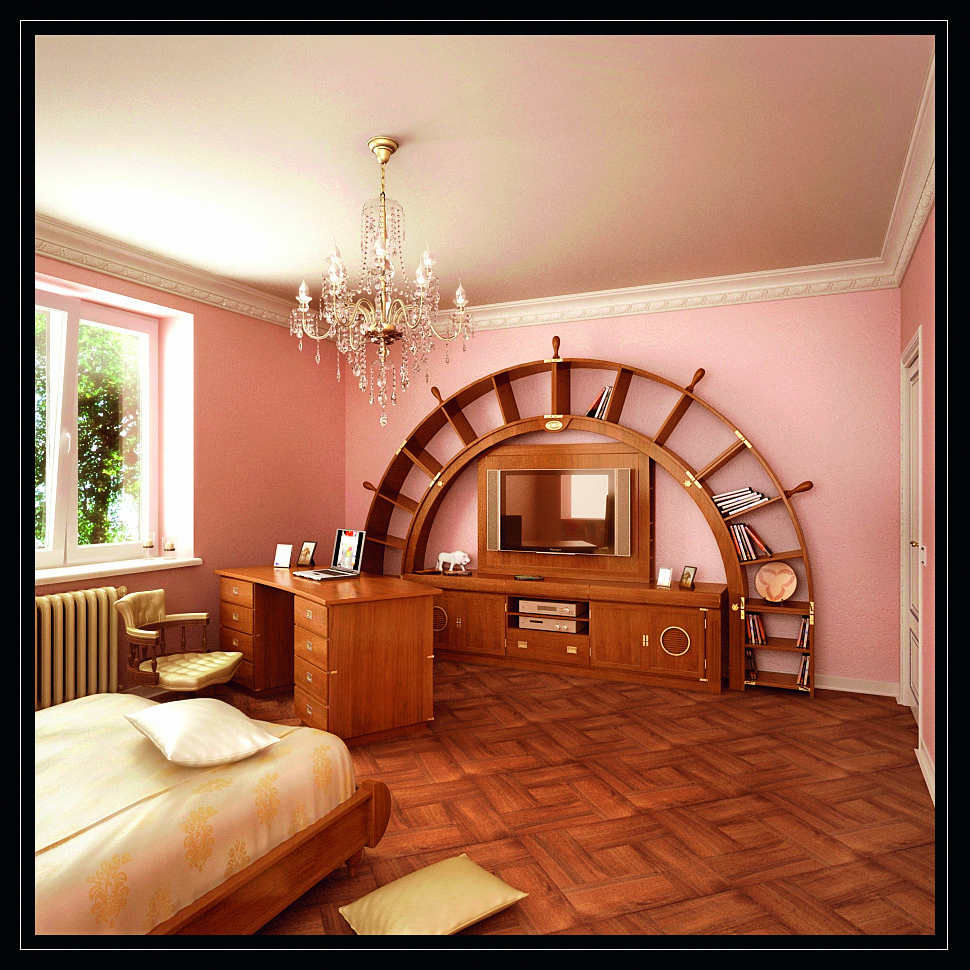 You can also use the Arkata bookcase above a TV stand to create the perfect relaxation area opposite a double bed.
An arched bookcase above a desk
An arched bookcase perfectly performs its natural function as a storage unit for books and other useful objects needed for work or study. This is why we often see it combined with desks, shelves and chests of drawers in children's bedrooms.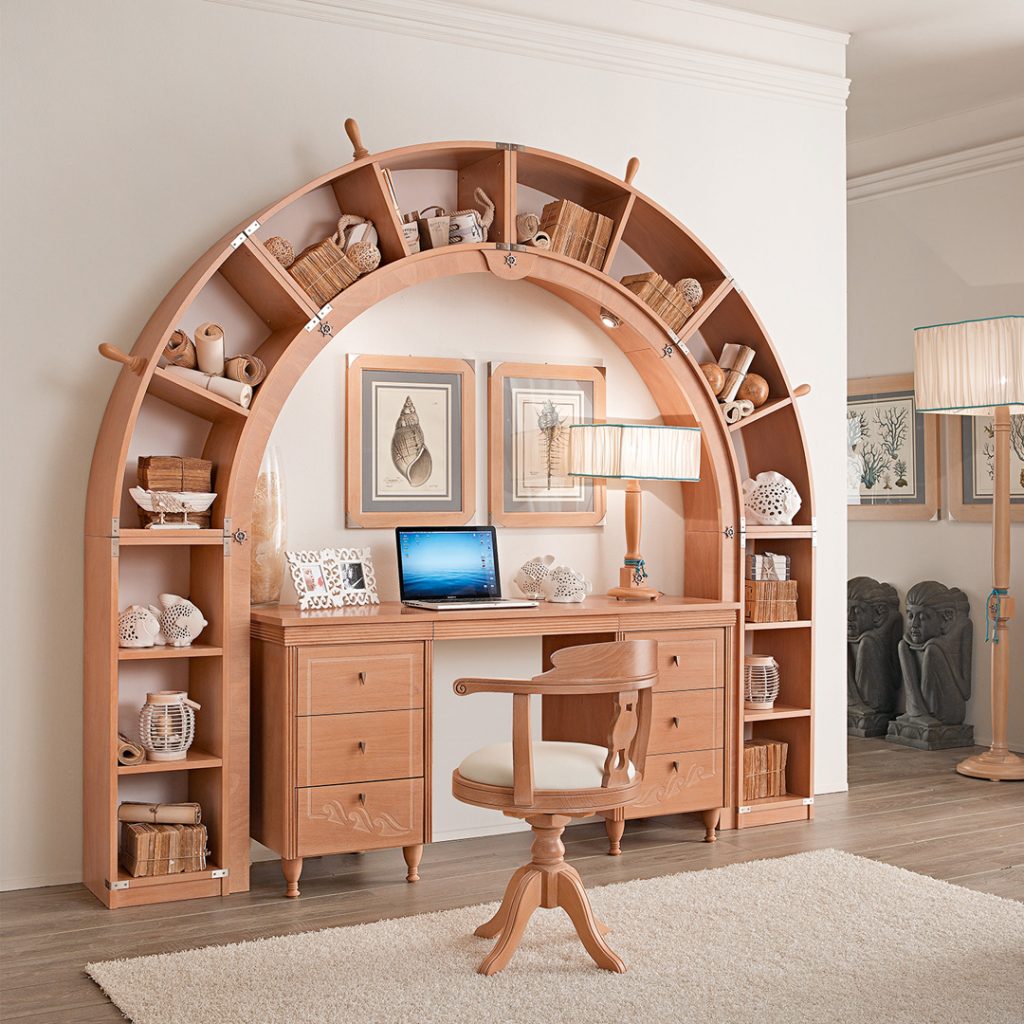 The Petit Arkata bookcase is a revised version of the Caroti flagship, designed for more intimate settings. Measuring 250 x 228 x 33 cm (LxHxD), it can accommodate a 9-drawer desk with a padded swivel chair.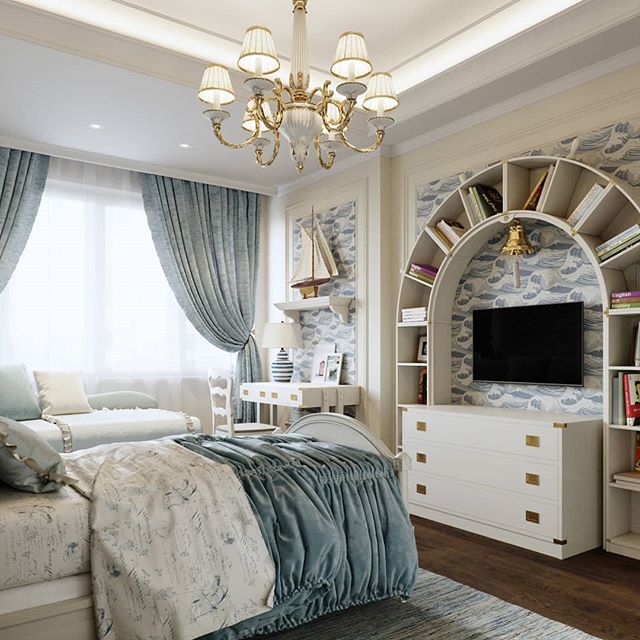 Or you can insert a spacious chest of drawers underneath, just as Interior Designer Evgeniy Zhdanov of St. Petersburg, Russia, did in this bedroom.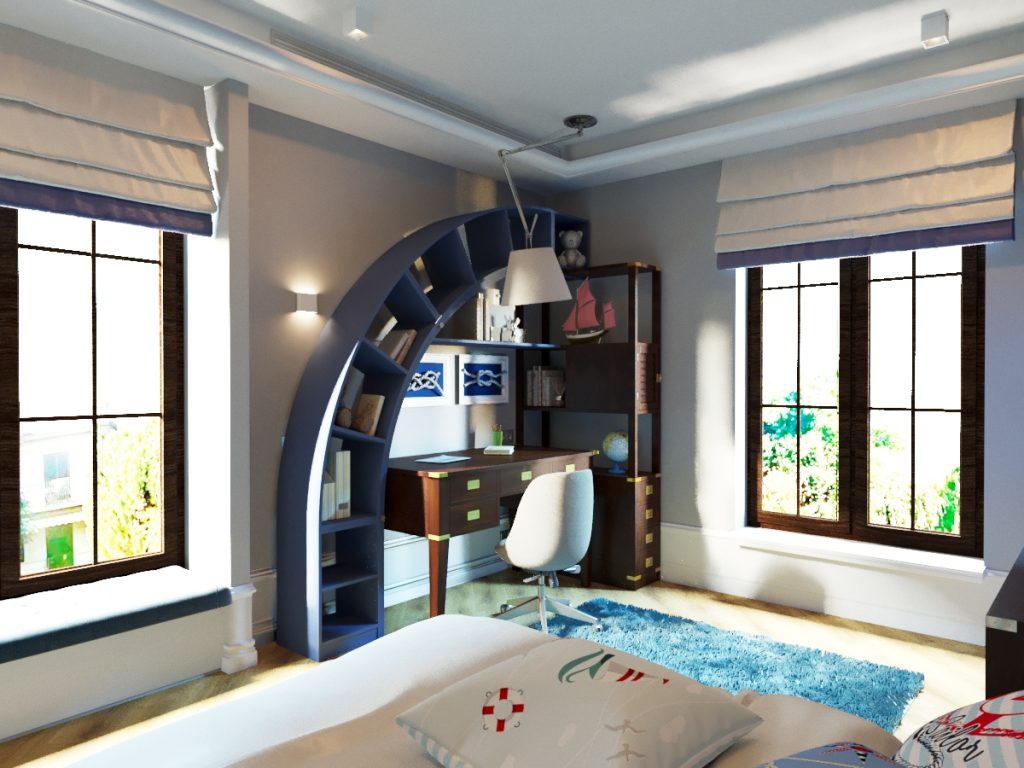 Another original idea is to use a half-arch bookcase with an L-shaped module to take full advantage of an empty corner of a room. To obtain this composition, a Caroti Demì Arkata bookcase, measuring 172 x 229 x 33 (LxHxD), can be used, and fixed either to the wall or on top of other modules. The two-tone Navy Blue and Moka Mahogany finish offers an extremely elegant and refined touch, perfect for a young boy, for example.
A double-sided arched bookcase as a room divider
Many, and especially modern, homes feature open spaces and various functional areas combined in a single environment. In this scenario, an arched bookcase makes a smart and elegant room divider.
The Arkata double-sided arched bookcase offers a standard 264 cm wide opening, with a total footprint of 346 x 272 x 33 cm (LxHxD). The opening width and height of the portal can be made to measure on request.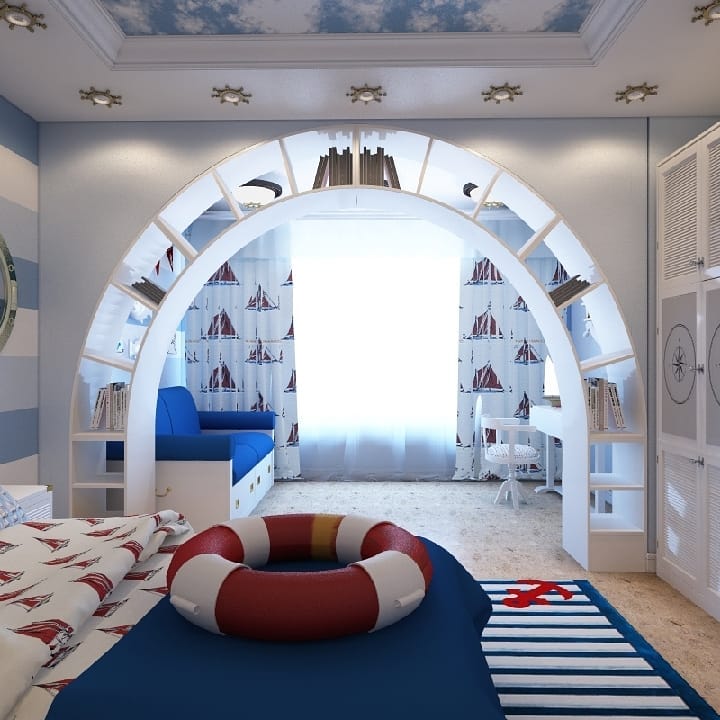 Here we see it used in a child's room to separate the sleeping area from the study and play area.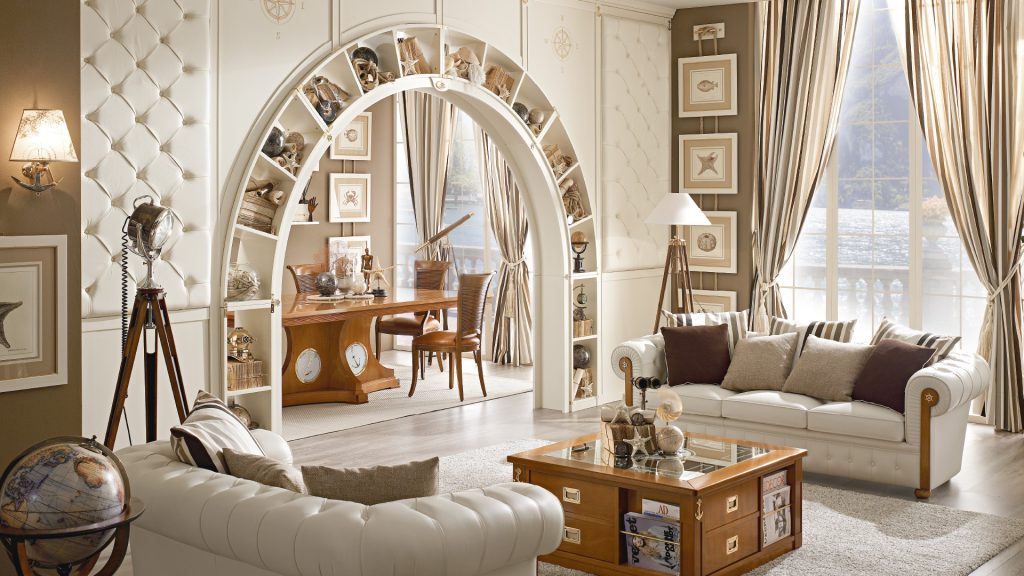 Instead, in this project, it is used to harmoniously combine living and dining areas. The Arkata double-sided bookcase integrates itself structurally with a wood-panelled wall, with a hand patinated lacquer finish, compass rose decorative theme and quilted leather upholstery.
The end result is a partition that separates living and dining areas without sacrificing the advantages of the open space.
An arched bookcase for a living room
The arched Arkata bookcase, by Caroti, is a versatile element that lends itself to functional compositional solutions, in not only sleeping and studying spaces, but also living rooms.
With a total footprint of 346 x 272 x 33 cm (LxHxD), and an internal opening 264 cm wide, it can easily accommodate shelves, cabinets, TV stand modules, and more, just as we can see in these elegant solutions.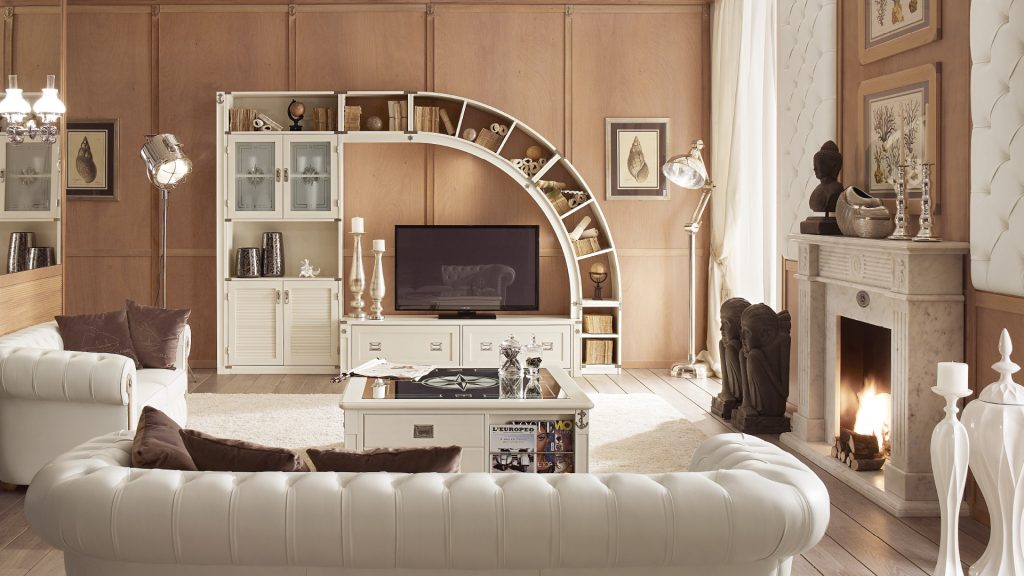 For smaller and more informal living areas, we also recommend the half-arch bookcase Demì Arkata, which can become part of a modular storage unit, with various openings and doors, or can be used as a stand-alone unit fixed to the wall above a sofa, in order to create a play of symmetries in the room.
For those of us not so fond of the standard shapes and forms of ordinary furnishings, the various versions of the Arkata arched bookcase feature all the convenience of a traditional bookcase with a truly original and elegant design that will never go out of fashion, since it combines both classic and modern styles in one unique product.