#Imcozyhere – 50 shades of grey in the Concept bedroom
The sharp nature of black and white brings out shapes, highlights character and personality, stops time in a moment of eternal elegance. The Skyline combination proposed by Concept by Caroti explores the colour range through grey from light to dark, to provide a bold and cosmopolitan styling to your bedroom.
How to choose the wardrobe for your bedroom – A roomy and well organized wardrobe is essential for the needs of the bedroom area. To have one, you do not need an extra room, all you need is to make use of the available area in an intelligent manner, choosing equipped wardrobe systems which can be installed freely or else built into the walls and which adapt to fit the architecture of your home.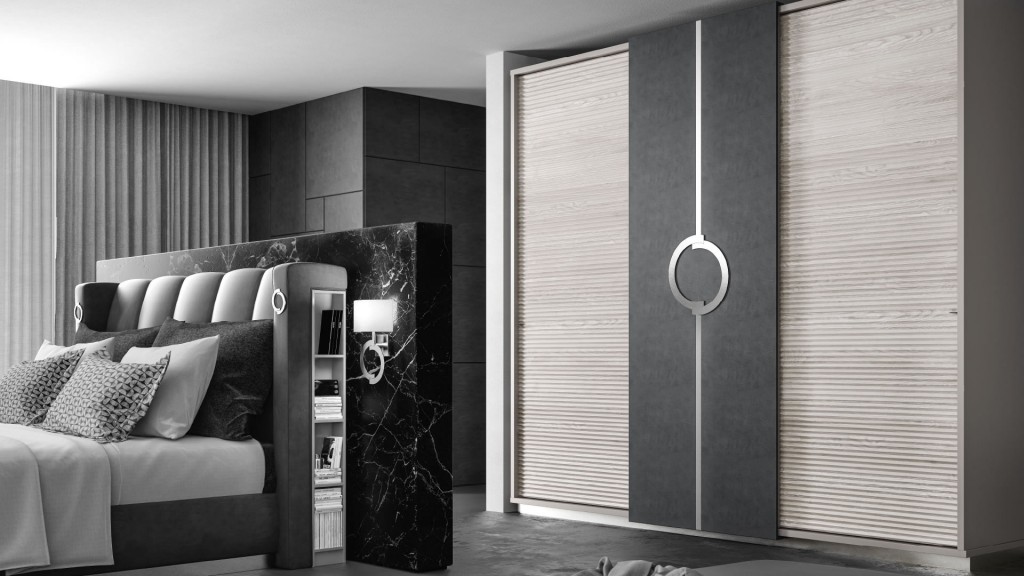 The equipped three-sliding-leaf PLATEAU wardrobe of the Concept by Caroti line can host up to 6 compartments with a coat-hanger pole, 1 chest of drawers and several adjustable shelves. The same design also comes in a smaller 2-leaf version. The sliding leaves with stop-motion guides are made of solid Bonseki ash with notched work and opaque "zero gloss" finish, or else coated in matching leather, eco-leather and nabuk.
Every element of the wardrobe can be customised and composed according to taste, in many different variations of colour, solid wood, RAL lacquering of the body, coating and metal.
Concept by Caroti has a minimal and versatile design which embodies a new concept of luxury, discreet and sustainable, focused on excellence of work and attention to finish. A luxury which is no longer superfluous. On the contrary, it is absolutely necessary because it has been tailored to fit the lifestyle of the person living the house.
Come and discover it at our stand at the Salone del Mobile in Milan, scheduled from April 12 to April 17 at the Fiera Milano Rho exhibition centre. PAVILION 01 – STAND L21. Or else ask our style consultants for advice on how to furnish your bedroom in an original manner.