The traditional themes cleared, this is the year of the WOW effect for Christmas decorations, with intense and enigmatic colors that will make the holiday atmosphere super elegant and exclusive. Let's discover our style department proposals for perfect combinations with Caroti furniture and accessories that decorate your homes.
The must for decorations
This year our style department was inspired by the trends outlined by Christmasworld, the most important international fair for seasonal decorations in Europe, held every year in Frankfurt am Main. We have reworked the 4 style macro trends proposed by the Stilbüro bora.herke.palmisano consultants for Christmas 2018, imagining the perfect combinations with Caroti's furniture and furnishings that decorate your home.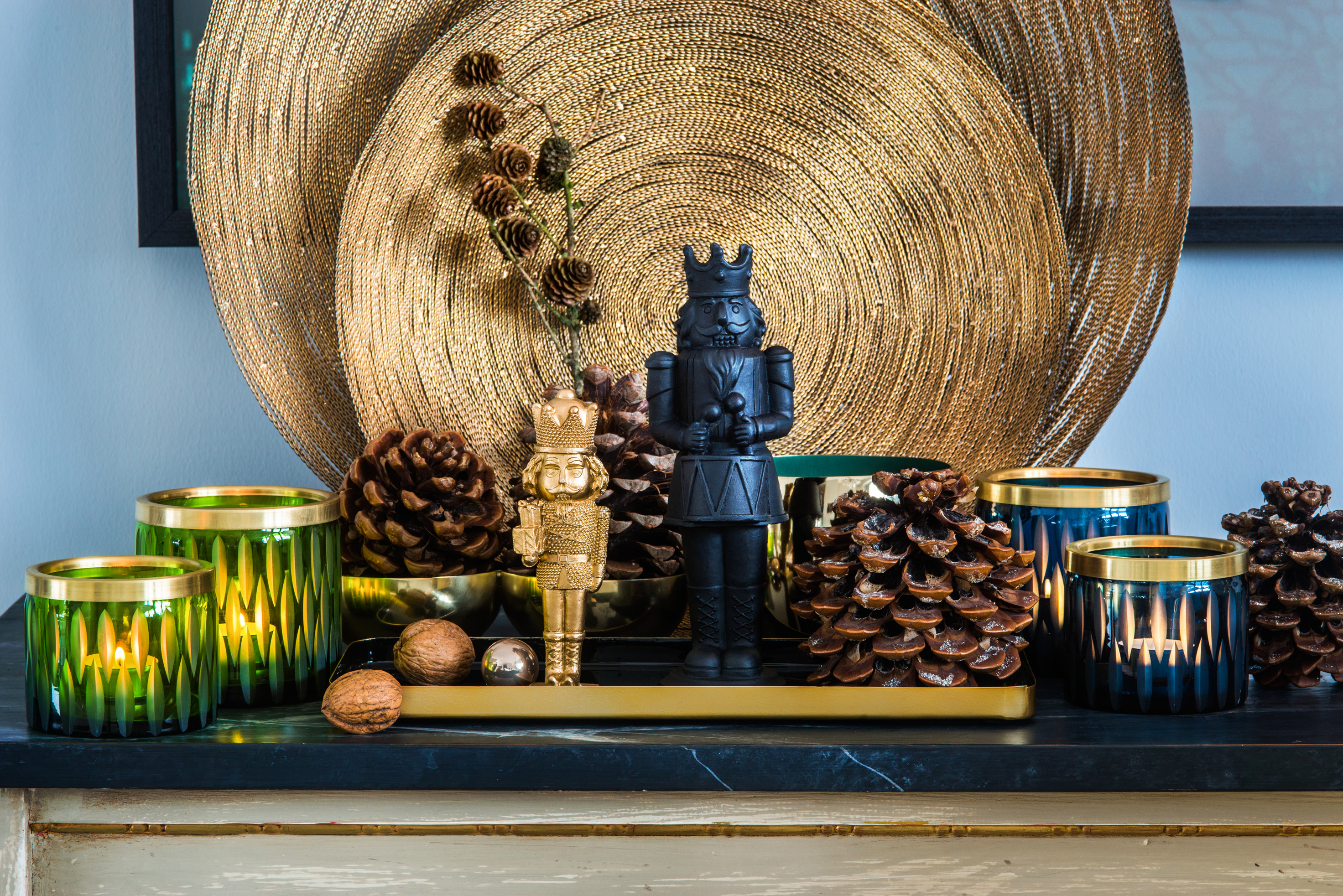 "Splendid History" style decorations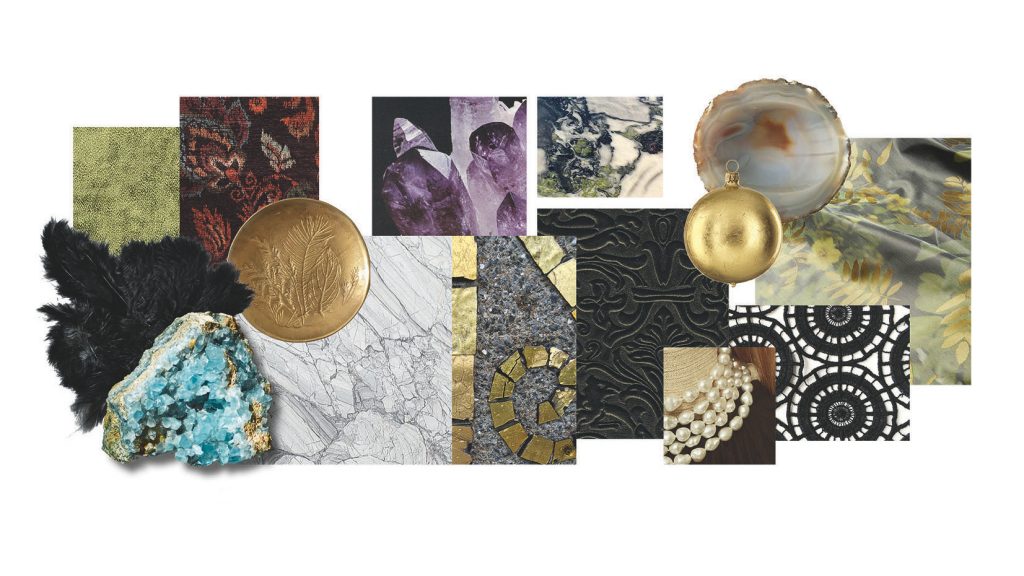 As the name implies, this theme is a eulogy to the majestic styles of the past, from baroque to Flemish, from Gothic to Art Nouveau, where dark and penetrating shades such as blue and brown were the background to details in bright gold and shiny crystals.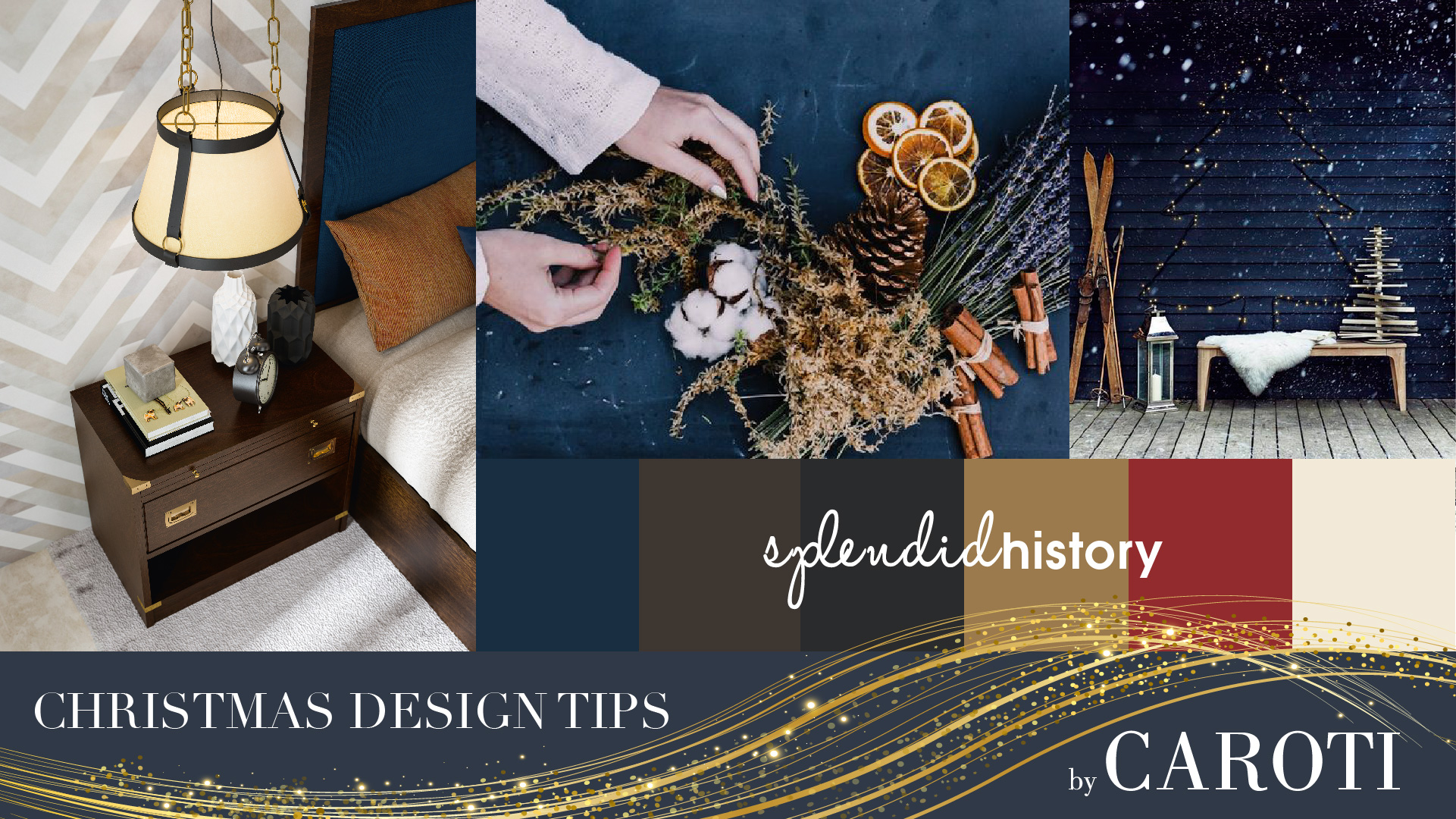 Here are some proposals for decorations that place the Prussian Blue at the center of the scene in elegant combination with coffee brown, ecru white and fir green.
Leaves, branches, pine cones, cinnamon sticks, dehydrated orange, a few touches of glitter gold and a warm blanket. The Christmas table becomes more chic with the Portofino habillé chairs in a dark blue tonality.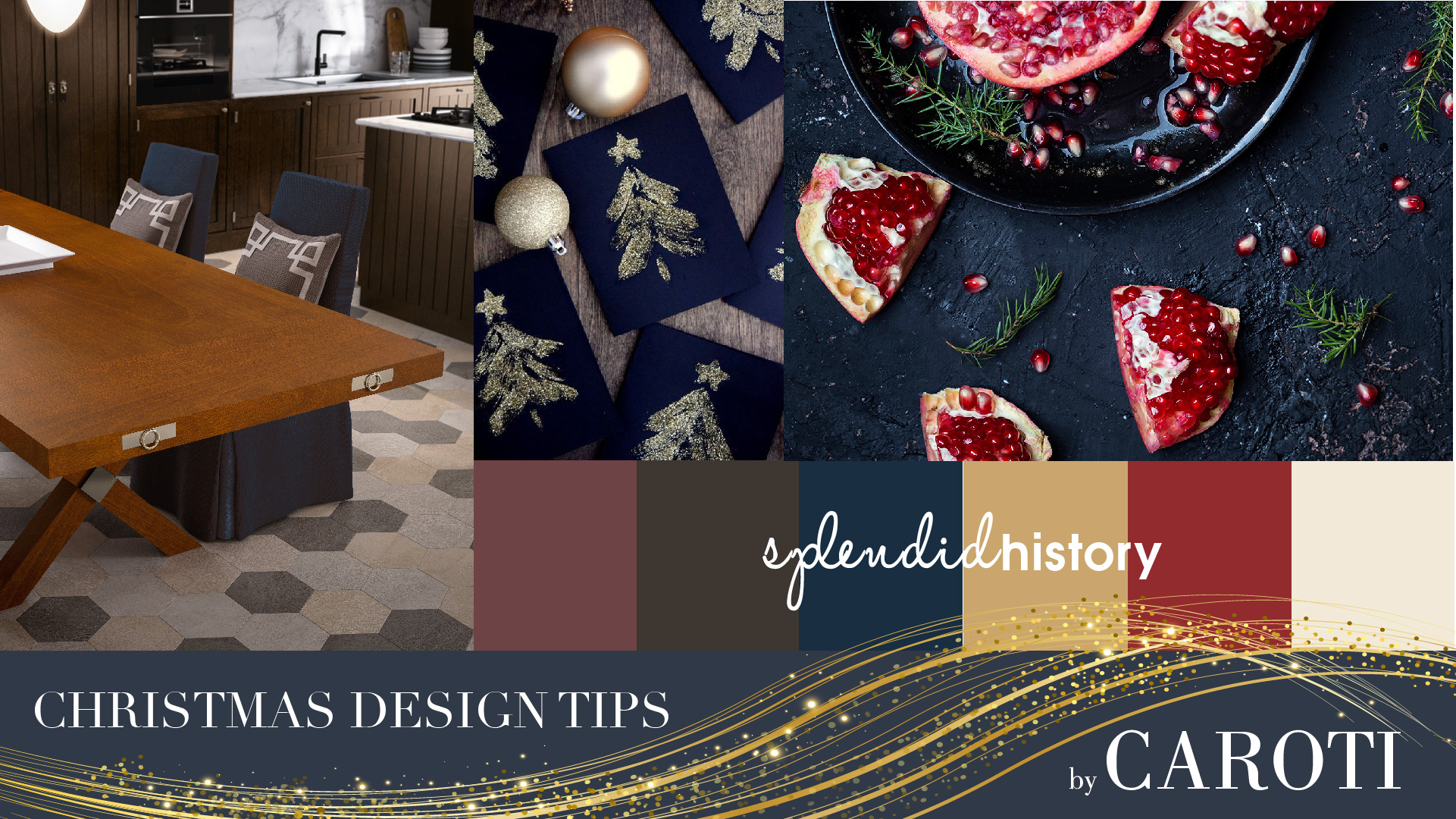 If you love warm colors then move the chromatic focus on Burgundy Red and dark Bordeaux, which matches beautifully with the Classic Mahogany finish. The result will be a Gatsby atmosphere, just adding candles, vases and shiny gold Christmas figures to the table setting.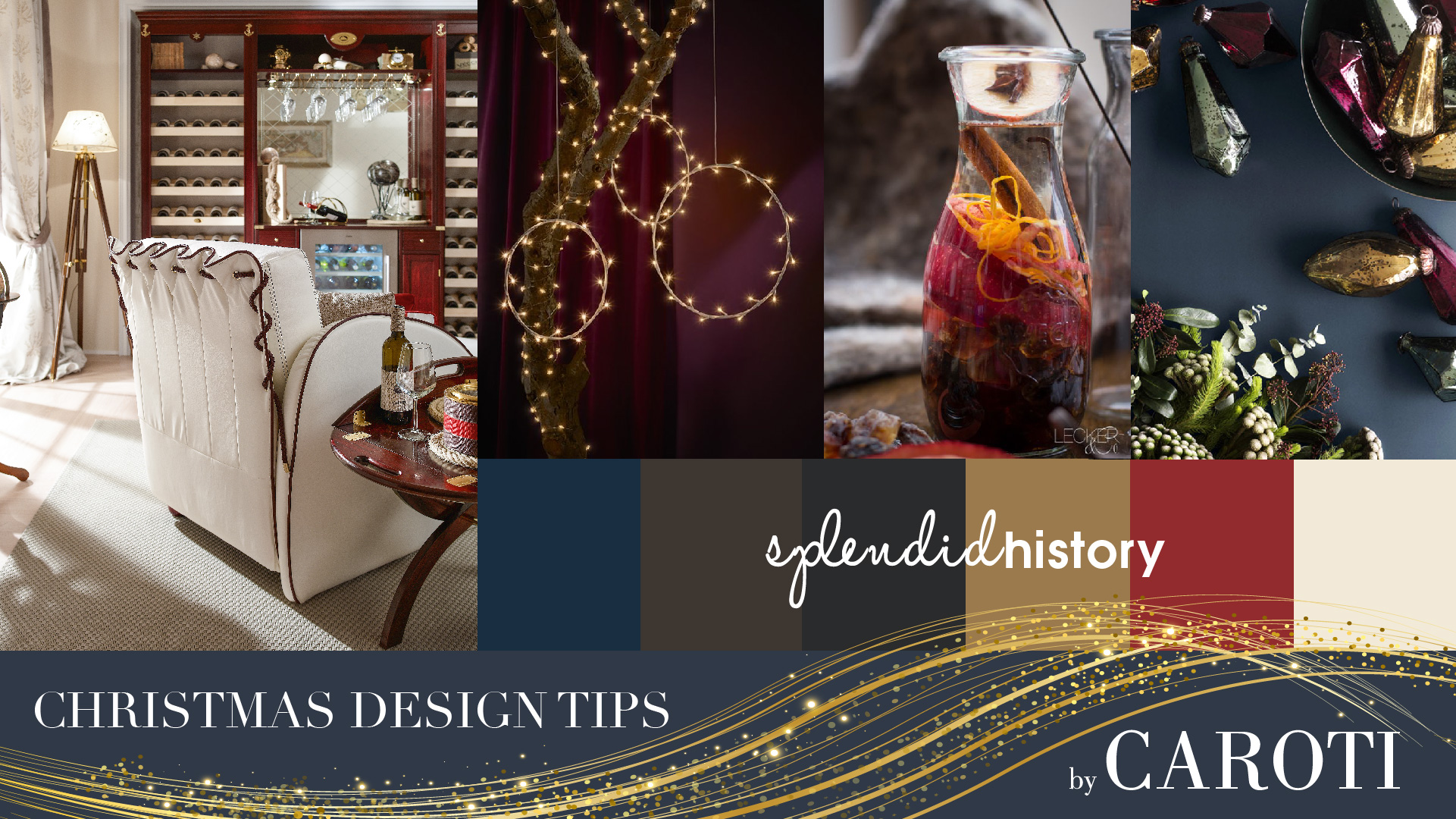 For 2018 decorations, the glossy black of the past few years, inspired by the Nordic style, is transformed into a caviar gray, a cold and desaturated gradation of black that offers strong contrasts and at the same time a sophisticated and evanescent area that magically matches with details in crystal, cream, brown and of course gold!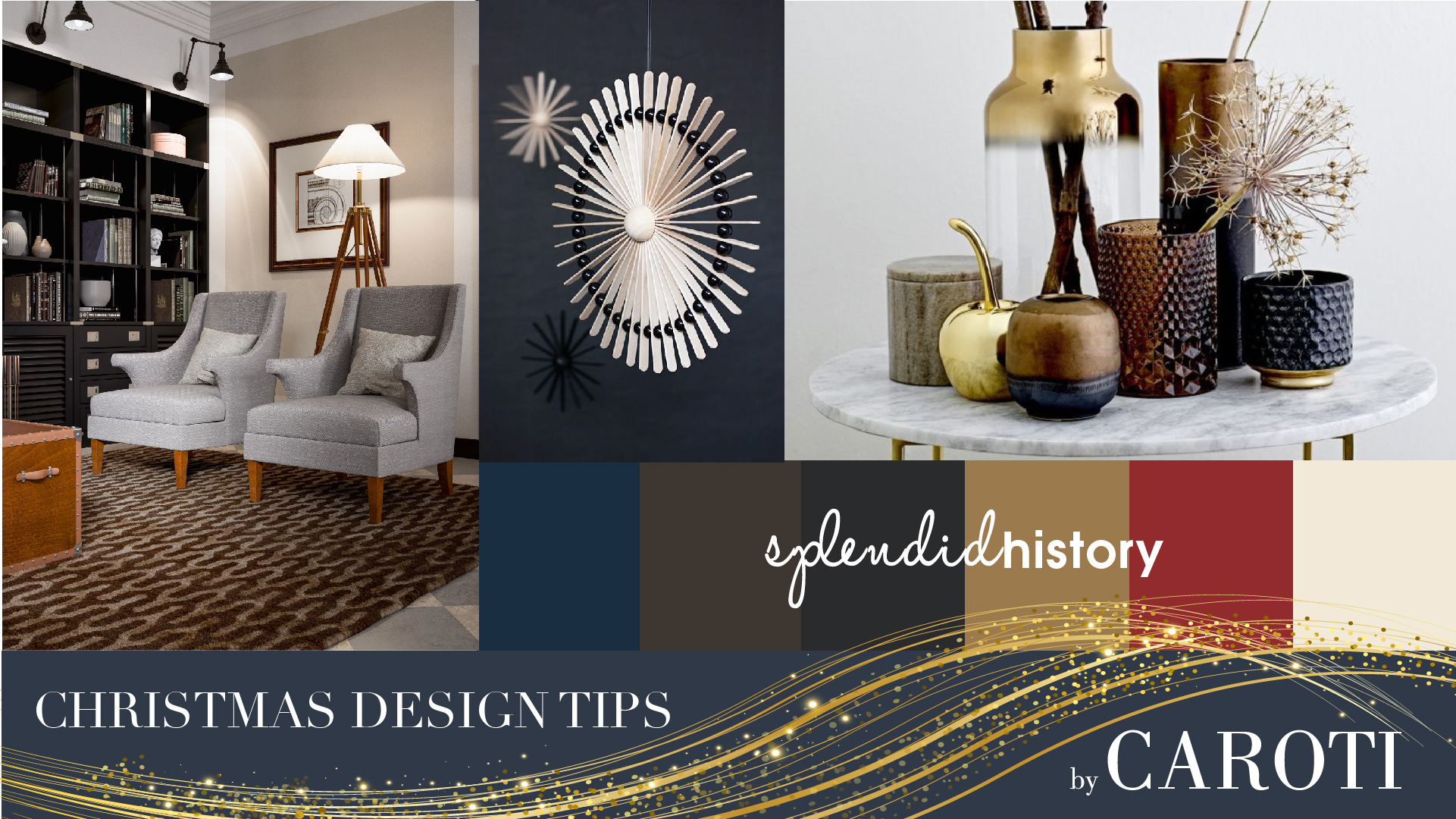 "Balanced Sobriety" style decorations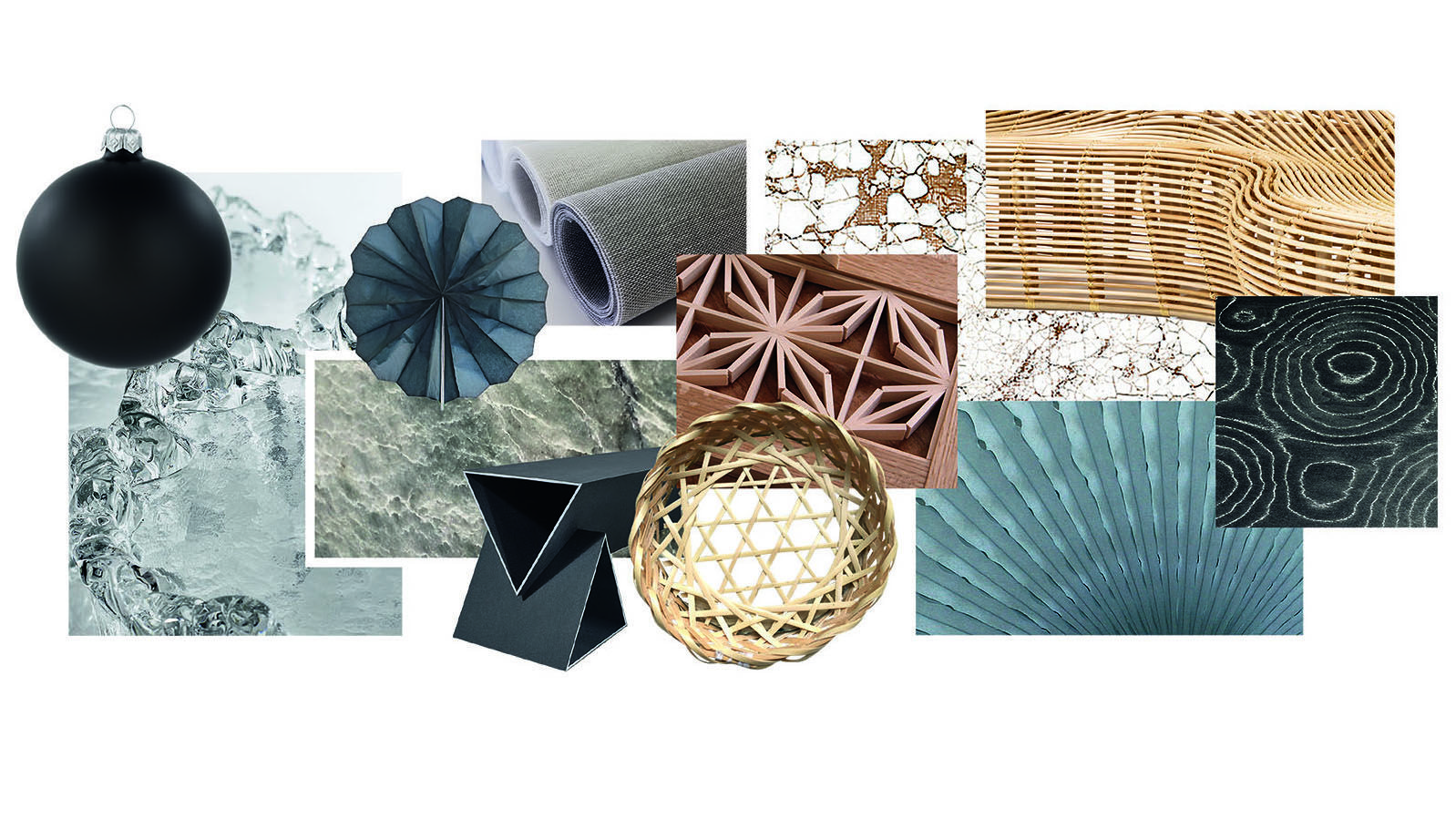 To achieve a more sober and discreet surprise effect, the "Balanced Sobriety" style is certainly the most suitable choice thanks to the combination of delicate pastel and neutral shades with occasional dark insertions of anthracite gray and brown.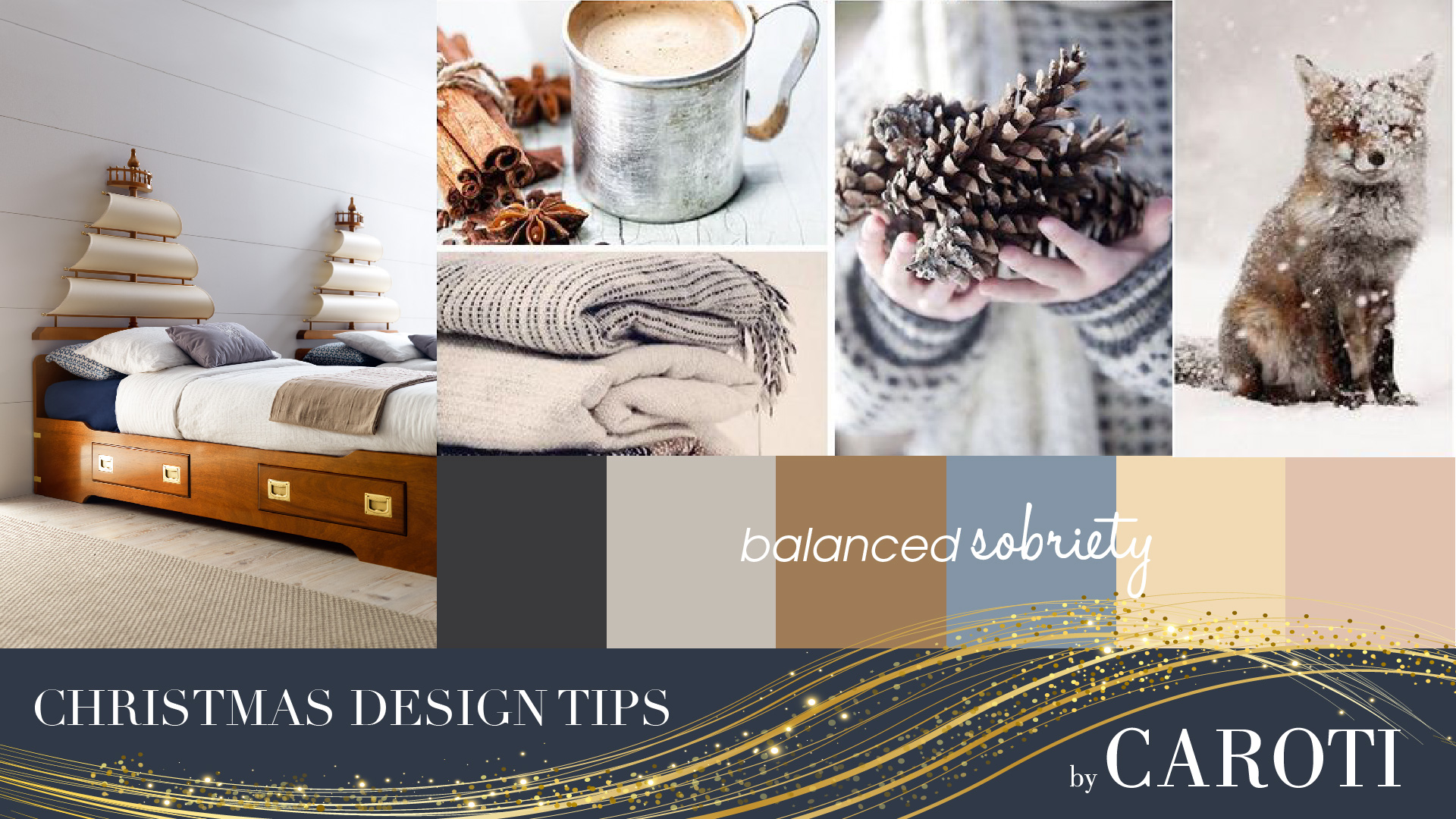 Inspired by the Arctic forest colors, this theme follows the colors of the snow fox and the foliage of the snowy undergrowth. At this point you just need a warm wool blanket and a steaming cup of milk before letting the children sleep in their bed with a natural Mahogany sail headboard that harmoniously matches with the nuances of this palette.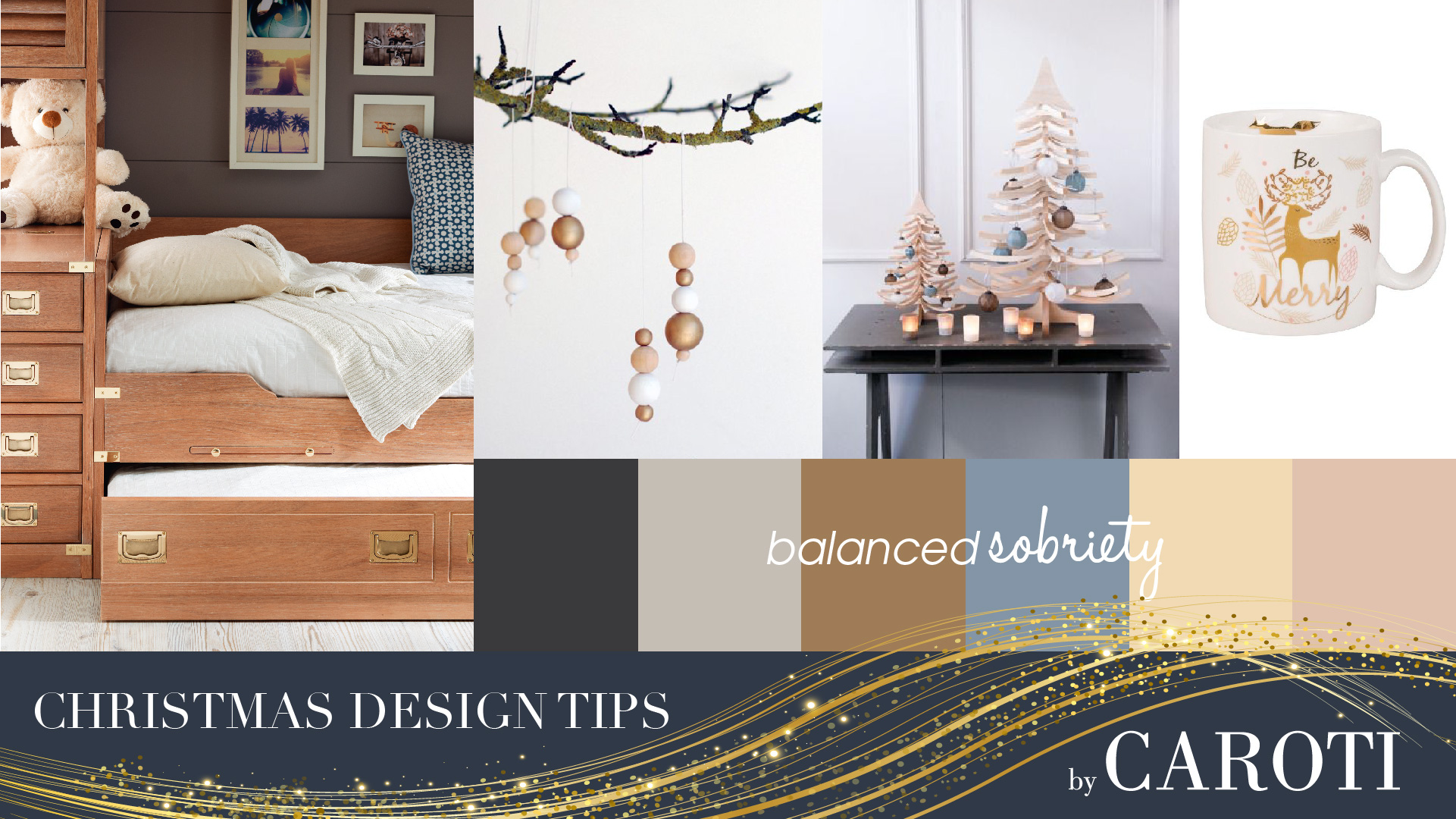 With children, in particular, Christmas decorations must be original and creative, maybe to be realized together. Here are some ideas to be made with wood: pendants of multicolored cream, golden rose and rustic wood balls, or a stylized tree in rustic wood to be mounted as a pyramid. Well done! And as a reward, an exquisite chocolate in a funny reindeer cup.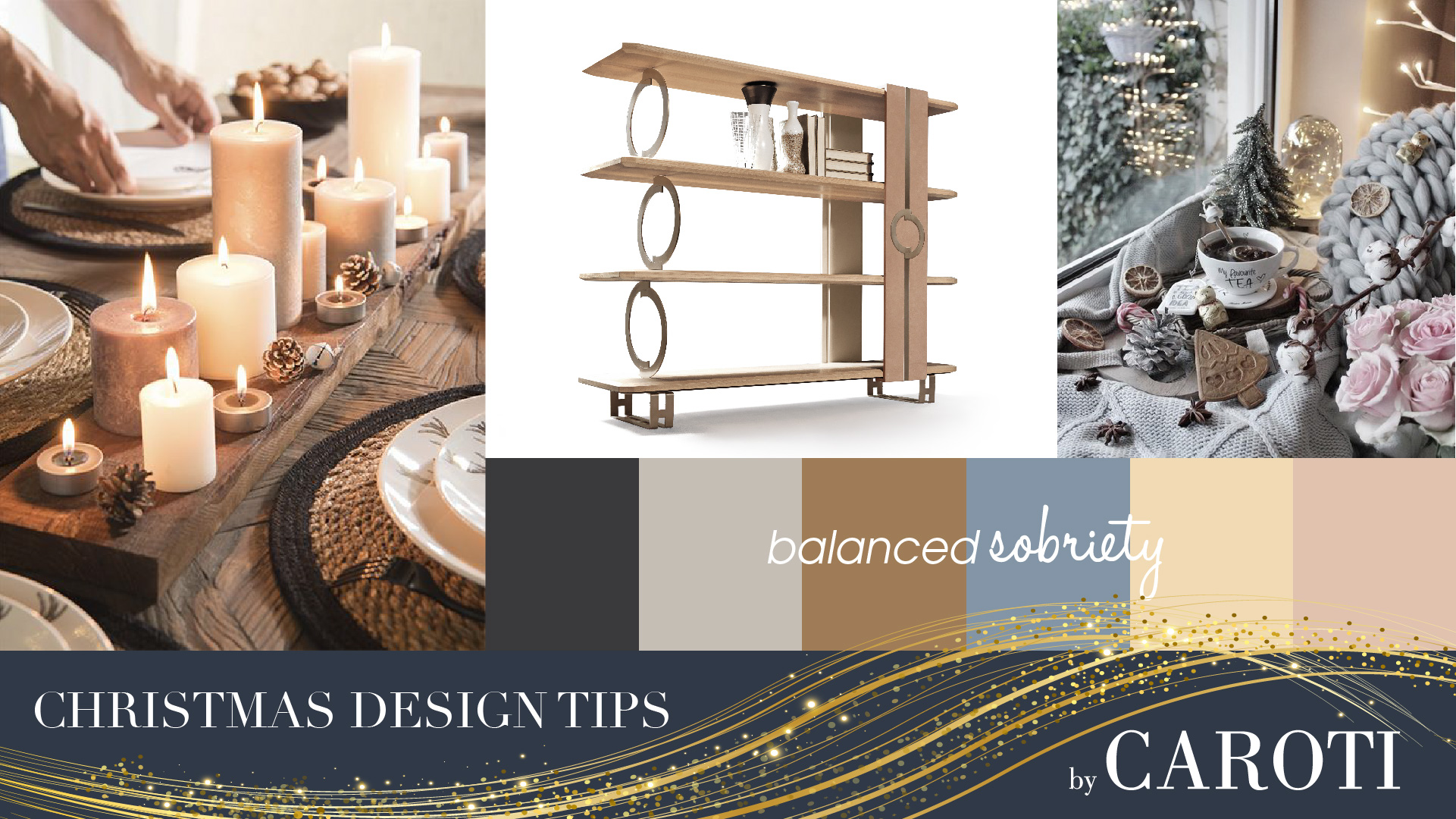 This color theme is perfect for furnishings with romantic and delicate tones, such as the LIFT double-sided bookcase and the ZEN sideboard of the Concept by Caroti collection. All you need are lighted candles, pink flowers and origami style paper decorations.

And if you like to dare with a touch of glamor, use black and dark gray, as in the Teen Girl bedroom in Mahogany Black with upholstered Bellagio bed and satin-effect steel accessories.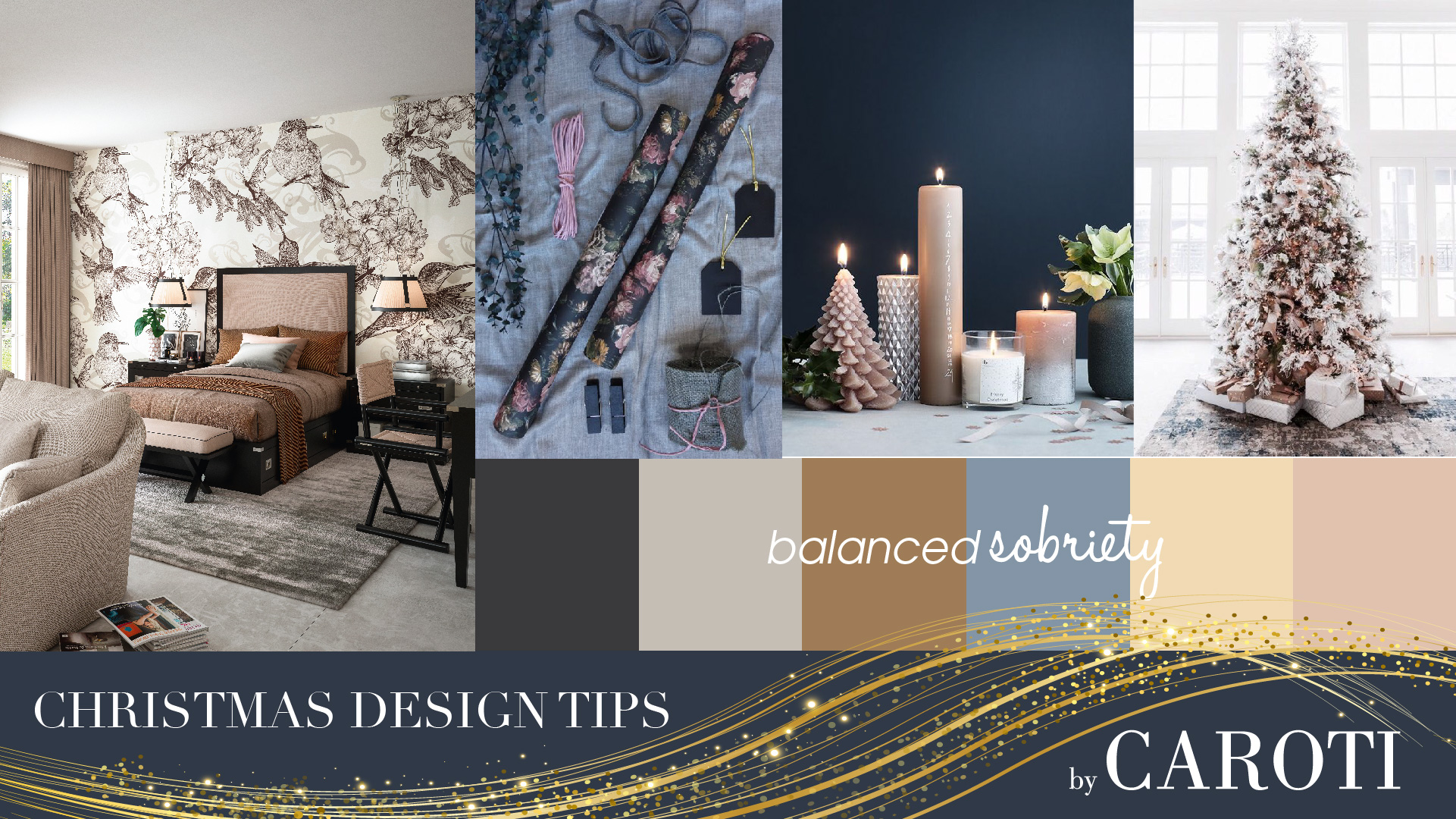 Which is your Christmas holidays style? Keep following us to discover further ideas and inspirations for a #WOWChristmas!