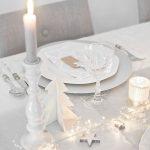 From white to golden rose, from silver to Tiffany, from burgundy to black. Let's find out together the new trends to decorate the house in a romantic style during the Christmas holidays, illustrated to us by our resident stylist Paola. "This year the keyword is ton-sur-ton, that is, you choose a color and then put together different textures on the same shade for a harmonious and delicate effect." Santa Claus will never want to leave your home!
#ROSEGOLD #mood
2017 was the year of rosegold, a rosescaling with a golden and warm touch, protagonist from makeup to hairstying as a must for a sophisticated look that enhances femininity. Our style and design dept. used it in a bedroom for a very glamorous teenage girl, where the golden rose is combined with the Mahogany Black finish with accessories in satin nickel and upholstered in ivory fabric. A minimal but warm and captivating pair and decorations with a modern mood: inflatable balloons instead of Christmas balls, twinkle lights with geometric figures instead of stars and dried branches instead of the classic tree. You almost want to leave Christmas decorations for the whole year.
#TIFFANY #mood
Christmas is even more magical for children who, thanks to their imagination, truly bring joy to the world. If all you want for them is a non-conventional Christmas, but the unicorn style is too kitschy, why not choose the Tiffany color? Halfway between green and turquoise, this very delicate and elegant pastel nuance matches perfectly with ivory and gold, as in this playroom with 4 bunk beds in lacquered finish with aquamarine upholstery. You can invent playful decorations with the little ones, obtaining a tree illuminated by a ladder and creating a garland with a soft toy. And why not take advantage of the opportunity to make (and eat) tasty mint treats?
#TAUPE #mood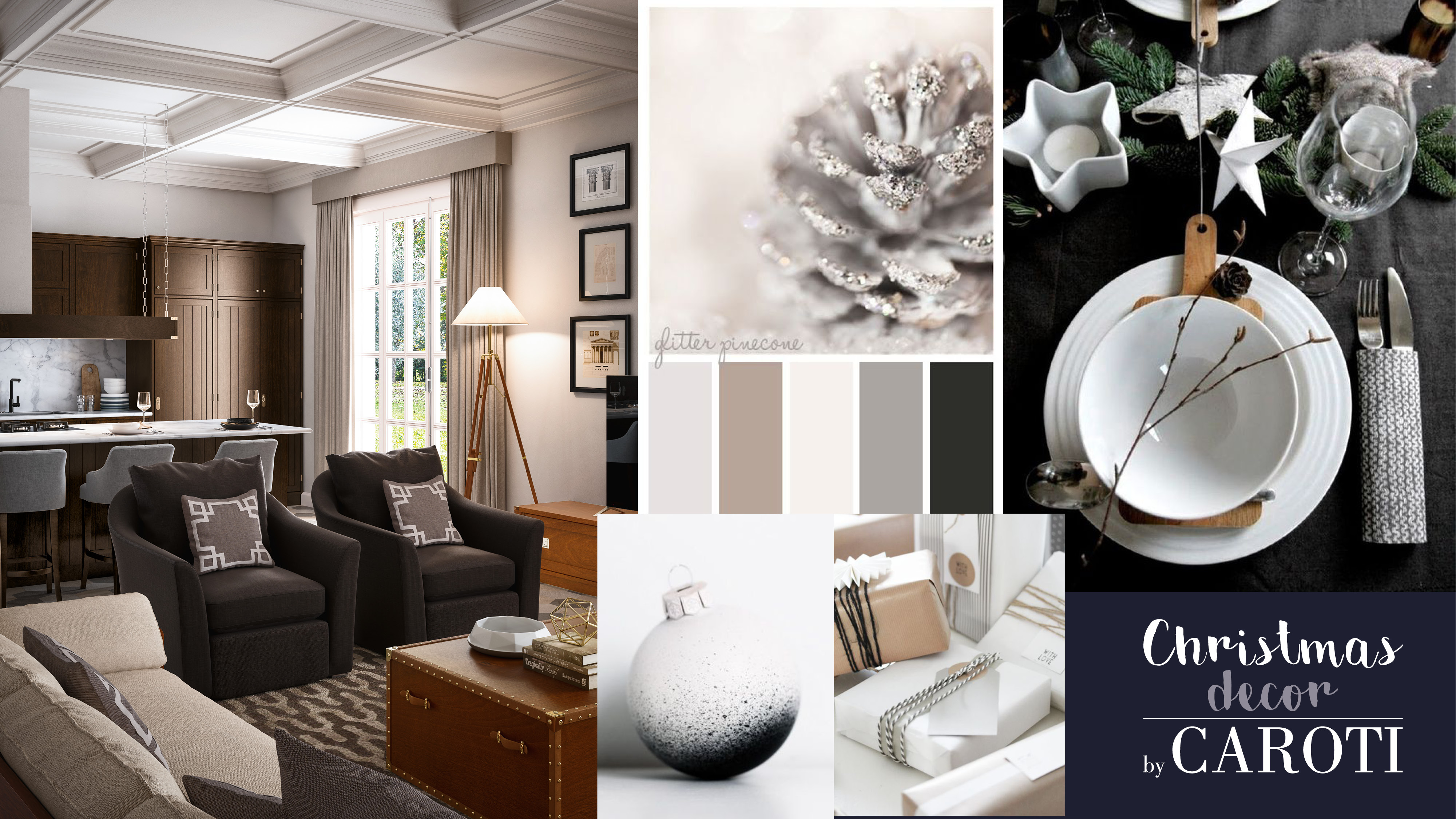 Shades of taupe and gray taupe combined with off-white: the ideal palette for elegant and discreet Christmas decorations designed to contrast the intense tones of a living room with furniture in Mogano Moka and Natural Mahogany finish. The DIY (do-it-yourself) is the fundamental prerogative of this mood inspired by the Nordic style but with a touch of glamor. The secret lies in the subtle balance between simplicity and surprise, as in the art of gift wrapped packages where for example you can use woolen threads and twine as ribbons and make cockades in craft paper. On the table you can't miss the combination of refined white porcelain with rustic chopping boards and spruce branches with glitter effect stars and pine cones.
# 50SHADESOFWHITE #mood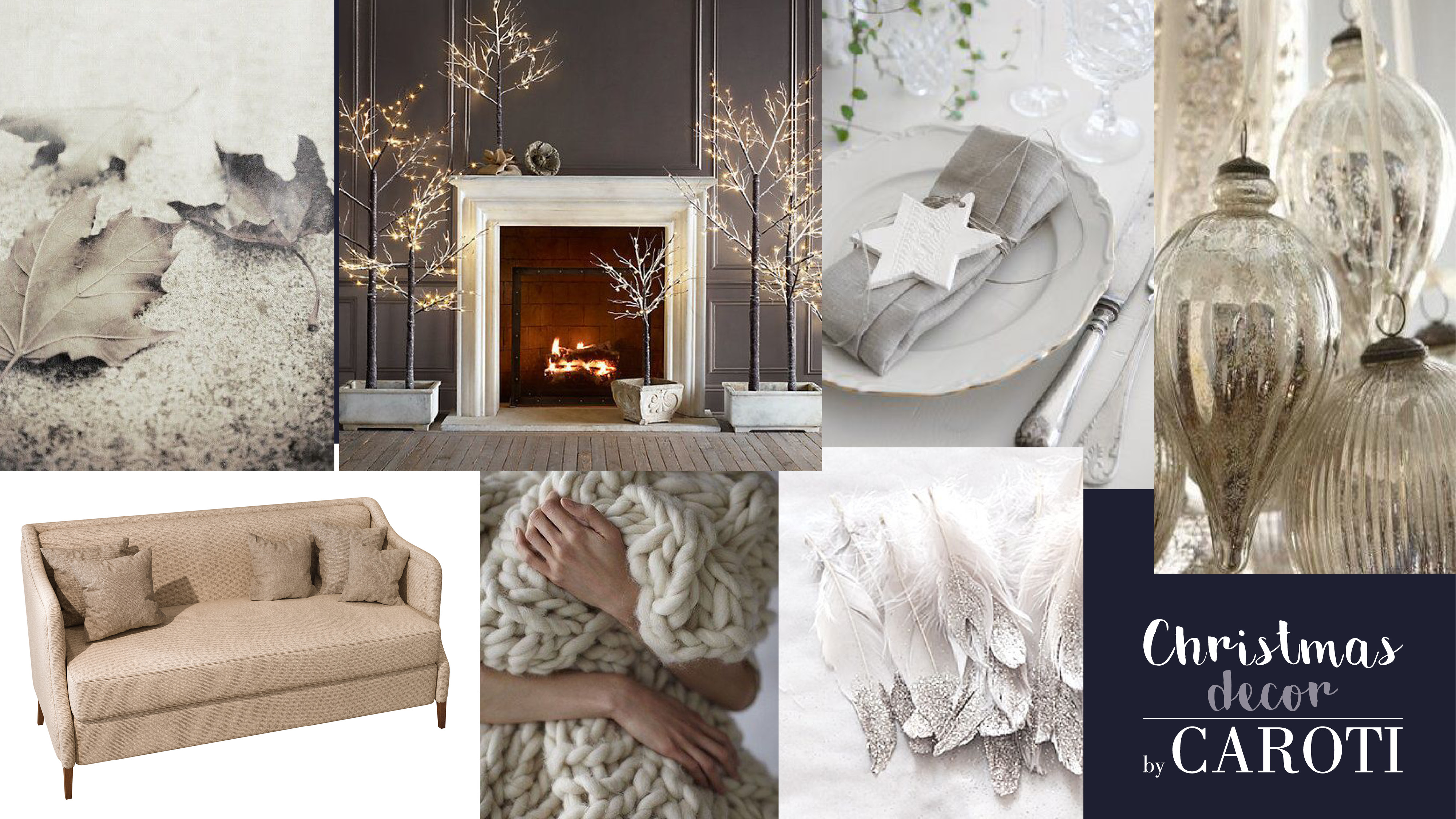 Pure romance in this Christmas palette that explores the shades of ice white, ivory, pearl gray and golden silver to create relaxing and minimal atmospheres in shabby chic style. The Christmas decorations are literally sculpted by nature: bare branches covered with a thousand lights, soft feathers with glitter details, crystal balls in drop shape with an aged finish. For the mise en place, porcelain and silver in vintage style and in the living room the very novelty of this winter: a warm blanket in chunky wool (giant wool) to embrode while comfortably seated on the sofa Sophia in front of a lit fireplace.
#WATERBRUSH #mood
Gold, white and black: traditionally chic. But how to renew this great classic? Covering the walls, the cushions, the decorations and of course the greeting cards with graphic writing in water brush effect (watercolor brush).
#GINGERBREAD #mood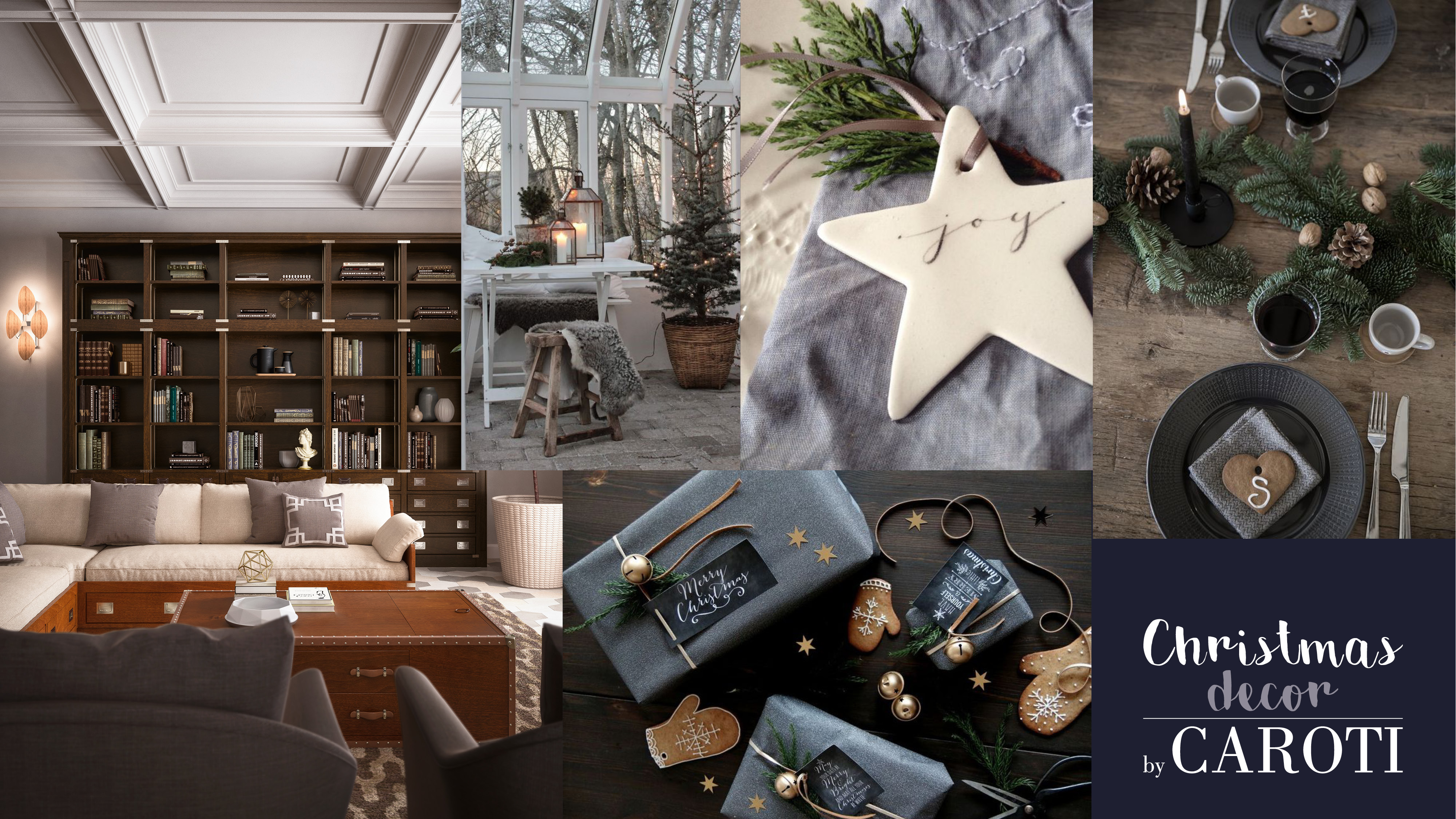 If you love the dark colors and the twilight. If you can't think of Christmas without bells and gingerbread. If during this holidays the only decorations allowed on the table are pine cones and fir branches, then look at this collection of Christmas decorations in Scandinavian style. The basic colors for a rustic yet refined tableware are dark brown and anthracite gray. A nice and simple idea to warm up the mise en place is to use heart-shaped or star-shaped cookies as a personalized placeholder and of course light candles and lanterns. If you want to recreate a true Nordic landscape, put faux fur cushions on the chairs.
#UNUSUALRED #mood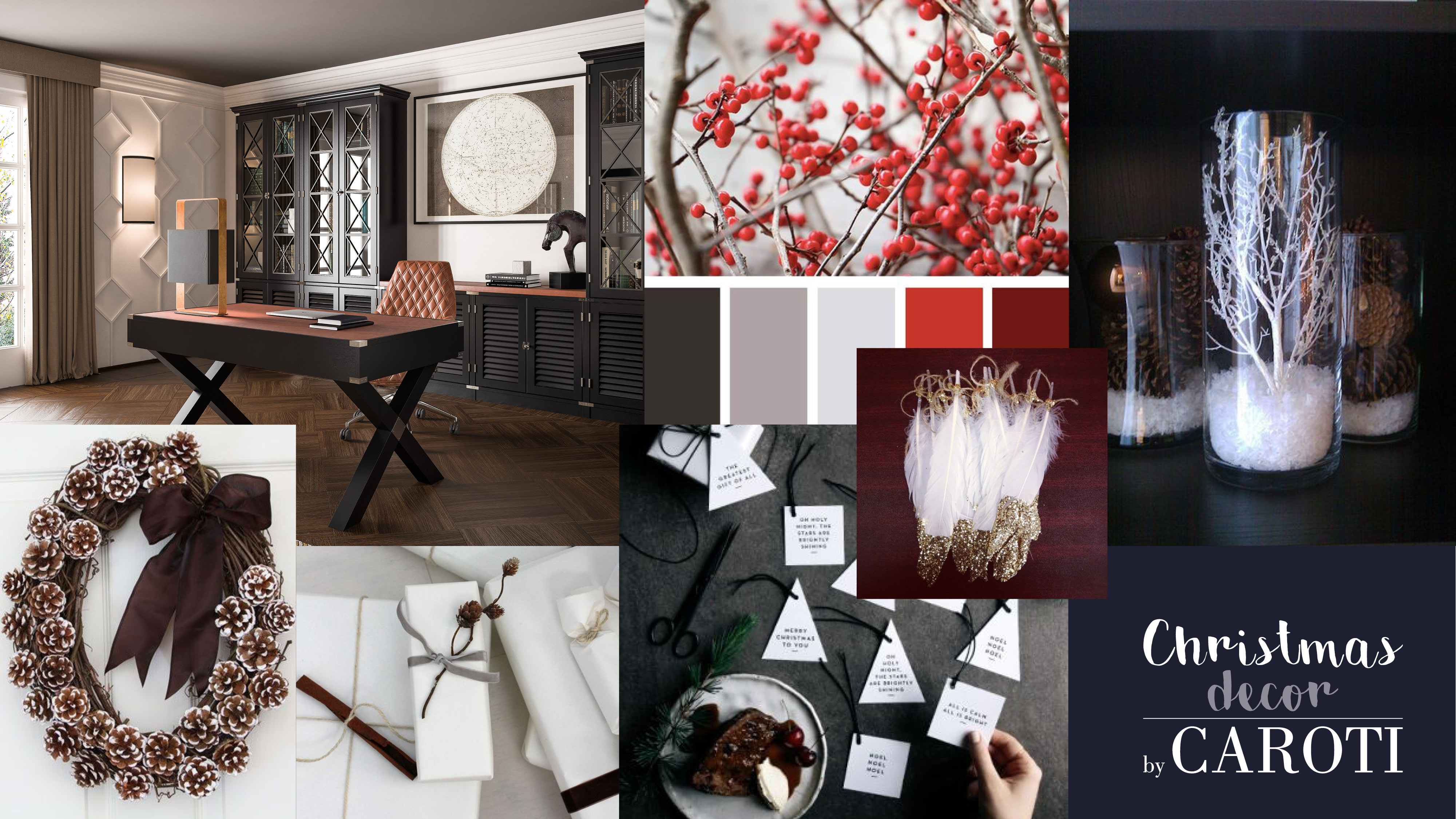 There are at least 37 different shades of red: amaranth, burgundy, chestnut, crimson, carmine, brick red, marsala are the most intense to warm the Christmas atmosphere out of the box. Instead of the classic glass ball with snowflakes you can create suggestive still life with an arctic undergrowth effect inside crystal bells. Just bring dried branches, berries and pine cones to be tied together with satin and velvet ribbons.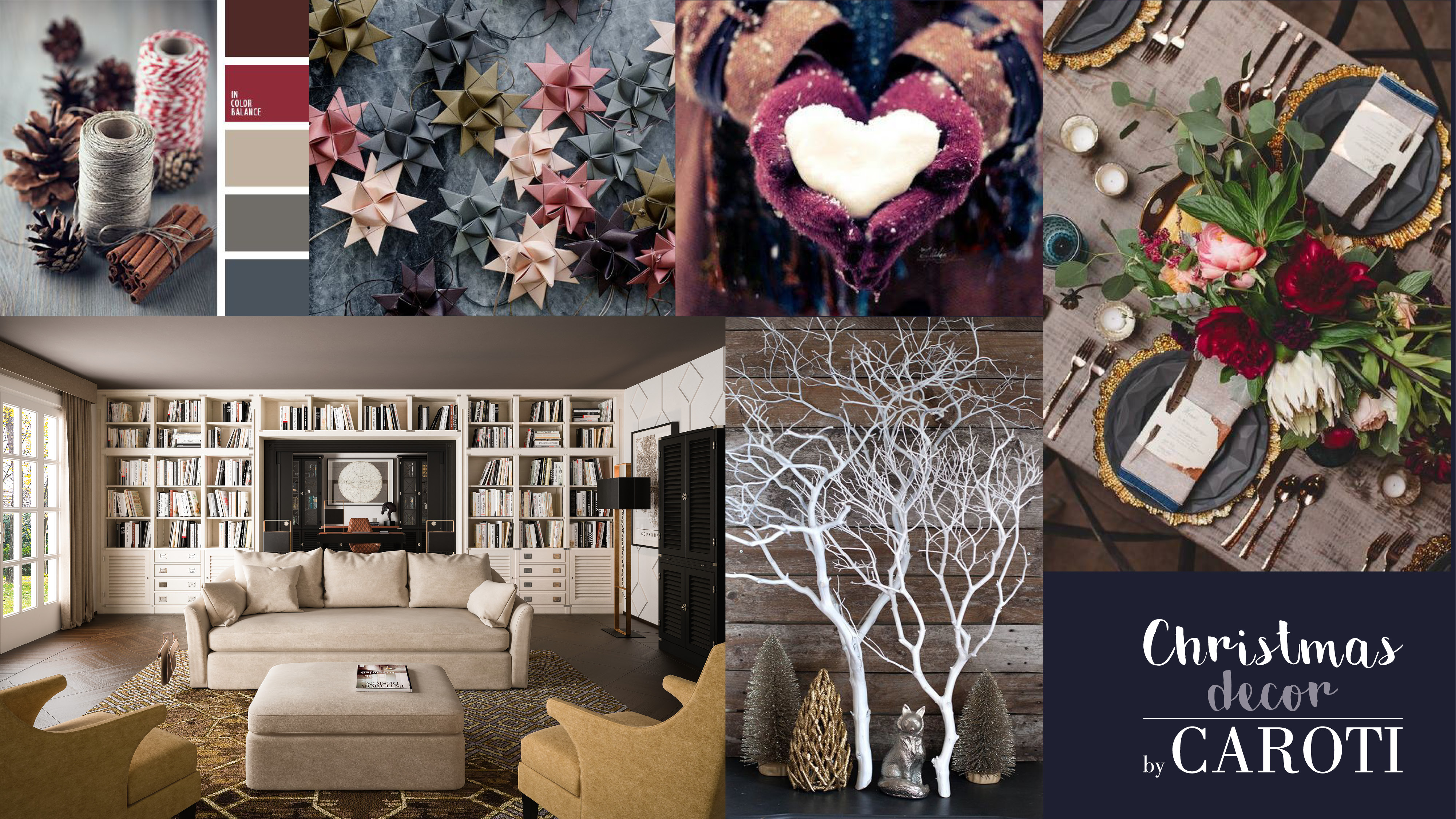 To add a dramatic touch to the mise en place choose a bouquet with pink, red and white flowers and dare with a table without tablecloth, which will enhance the tableware palette. The wild feathers for the placeholders will make the atmosphere even more suggestive.
Christmas is just around the corner, are you ready with the preparations? Read all our tips, it's never too late to create the perfect Christmas atmosphere.