Books, photos, records, souvenirs, works of art, antiques, binders, vases, ceramics,  showcases. Each of these items is a fragment of our life story and it is nice to always have them in order and accessible, like a living snap-shot of our life. Hence the need to make the best out of our space and create large and beautiful modular wall unit is common to many styles of different homes, from lofts to villas, from villas to cottages.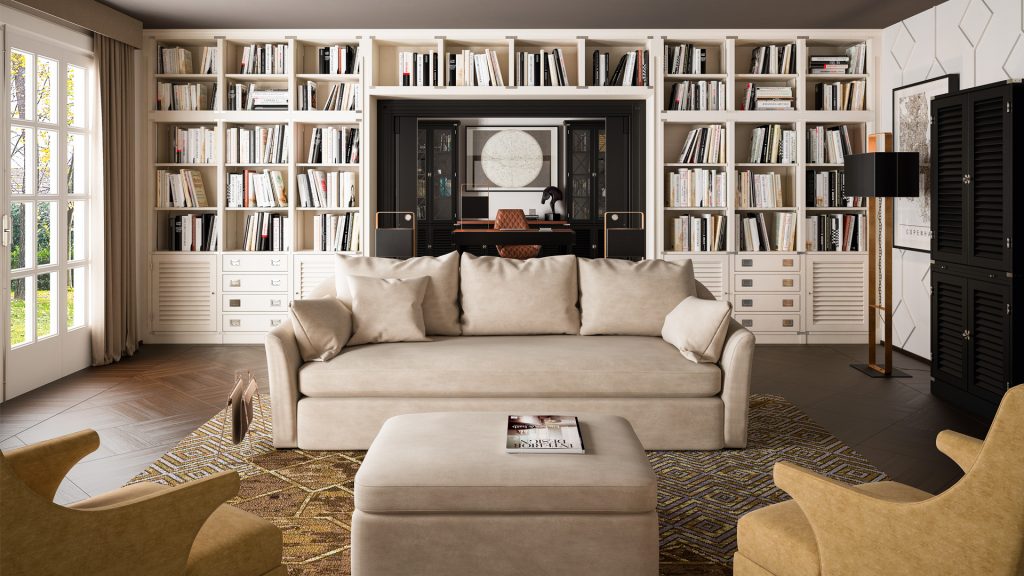 This is why the system of sectional bookcases is the symbol of the flexible way in which Caroti designs. A very versatile composition and no anchoring to the wall are the answer to the many needs for interior decoration, from living to study, stressing its basic role – that of being a container.
6 types of modular wall unit
The sectional modules are available in different standard sizes and heights and for bespoke projects, in order to create flexible solutions that follow the shapes of the house:
Linear: the furniture is laid out following one direction only.
Angular: the modular wall unit is laid out following 2 directions at an angle of 90° or 45°.
Bridge: the furniture is laid out going upwards, leaving room below for beds, desks, sofas, etc.
Built-in: the furniture is laid out as a niche in the wall, creating the impression of being aligned with the surface of the wall.
Passing: the modular wall unit hosts door passages between rooms.
Double face: the furniture is accessible from both sides.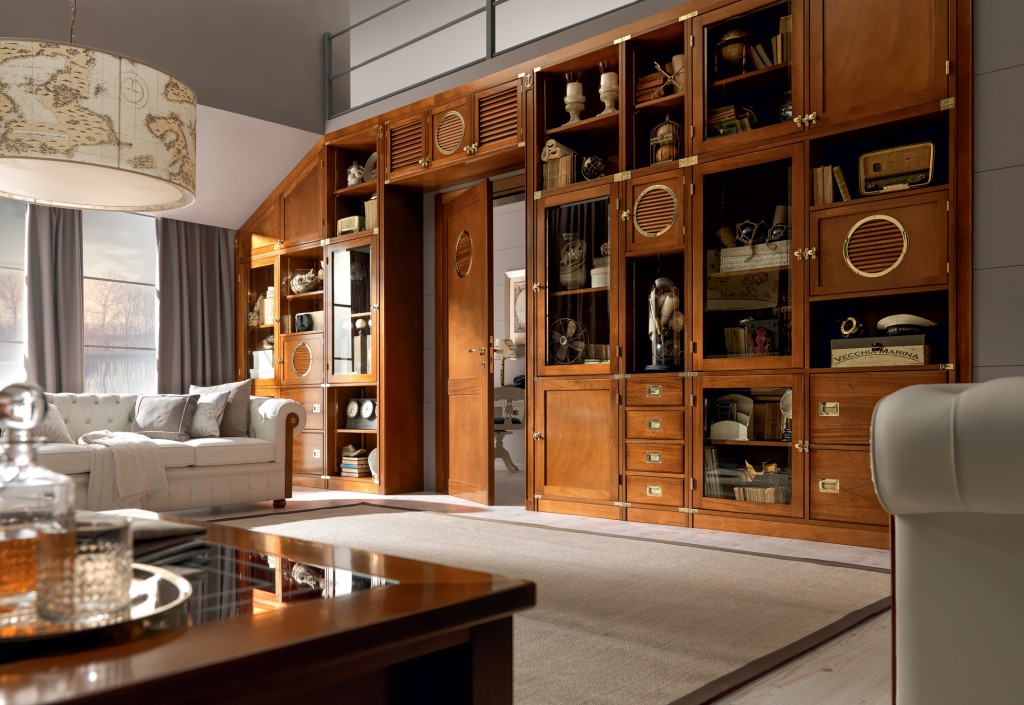 How to design a modular wall unit
Available with shutters, needlecord pattern, with a porthole, with sandblasted glass and smooth mahogany, the doors become an expressive instrument for those who decorate and live in the home. Like the tiles of a mosaic, the wide range of available doors draws geometrical symmetries and compositions which map out the space and style of the home.
Linear wall unit with ladder, Black Mahogany finish.

Linear wall unit with port-hole, Patinated Lacquered Finish.

Built-in wall unit, Natural Mahogany finish

Modular wall unit with glass and louvre doors, Fusion Mahogany Finish.

Bridge wall unit, Classic Mahogany finish.

Linear wall unit, Moka Mahogany Finish.

Passing wall unit with pull-out doors, Black mahogany Finish.

Passing wall unit, Natural Mahogany finish.

Warmth, linearity, functionality, high quality materials such as solid mahogany and chrome plated brass. A sober, discreet luxury, always elegant, is the heritage left by authentic navy design, blending current concepts of modularity, imagination, innovation and the possibility of customising.
This combination has given rise to interior decoration solutions which are composable and multi-functional, both for living and sleeping quarters, with a unique and unmistakeable atmosphere which goes beyond fleeting fashion trends and takes on the new philosophies of interior architecture.
Modular wall unit in contemporary style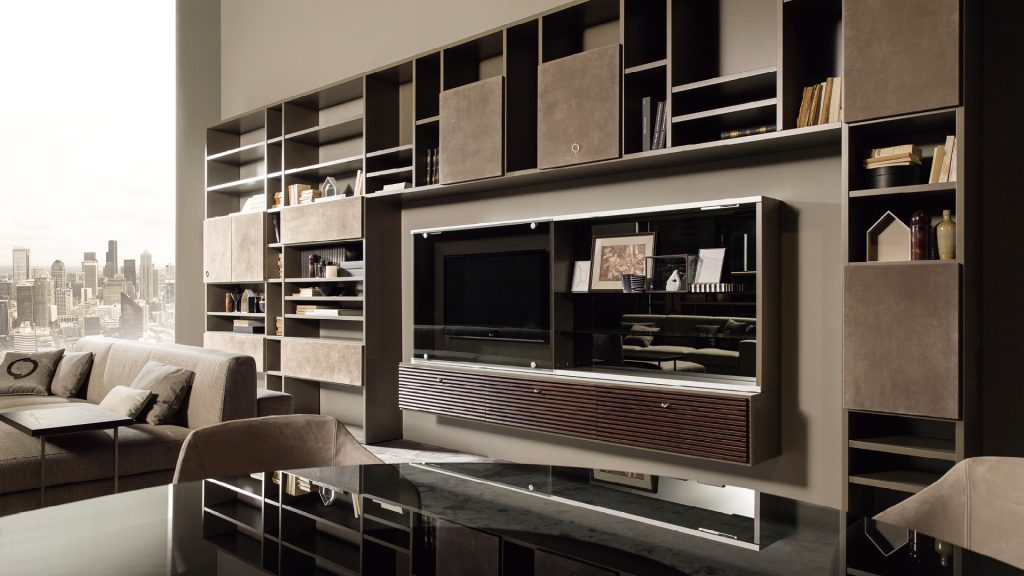 Concept by Caroti is a furniture system both modular and freestanding for the day and the night area: contemporary and very versatile design of products consists of a mix of matching materials and is customizable in over 1,000 different mood configurations of customer's choice. Industrial, vintage, monochrome, natural chic. Over 1,000 styling combinations are possible choosing from a mix of complementary materials: solid wood, metal, leather, crystal, marble and a wide range of RAL colours for a unique and original styling.
To look at our product line and get a sense of its true originality and value, we invite you to visit our showroom worldwide.