How to customize the home office in an elegant and contemporary style.
Whether it's a home office or a managerial office, elegance and prestige are essential requirements for designing a comfortable and well-organized executive space. Let's find out together some solutions to personalize the office furniture and make it unique.
For a bold and masculine style office furniture.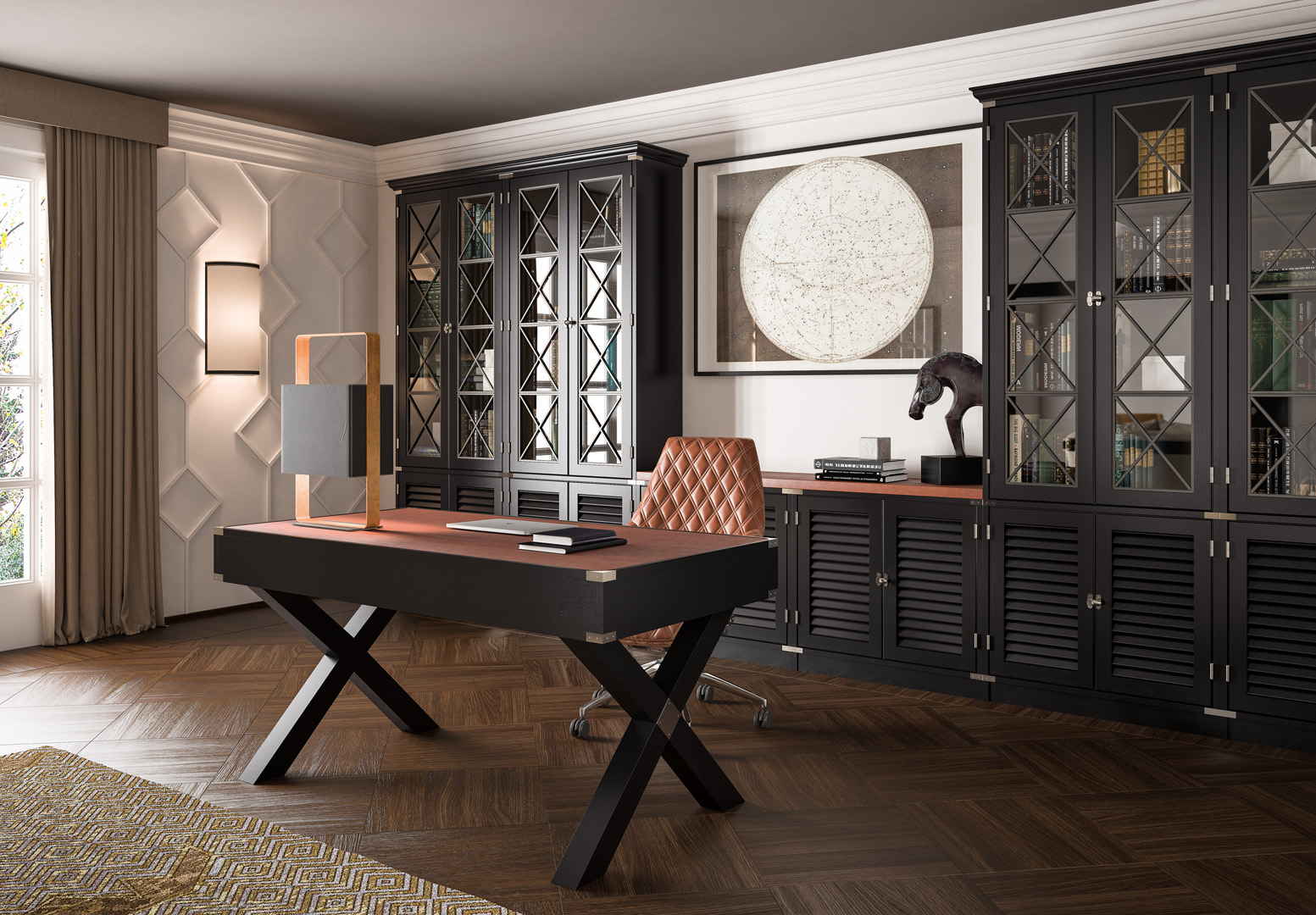 Mahogany Black finish with matte effect, accessories in satin nickel finish and Terra di Siena leather upholstery are the starting point for office furniture with distinctive style.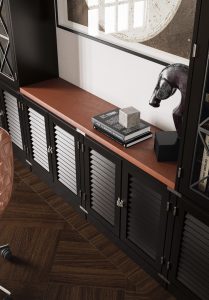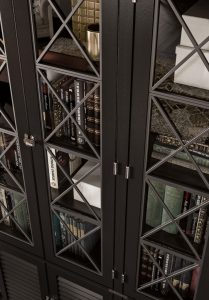 The spacious and impressive modular bookcase consists of 4 modules measuring 90 cm interspersed symmetrically in the center by a sideboard with leather-covered top: glass doors with lozenges for the upper part and shutters in the lower one. The rhombus decoration of the bookcase doors is made of gunmetal-colored powder-coated steel.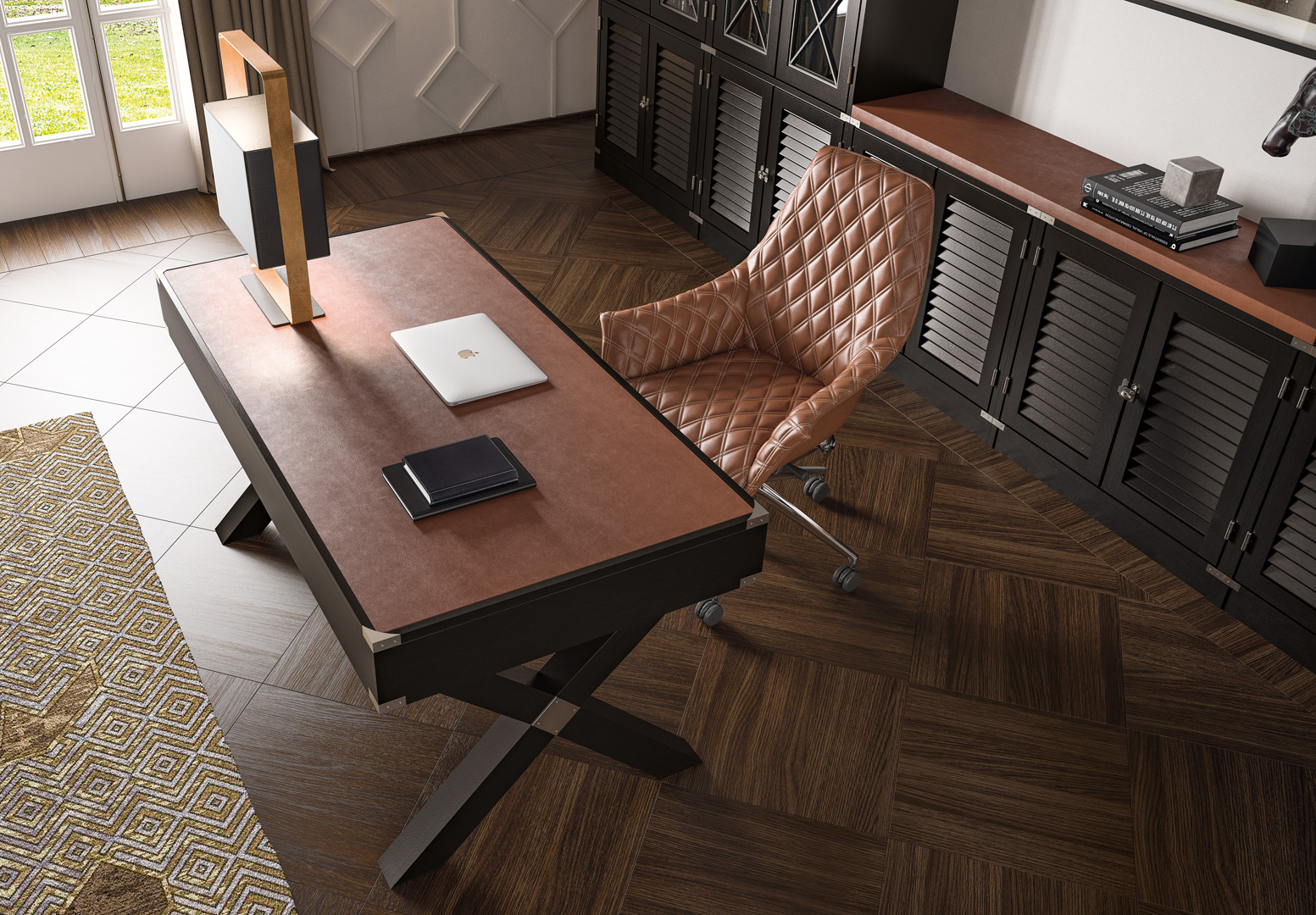 The Dolcevita desk with 3 drawers is made of leather top coordinated with the bookcase furniture and the leather armchair with quilted padding, adjustable in height and equipped with wheels.
For a more elegant and minimal style office furniture.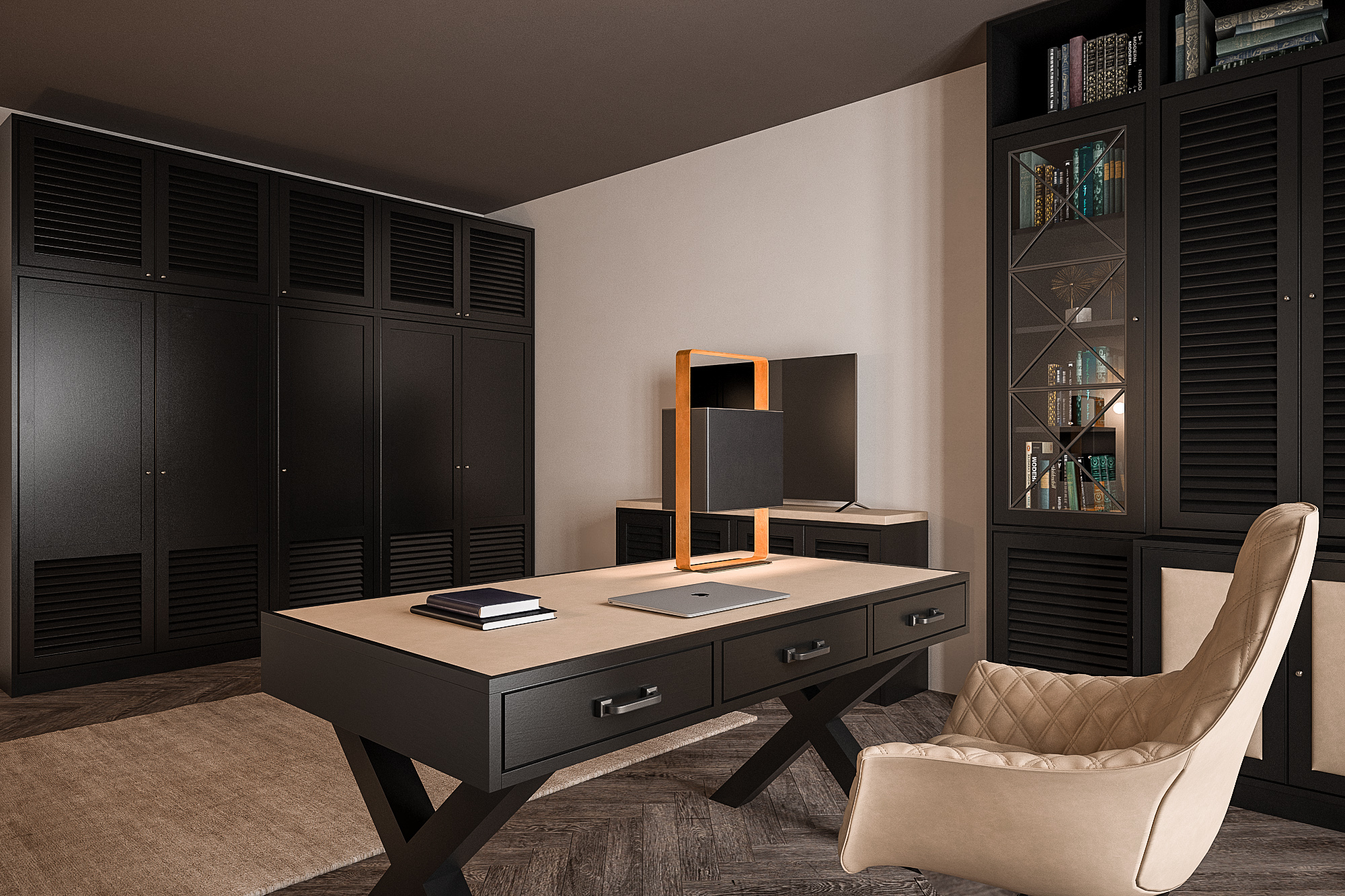 Just change the accessories and the color of the coverings to get office furniture with a more delicate and elegant effect. For this custom project our Design and Style Dept.  has proposed handles with small knobs and tops covered in eco-leather color Greige.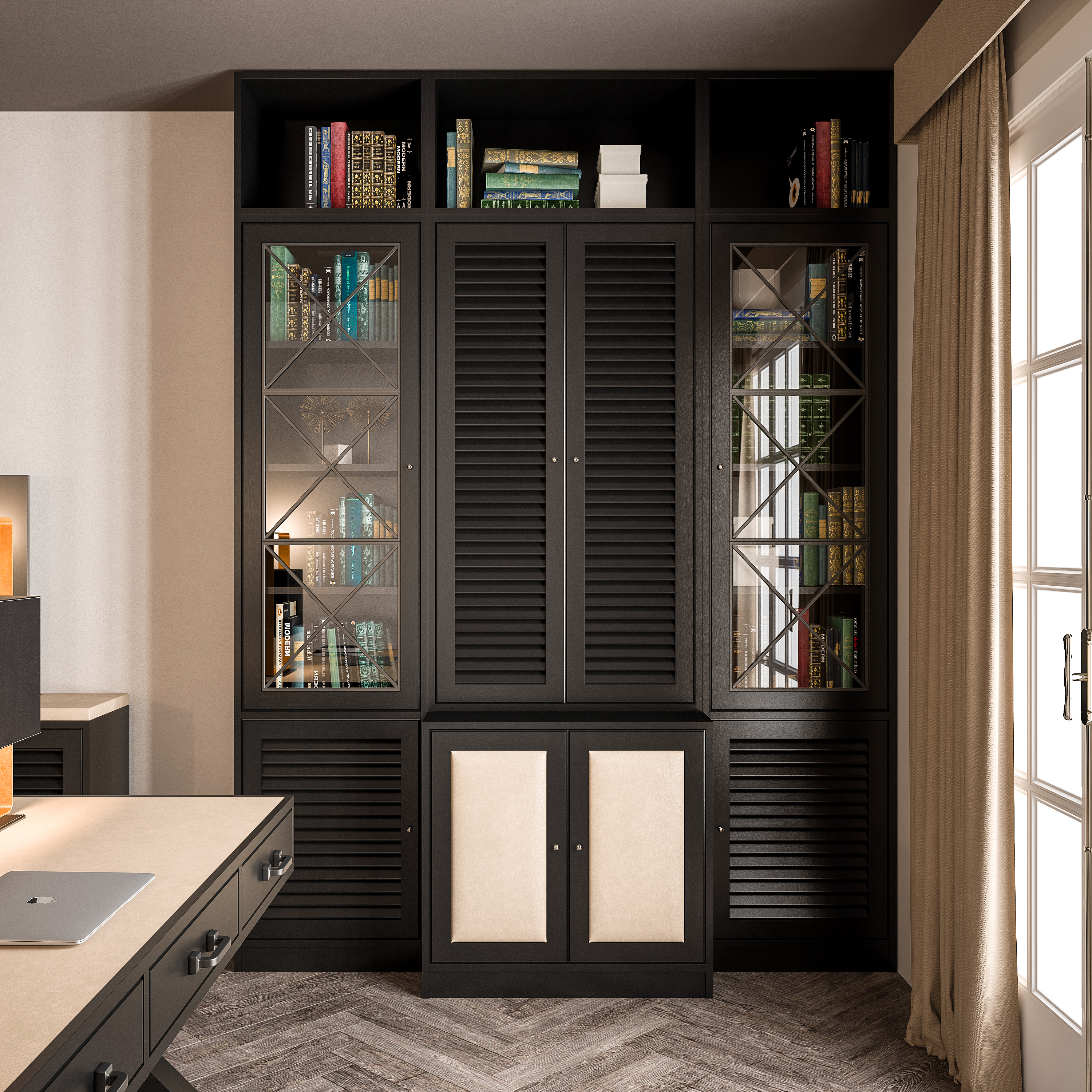 The project also envisaged the creation of a customized solution for the bookcase: the module with glass doors with lozenges for the upper part and shutters in the lower one has been reduced to 60 cm and realized with a single door, while a 90 cm module has been placed in the center with shutters in the upper part and in the lower part with a padded frame coordinated with the top and armchair upholstery. To take full advantage of the height of the room 3 modules were finally added at the top of the library.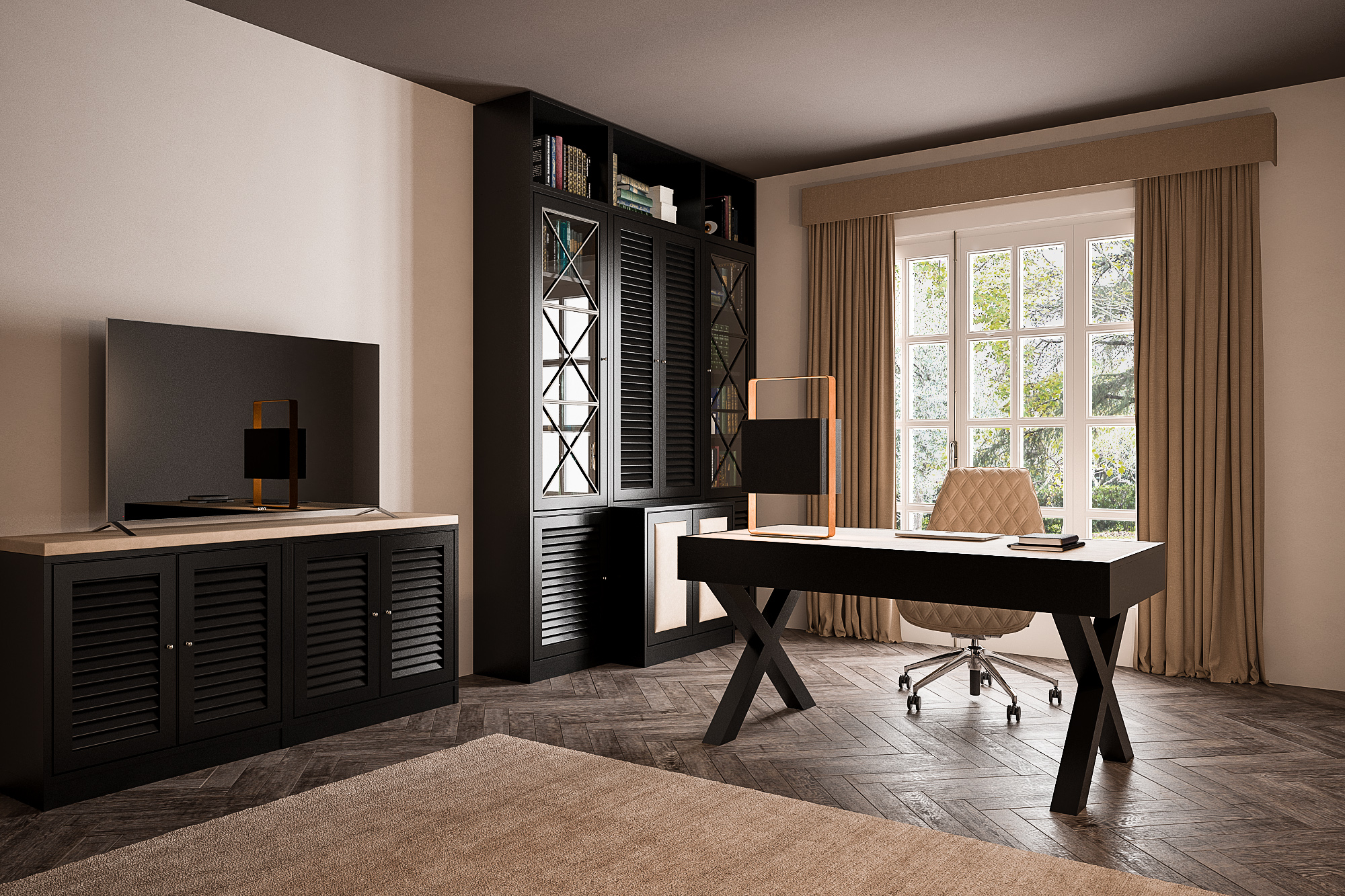 The sideboard with covered top was used as a TV stand and placed next to the bookcase as a separate storage unit. Finally, the private study was completed with a wardrobe with shelves.
Customized products, tailoring quality.
Each product or interior design project by Caroti is 100% CUSTOMIZABLE, as shown with this custom-made office furniture comprising a wardrobe and bookcase with diamond-shaped doors.
Our Technical Department first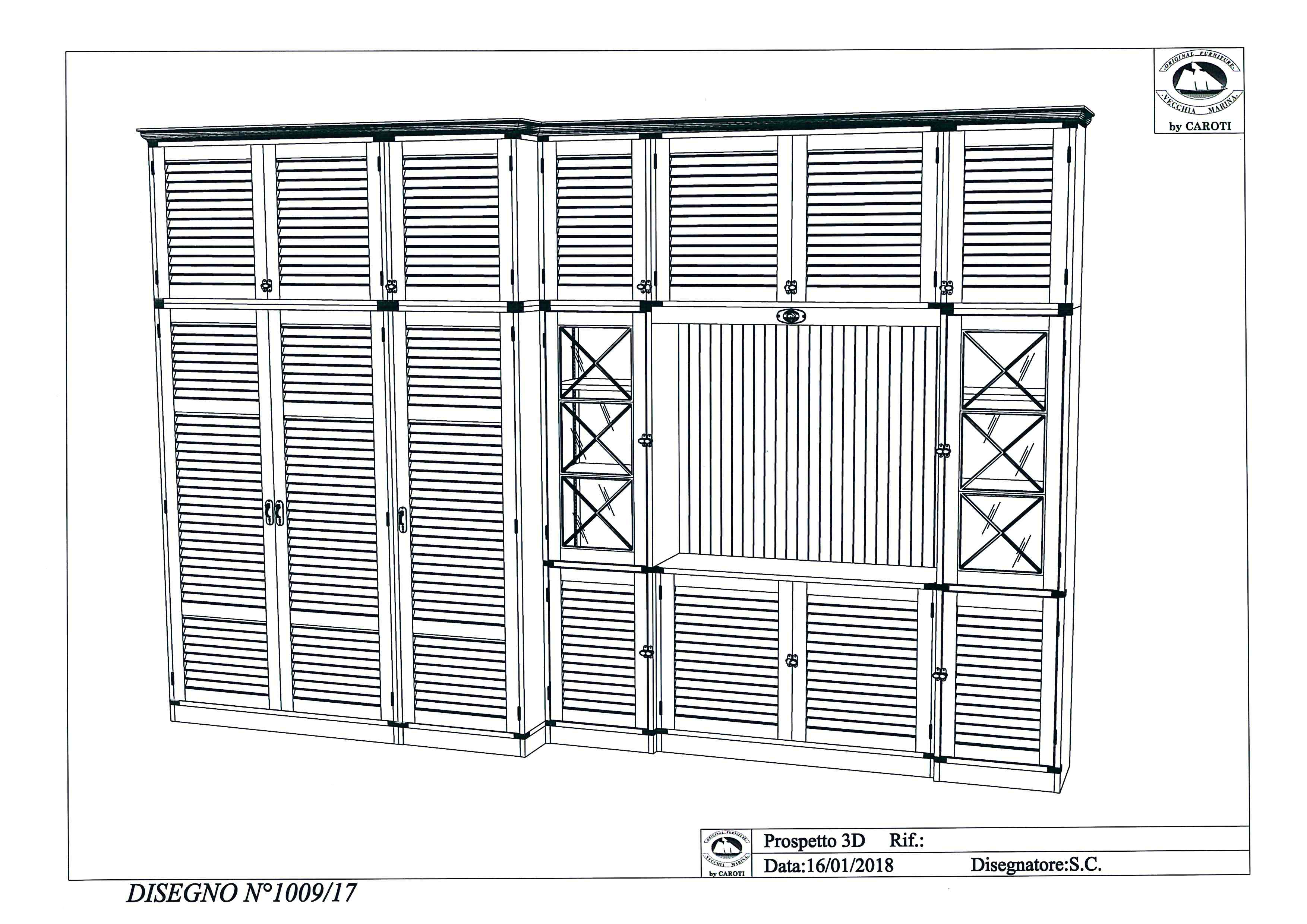 creates the schematic 3D drawing and then develops the layout of the elements in the plan, up to the rendering simulation that allows customers – wherever they are – to view the final result of the project and appreciate how the finished space will be. This process is an important and irreplaceable value when working on custom projects, all of them very different from each other, like our customers are.
Which style do you prefer for our Dolcevita office furniture?
Which details would you like to customize to make it unique?
Tell us your ideas, our Technical Department is always available for every request.