Caroti uses an original Old Navy style to fit out the offices of a ship brokerage company in Livorno, a colourful and picturesque city where passion for the sea gives body to the poetic soul of an eight-centuries-old port tradition.
The unique and luxurious experience on all the seas of the world which this company offers starts in these offices where the Bolina reception desk welcomes customers with its majestic prow shape and with majestic contrasts of classic mahogany and shiny brass.
The natural grains of the solid wood show warm and intense hues on the woodwork like waves which break against the keel while a large, ancient anchor exhibited like a sculpture takes one back a century in time to when the great ocean liners used to cross the Atlantic on the jazz notes of Louis Armstrong and Bessie Smith.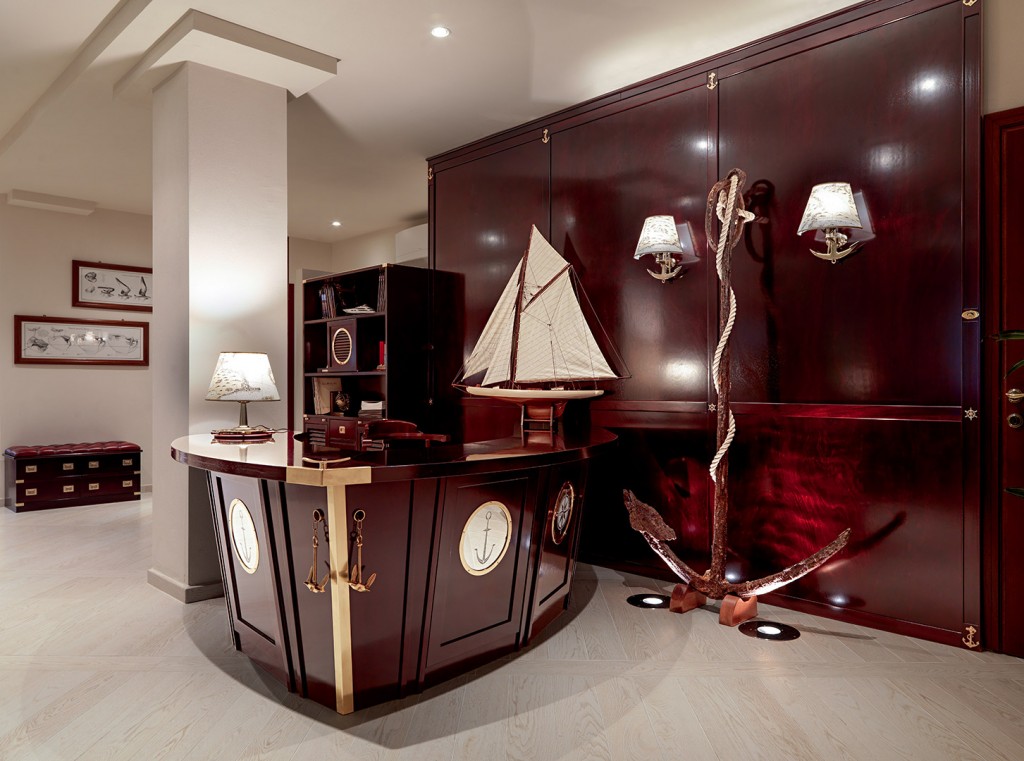 The sailing tradition goes on in the management offices where each detail evokes the Captain's cabin, mixing new and antique furniture thanks to the faithful way Caroti's production resembles original items from the past, both in the colour of the wood and in the design and brass accessories.
Glass partitions break the space up into separate offices and multi-media meeting halls, where through the sanded decorations one can catch a glimpse of ship style decorations.
New and old live together in these offices, with their modern and elegant styling designed to measure by Caroti's Contract Division which has taken care of interior design from furniture to decorations, from lighting to the choice of fabric for the curtains.
Not just seaside offices. Our technical staff develops custom tailored projects for every area of the house, from children's rooms to the kitchen, from the dining room to the living room. Discover all our creations and ask right now for free advice on how to fit out your home in a navy style.