The customized products we have recently created for our customers have inspired 5 unforgettable colors for Christmas 2018. Discover with us some creative ideas to decorate your home and don't miss a foretaste for the Christmas to come.

Christmas 2018 – Black, gold and…animal print!
The combination of black and gold is a guarantee of elegance and sophistication, beyond the passing trends, both in fashion and design. With these traditional colors, what matters is originality.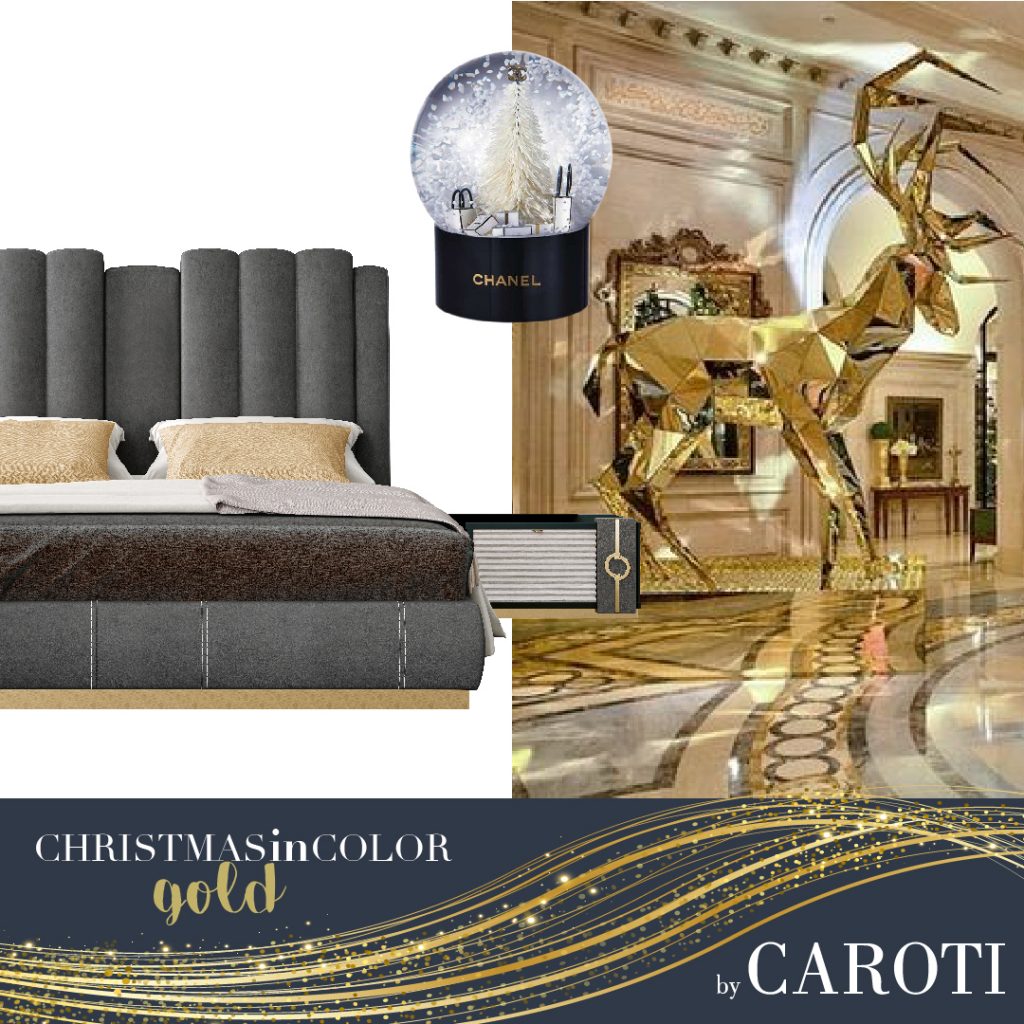 As in the case of the maxi reindeer in a low poly style made of mirror-effect gold-colored PVC. What about the tree? Strictly white and inside a romantic Boule-de-neige. Perfect match with the TEMPLE bed of the Concept by Caroti collection with anthracite nubuck coating and customized finishes in satin-finished golden steel.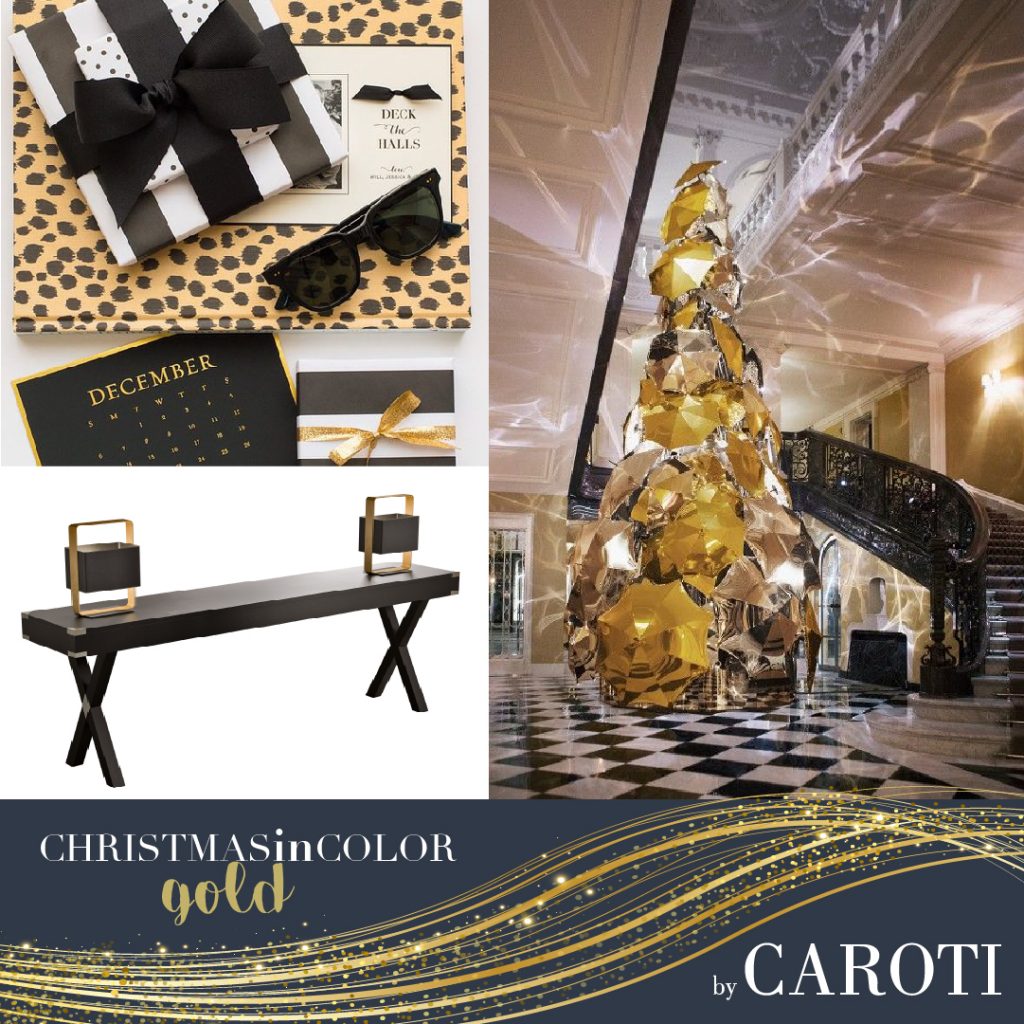 The DOLCEVITA console in Mahogany Black with SORRENTO lamp in metal and leather is a perfect piece of furniture to furnish a wide entrance: here you can put packages and holidays memorandum. The Christmas tree? A pyramid high up to the ceiling with golden mirror-effect umbrellas scattering light reflections in every direction.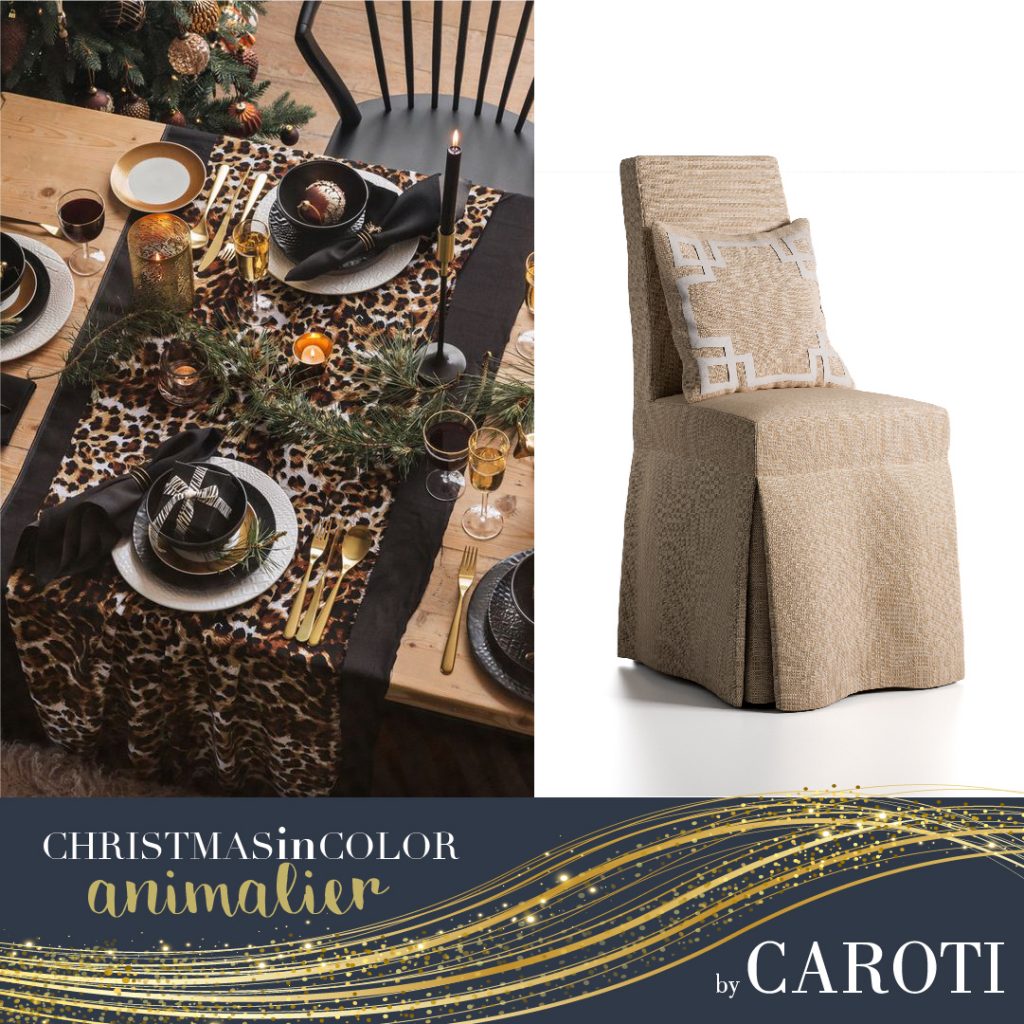 And if you really can't resist the temptation of the animal style for Christmas 2018, here's an idea for a very "scratchy" table setting! To balance this extravagance, we suggest a habillè chair like the model PORTOFINO by Caroti in ecru fabric with relief decoration.
Christmas 2018 – Electric blue
In the year that more than ever has marked the thaw of the polar ice cap, these mega penguins in metallic blue PVC convey a strong and universal message of respect for the environment and ecological awareness.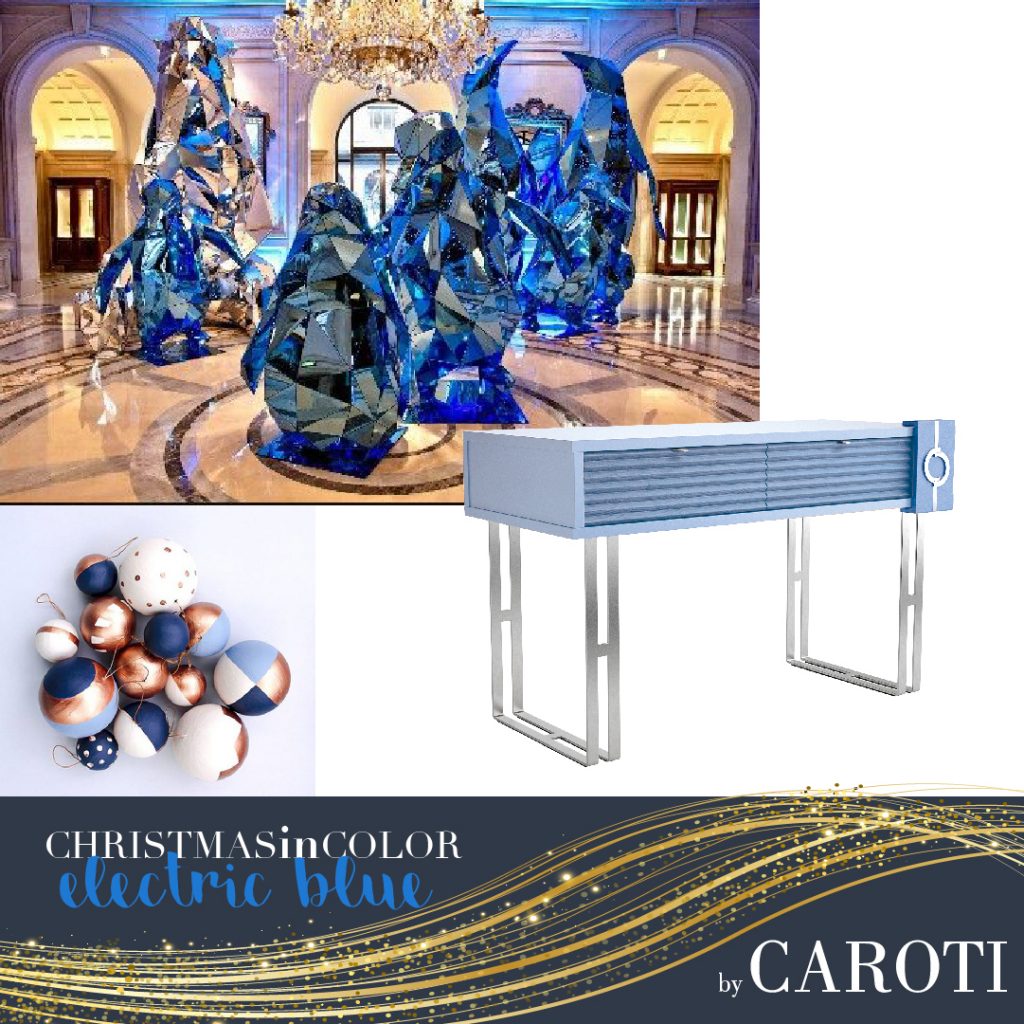 Here then the Christmas tree decorations are made of recycled wood and are hand-decorated, maybe together with the children. It is precisely for them that this fully-custom LIFT desk from the Concept by Caroti collection is designed.
Christmas 2018 – Ruby red
A very strong color, red is the emblem of Christmas. How to make it then original and surprising? Realizing characters and trees with a polar theme in geometric style, as if they were huge colored crystals. They did it at the Four Seasons Hotel in Paris and the result is nothing short of amazing.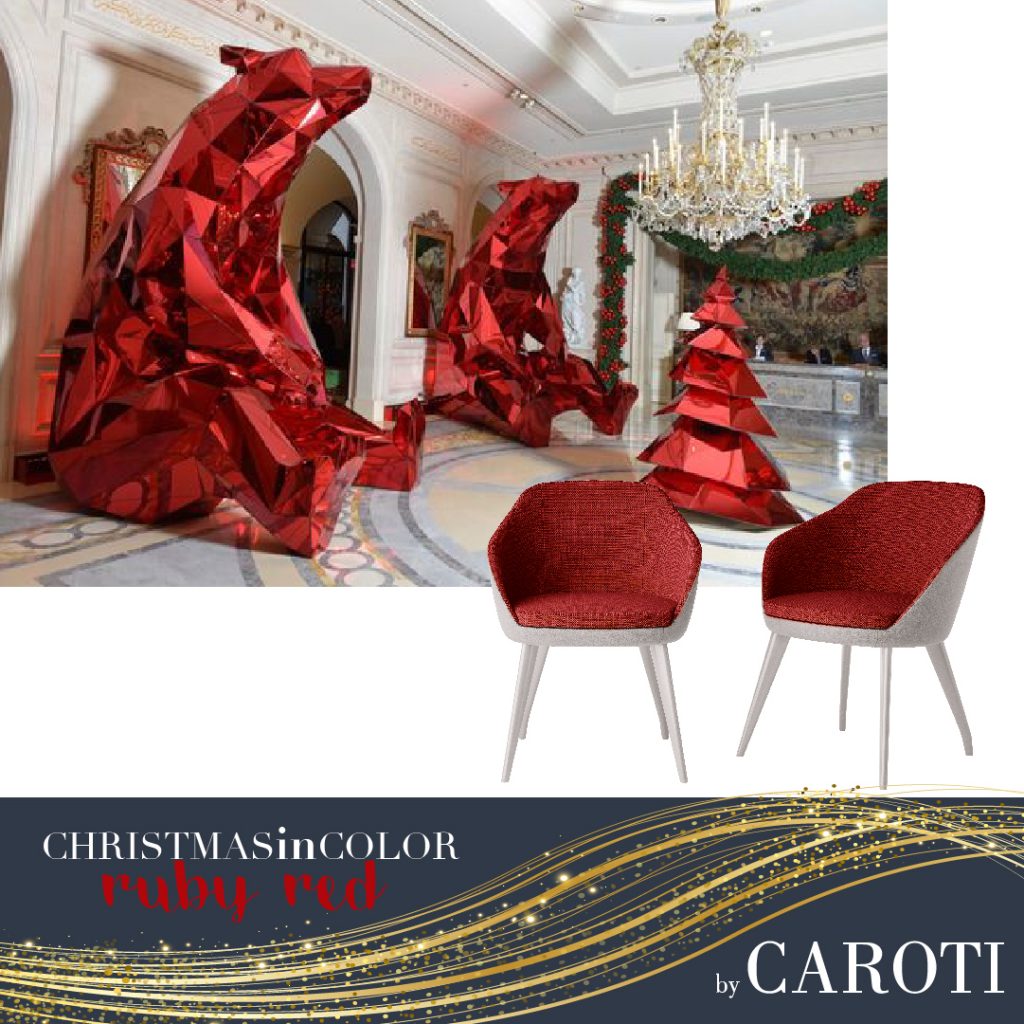 We recommend it as a decoration for a dining room with EXAGON chair from the Concept by Caroti collection, 100% customizable in fabric and finish.
Christmas 2018 – Tiffany
The institutional color of the famous New York jewelry Tiffany & Co. has become a chic style icon with a touch of romance and fantasy. For those who love this delicate and elegant style, even Christmas is colored with shades halfway between turquoise and aquamarine green.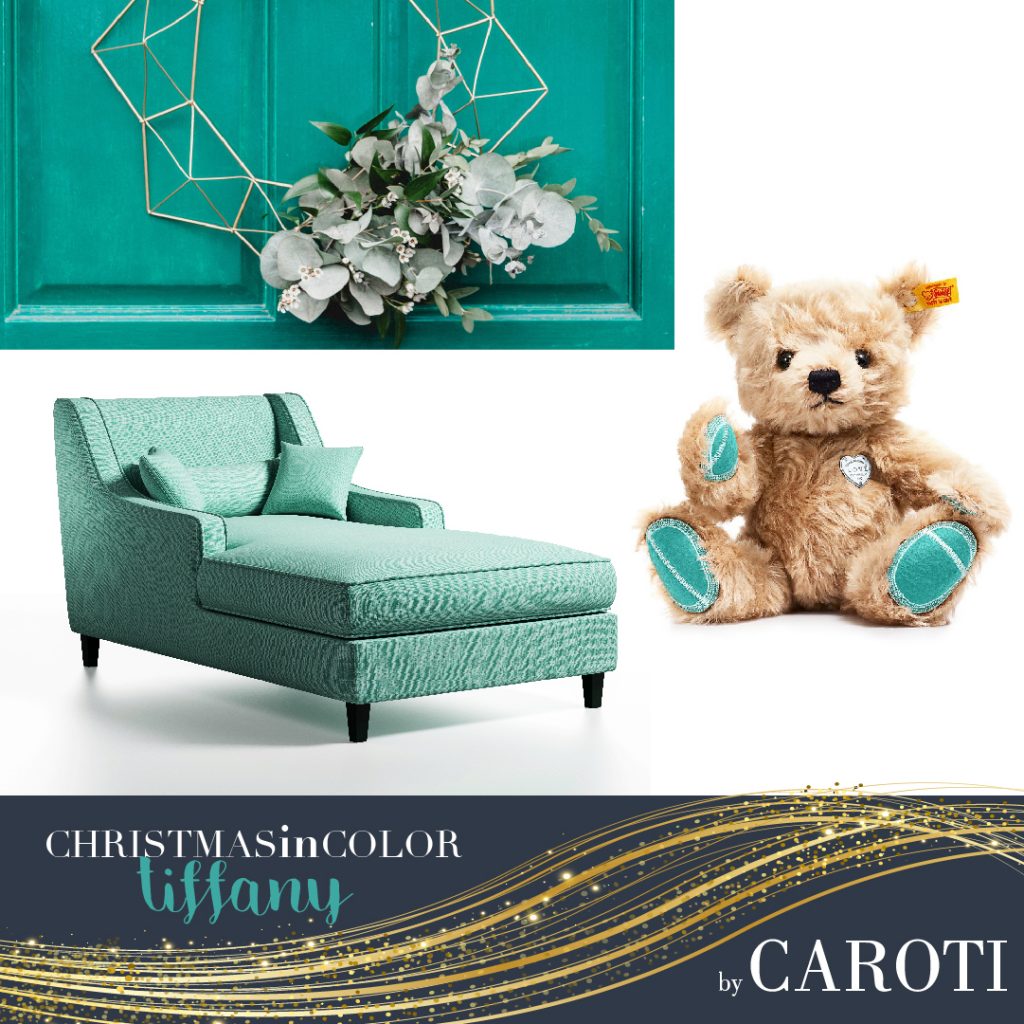 Last-minute gift idea: a soft teddy bear with a silver heart engraved with the themes of the maison. You can tighten it comfortably lying on the FELLINI chaise longue.
A foretaste for Christmas 2019
The creative studio Stilbüro bora.herke.palmisano has outlined for Christmasworld 4 macro-style trends for Christmas 2019.
Credit: christmasworld.messefrankfurt.com
Essential ceremonies: natural shades of raw natural wood, sand-colored, combined with white and moss green.
Luminous celebrations: floral shades where pink, green and lilac illuminate the scene in a romantic way, as if we were immersed in a fragrant flowery meadow.
Sweet traditions: will we maybe get back to basics with the combination of green, red and white? A few bites of wood with twigs and with plaid-effect squares. It really seems so!
Tender festivities:multi-material total white with fabrics, crystals, glass, stones and so on. A white Christmas by all means.

At this point there are only a few days before Christmas. And you, are you ready for the holidays? With the hope that you enjoyed our ideas and they helped you decorate your home with imagination and elegance, we wish everyone a #WOWChristmas!