#Imcozyhere – cappuccino onyx table
It has never been easier to confer an elegant and unique atmosphere on the dining room. Thanks to the contemporary style Concept by Caroti line, you can choose how to customise your dining room furniture choosing among more than 1,000 combinations including solid wood, metal, leather, marble and RAL colours for lacquering the body.
How to choose the table for an exclusive dining room – When you are looking for an elegant and luxurious dinner table for modern and contemporary atmosphere, the first thing to choose is the top and the base. Design tendencies for 2016, which we will soon be seeing at the upcoming Salone del Mobile furniture show in Milan, favour the choice of clean and minimal lines and the use of contrasting materials, both in terms of colour and surface texture: the aesthetic intensity of marble blends with the synthesis of metal, the warmth of solid wood embraces the ethereal transparency of crystal.
For example, the DOLOMITE table (cm 201 x 102 x h.78) with embedded cappuccino top made of a slab of "vein cut" onyx and metal base. Typically, Cappuccino Onyx comes from Iran and Egypt. It is a kind of material with a uniform vein, with a predominant cream colour broken up by intense dark brown stripes. The intrusions of cocoa, coffee and white colours animate the surface, conferring vivacity and body. The marble tops of Concept by Caroti all have lapped edges and have been treated with a glossy finish to show up the surface of the table and make it last longer.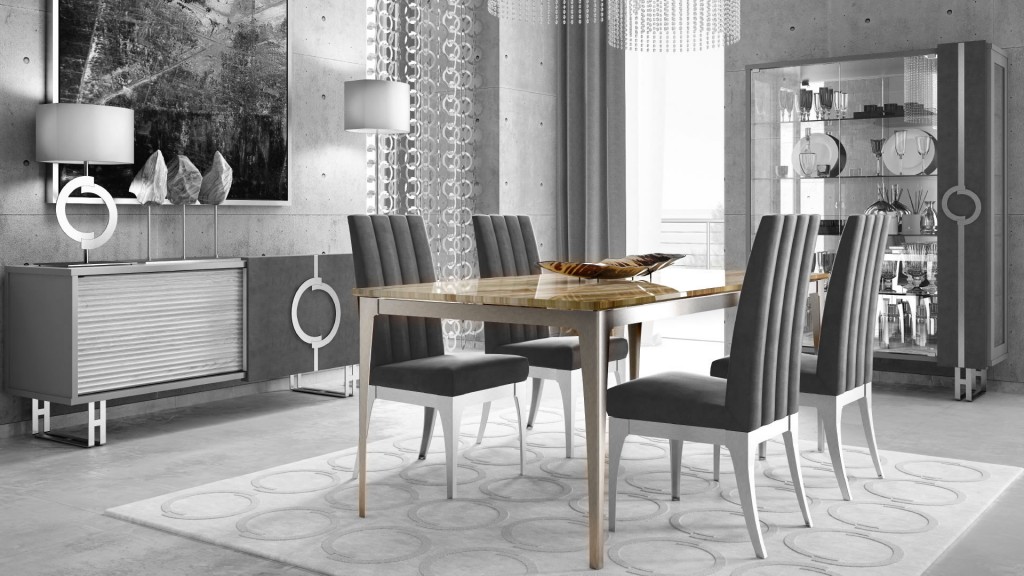 As an alternative, for those who do not want to renounce the essence of true wood, the top can be made with a solid ash frame fitted into sand-polished mirror and crystal layers. The Rhombus decoration on the DOLOMITE table is made using zone sanding technique, the top is lapped and has a glossy smooth cut on each side. This configuration of the top is not only precious and elegant; it also guarantees protection against breaking up. If broken, the layering of the glass prevents the glass fragments from separating, thus avoiding danger to nearby people or things.
How to choose the chairs for an exclusive dining room – The second thing to choose in order to have an exclusive dining room is a chair to match the table. To obtain an informal and playful effect, choice should fall on coloured PVC products or the like, but for elegant and prestigious settings, a padded chair is more advisable, preferably with anti-spot cladding. Like the padded QUARTZ chair with high back (cm 49 X 67 X h.105) and metal base. It can be matched with the DOLOMITE table: available in metal chromed satin or bronzed finish.
Which style lets you say #Imcozyhere? Come and discover it at Caroti's stand at the Salone del Mobile in Milan from April 12 to April 17 at Fiera Milano Rho. We look forward to seeing you at Pavilion 01 Stand L21.