Fairy tales have always been education for children: reading a fantastic story helps them to perceive their own emotions, identifying with the characters and trying to find solutions for difficult situations and defend themselves against threats and enemies. Exploring one's inner self is part of the process of growth and development of the personality, this is why furniture and accessories which evoke fairy tales and simulate imaginary environments are always so appreciated by children and parents.
Like Captain Bed. A ship ready to sail, blending practicality and design in a concept of multi-purpose furniture: bed, wardrobe, bookcase and game. With a removable anti-falling arch, this container bed hosts a 95 x 195 cm mattress and can be placed both against the wall and in the middle of the room. On the side, there are 2 sliding doors with clothes hanger stick, 2 doors with mirror porthole, 3 drawers and open shelves.  A piece of container furniture designed for both fun and order.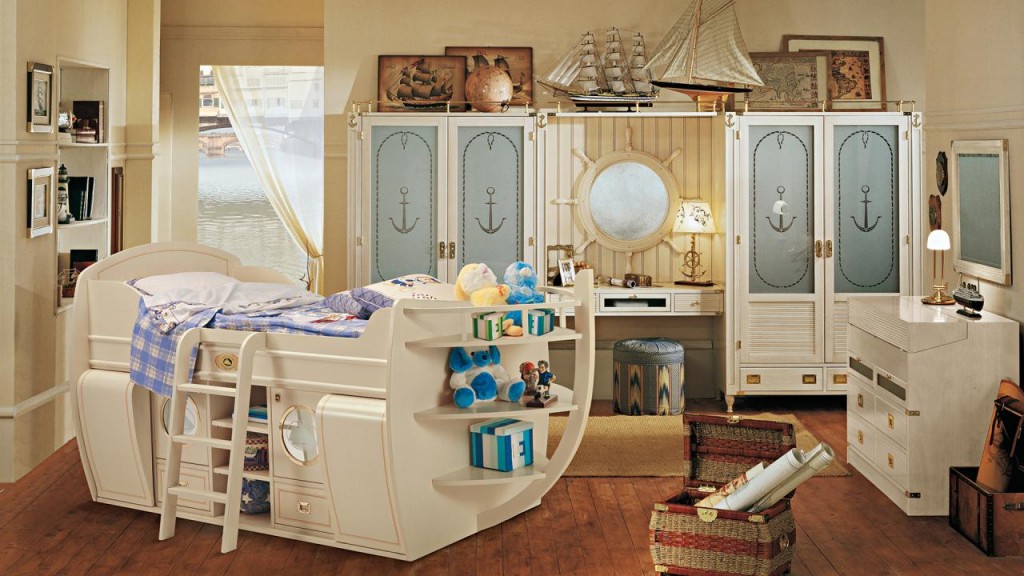 Still inspired by a sail boat sailing out toward the seven seas, Passepartout is a furniture system for children's rooms, where each piece has a double use, depending on the child's age. Phase 1: Baby. Phase 2: Teen. It will just take a few simple gestures to move from cradle to bed, and the room will adapt itself to your needs without any extra costs.
The boat-shaped cradle bed has 4 container drawers in the bottom and a prow with open shelves.
Turning a cradle into a bed in 3 moves. If you add to the cradle the chest of drawers with 2 small drawers and 2 extractable shelves, you can make a bed for a mattress measuring 170 x 70 cm. Detached from the transformed bed, the prow of the cradle bed turns into a nice wall console. After removing the protective side bars, turning the cradle into a bed will be child's play.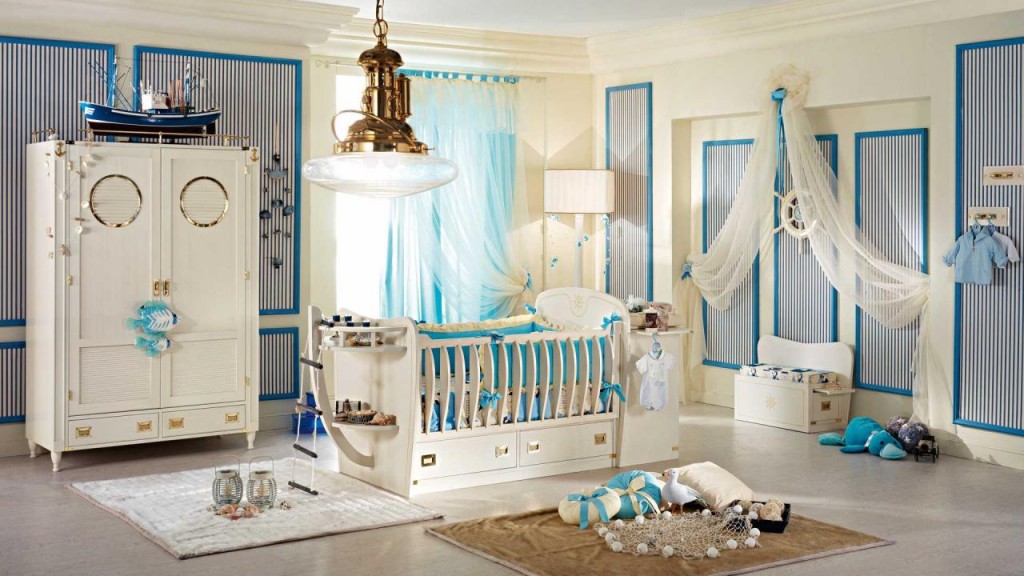 This bed which imitates the keel and cabin of a boat, is inspired by Calafuria, an ancient outpost on the coast of the Tyrrhenian, which gives its name to a classic sporting vessel for old salts and open sea fishing fans.
Passion for the sea explodes in every detail: like waves breaking on the rocks, the grain of solid mahogany draws nuances on the base of the container bed, the head piece has a fabric boat awning with a wooden structure.
Porthole and accessories are made of shiny brass, the item compartments and practical use of each space mirrors the best seafaring tradition.