Like every year, the whole world of design, from fashion to home furnishing, from packaging to graphic design, from art to the world of beauty, awaits with excitement the release of Pantone Color of the Year. A little bit inspiration and a little bit compass of global trends that will influence the year that has just begun. Our style department has developed 3 color palettes dedicated to Pantone Living Coral to inspire design with Caroti furniture.
PANTONE 16-1546 Living Coral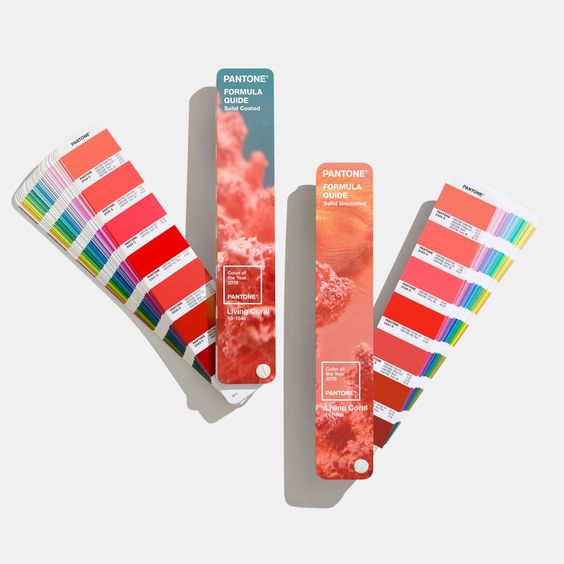 The designated color for 2019 has been named Living coral (light and vibrant coral), a shade halfway between pink and orange with a golden undertone that infuses energy and immediately makes you desire summer. Pantone defines it this way:
"In reaction to the onslaught of digital technology and social media increasingly embedding into daily life, we are seeking authentic and immersive experiences that enable connection and intimacy. Sociable and spirited, the engaging nature of Living Coral welcomes and encourages lighthearted activity. Symbolizing our innate need for optimism and joyful pursuits, Living Coral embodies our desire for playful expression."

The choice of this color is also related to important themes and brings attention to environmental issues. According to Pantone, Living Coral "is evocative of how coral reefs provide shelter to a diverse kaleidoscope of color". In the definition of color, the "living" denotation is intentionally opposed to the reality that instead sees this microorganism unfortunately closer and closer to extinction.
Pantone LIVING CORAL & Beige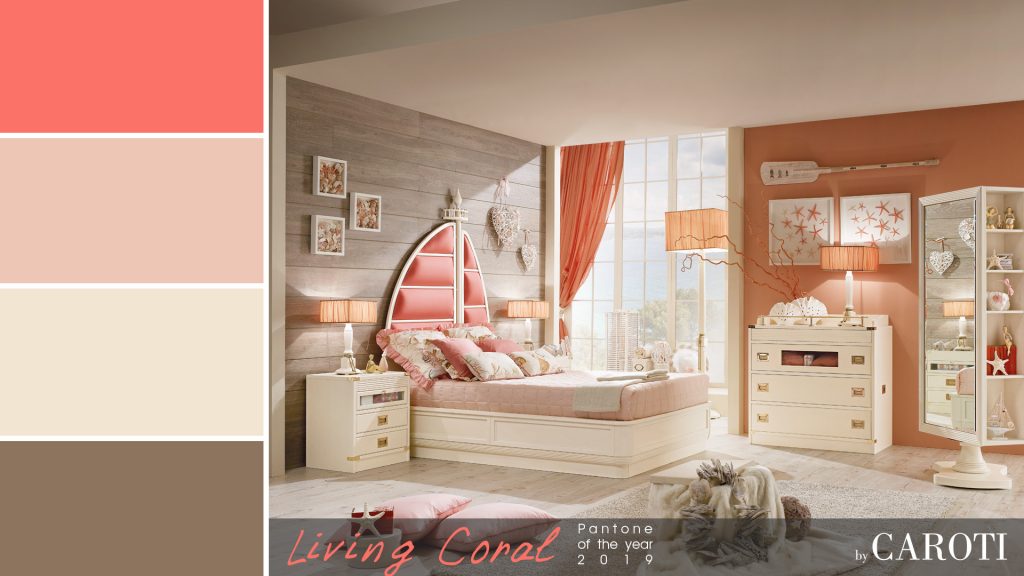 Vibrant yet mellow, PANTONE 16-1546 Living Coral embraces us with warmth and nourishment providing comfort and optimism. Combined with warm beige and taupe tones, Living Coral in our opinion is the perfect choice for little girls bedroom, as in this case: ARIEL bedroom in Patinated Lacquered finish.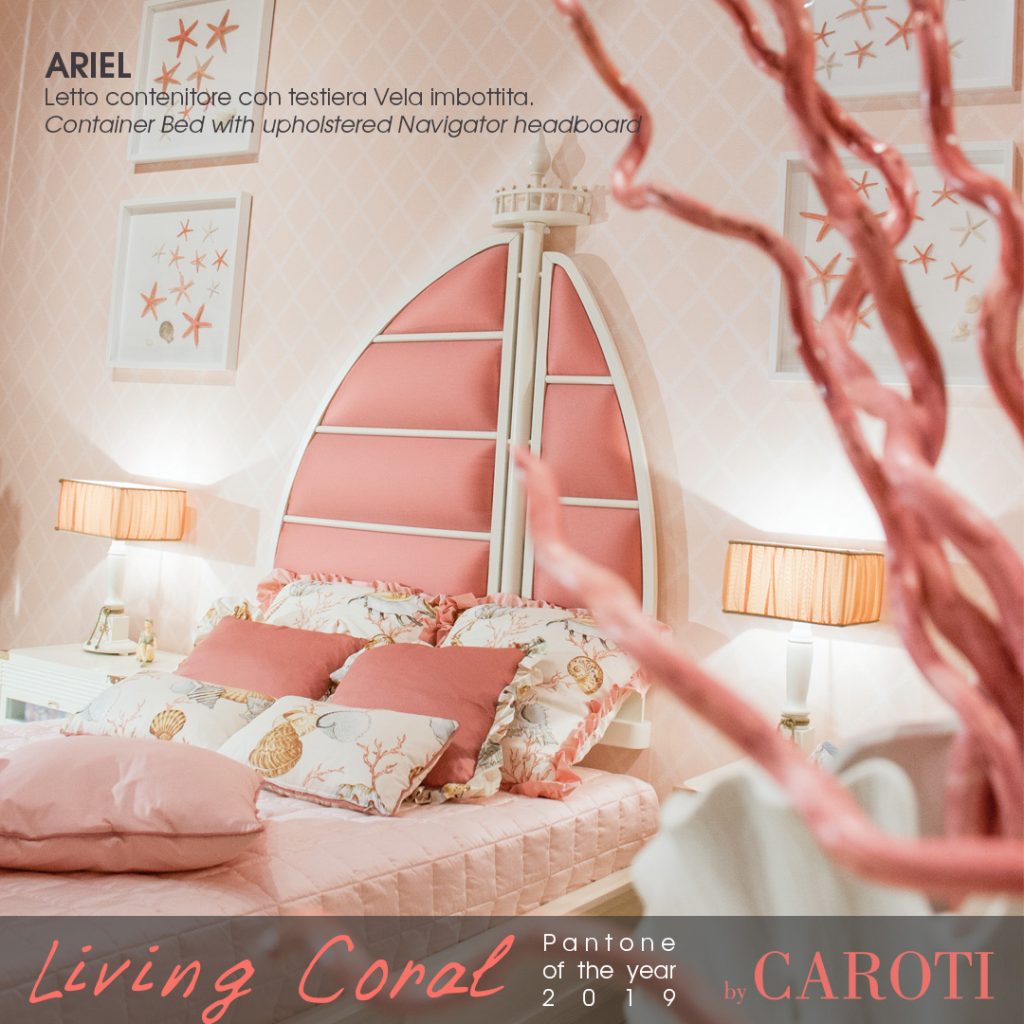 The Galeone Queen size bed is also available in a storage version, with a vertical lifting mechanism. The Vela headboard is padded with soft solid satin in bright coral color, which can also be personalized with fabrics chosen and supplied by the customer.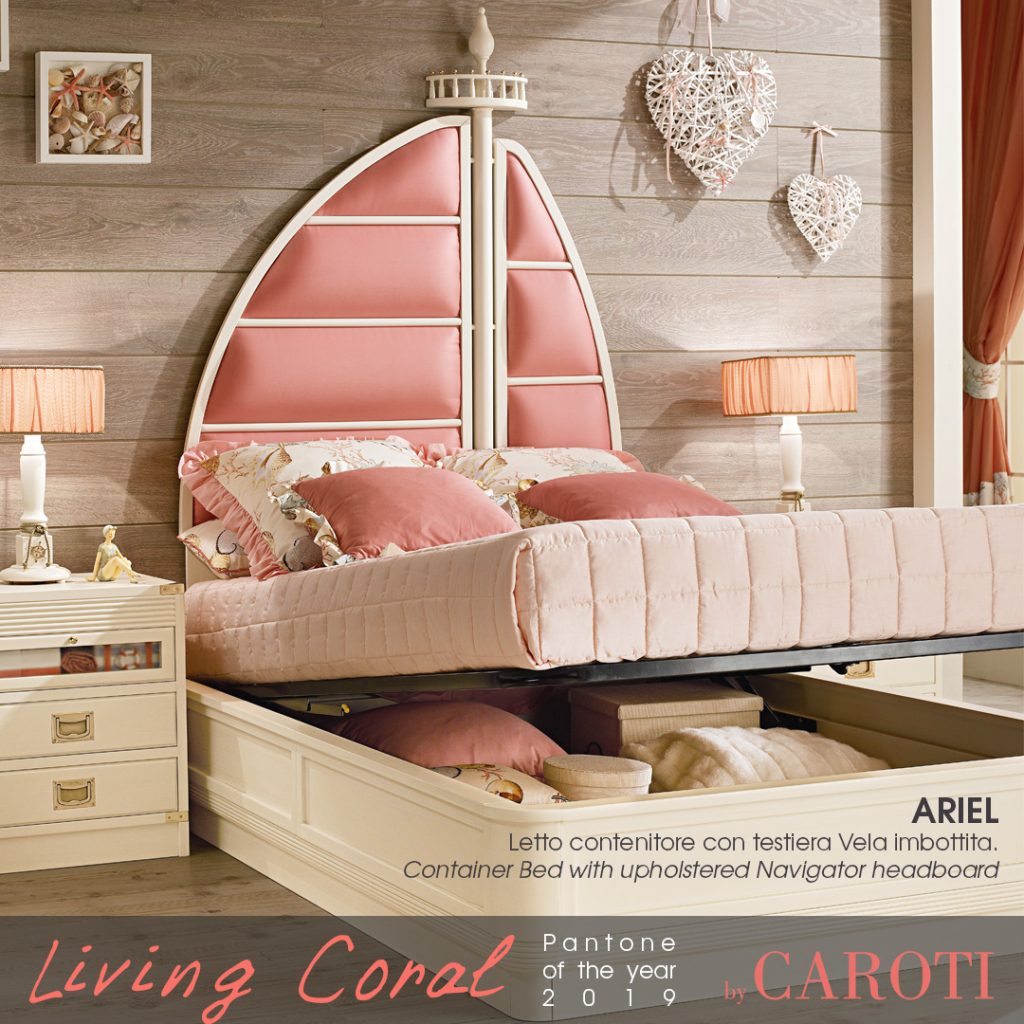 In a romantic little mermaid bedroom there is certainly no lack of space for a wardrobe and a vanity corner. Here comes this Goldline modular wardrobe composition made of a wardrobe with two doors and a toilet with mirror and upholstered pouf, coordinated with the bed textil.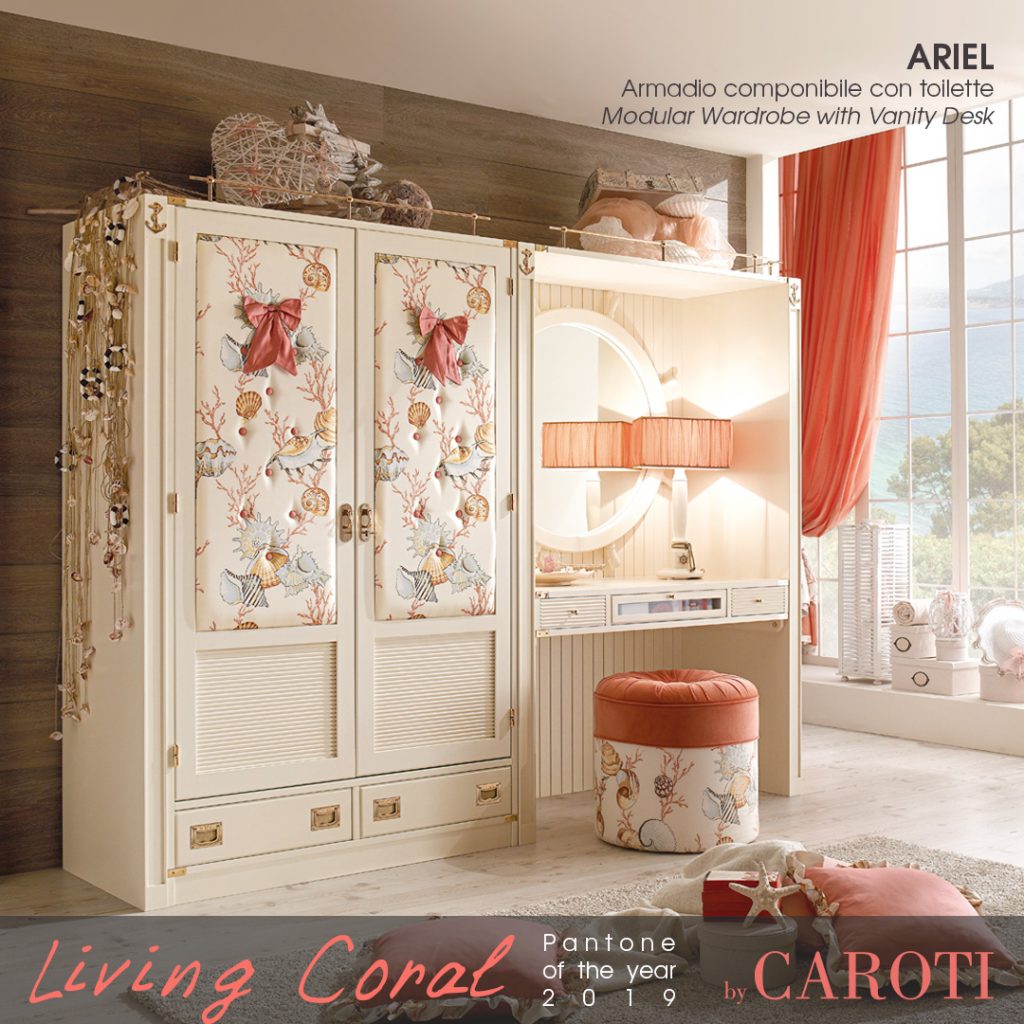 ---
Pantone LIVING CORAL & Navy
This very chic shade of coral makes you desire the sea, and the thought immediately goes to navy blue, sand color, wood polished by water and wind. This is how this light and sparkling palette is born, perfect for a bright and contemporary living area.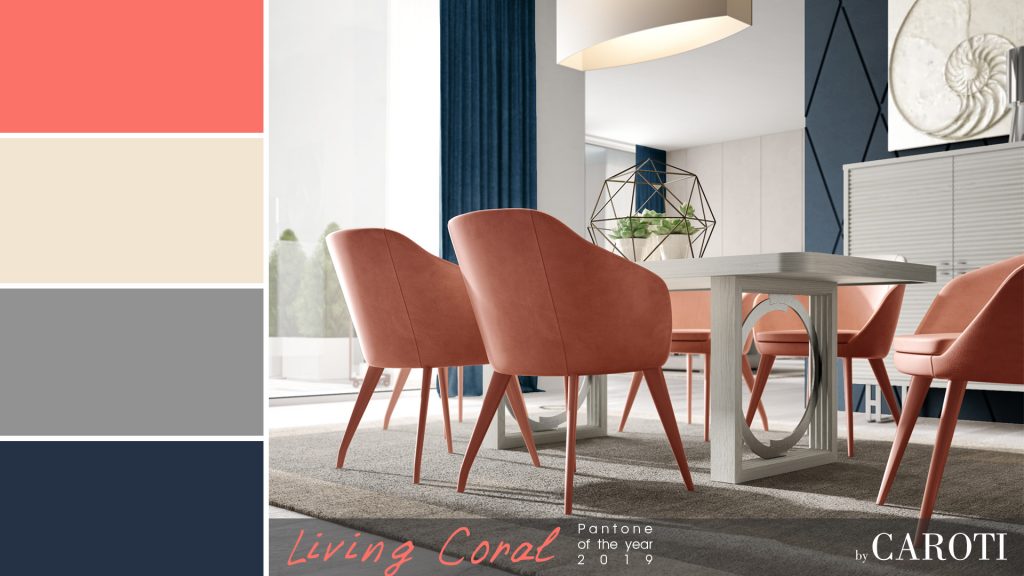 Thanks to the versatility of the Concept by Caroti collection, it is possible to customize each piece of furniture choosing among numerous finishes for solid wood, lacquers and coverings. As in this dining room with EXAGON chair in Coral faux leather with ton-sur-ton wooden legs. The table is instead made of solid ash, DRIFT finish.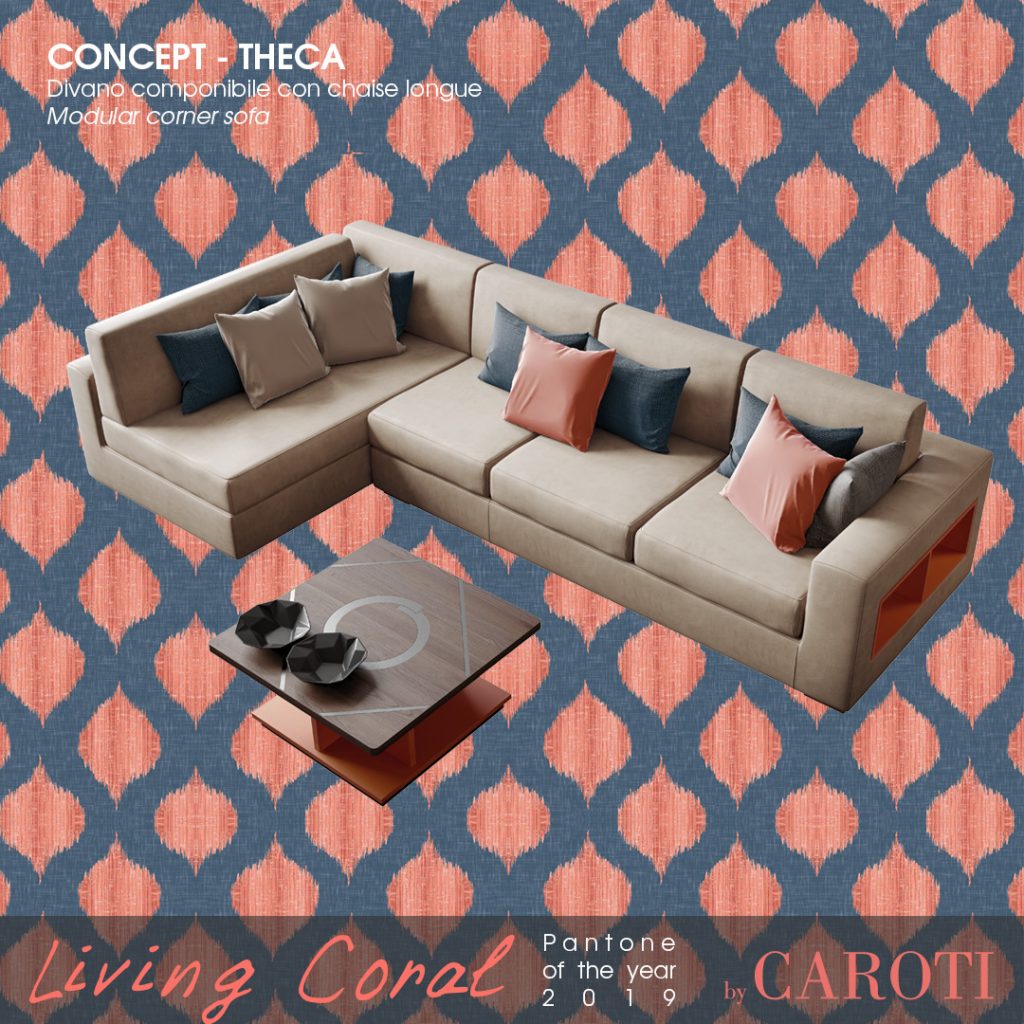 The THECA modular sofa can be configured in several combinations and arrangements to meet the space requirements for every home. Here we see it in sand-colored leather with coral-colored lacquered niches. For those who are willing to dare, we suggest soft cushions with two-tone geometric designs.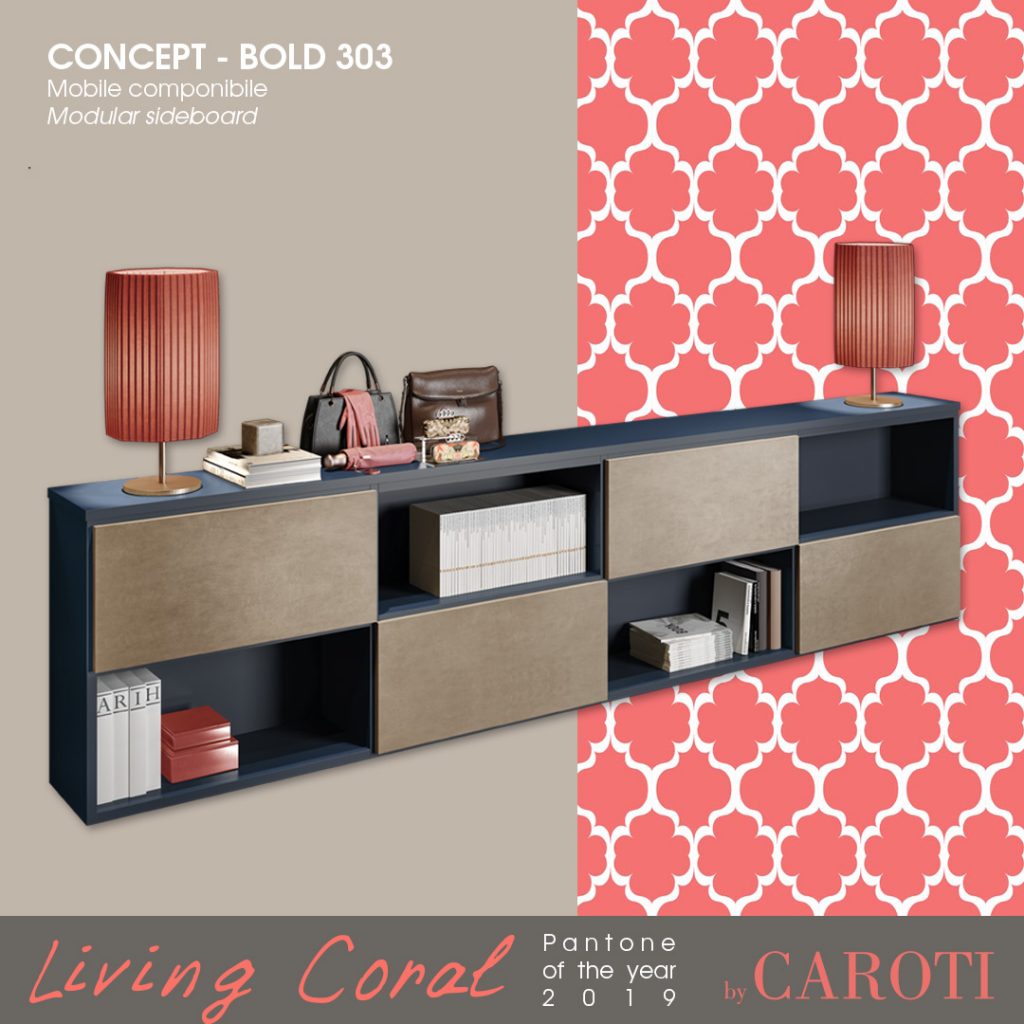 To complete the living area, the BOLD sideboard with doors upholstered in sand-colored eco-leather coordinated with the Theca sofa (see above). The finish of the cabinet is navy blue lacquered matt effect. The chic touch? A bright coral wallpaper with a classic decorative pattern.
---
Pantone LIVING CORAL & Aqua
Last but not least the combination with the aquamarine color. This palette plays with the colors of the coral reef giving welcoming and lively atmospheres that leave room for fun and experimentation.
We bring you as an example the whimsical study of a Dubai fashion designer who has customized the furniture with the bright colors of this palette. The storage units in turquoise shades, the coral-colored meeting table with beige faux leather chairs. The result is a chic and surprising space that perfectly embodies the mood of the designer's collections.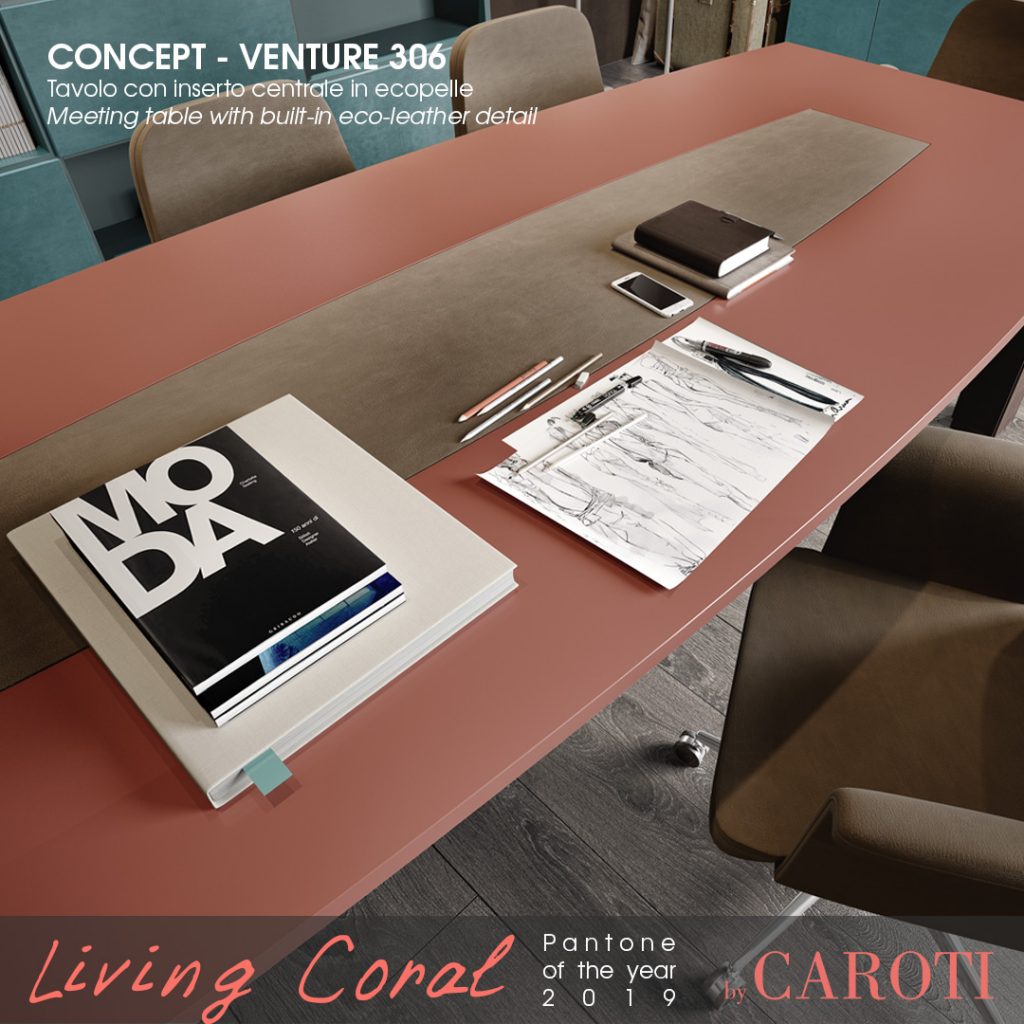 And for the waiting room, a two-seater SOPHIA sofa with a vaguely vintage taste that our style department proposes with mixed cushions, daring also with abstract and multicolor patterns.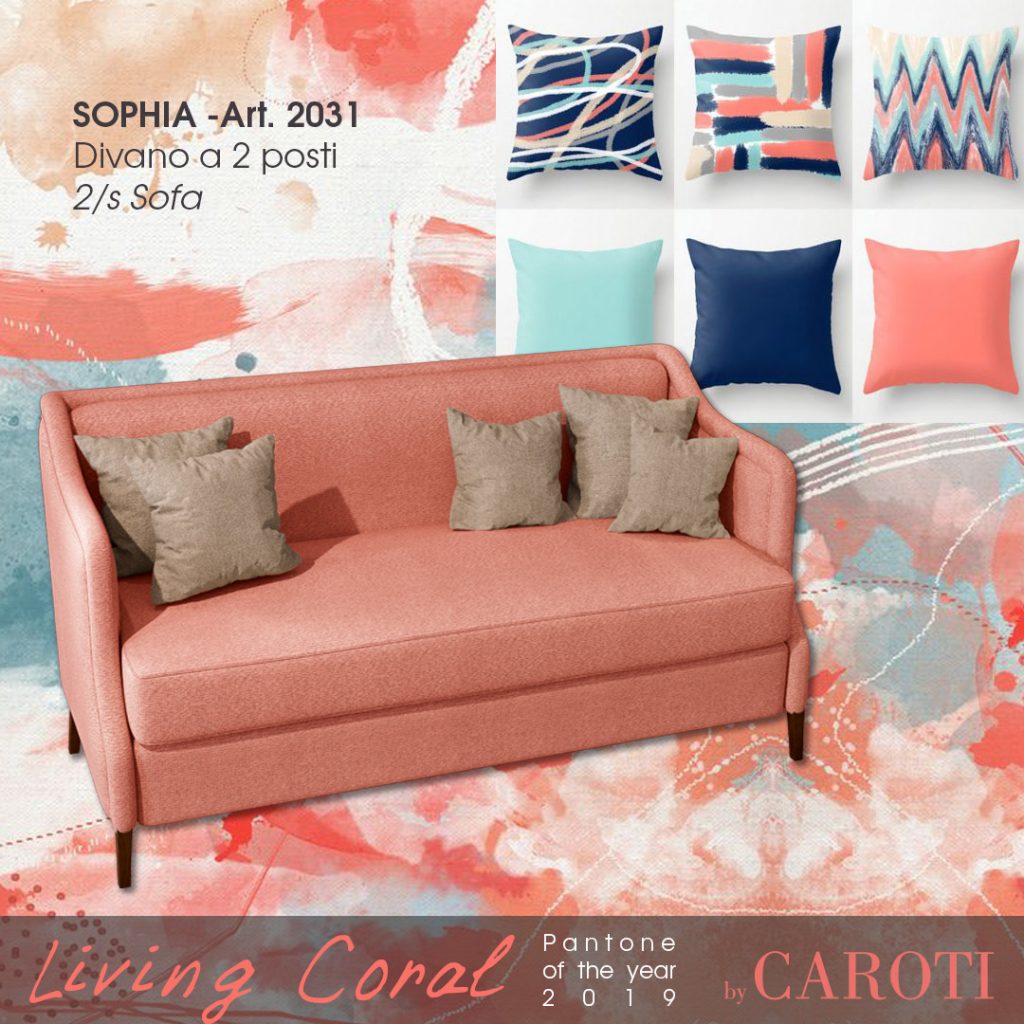 Pantone Living Coral recalls how coral reefs are a variegated kaleidoscope of colors that inspires all aspects of life, starting from our homes. Which palette are you choosing for your home?