Cordage is the new line of bedroom furniture designed by Vecchia Marina by Caroti where the unmistakable taste of the seafaring style meets the soft tones of pastel colours. For the boy's room, two-tone Patinated Lacquered finish with Blue Avio rope, for the girl's room, Mahogany Fusion with Ivory rope.
Cordage, the primary element in sailing, comes to life in the wood and becomes a decorative element which embraces and frames the furniture for the bedroom, from the nightstand to the wardrobe, from the dresser to the desk, from the mirror to the dressing table.
In Navy Style Bedroom the Cordage set is made in two-tone Patinated Lacquered finish with Blue Avio rope. The wardrobe is equipped with 3 sliding doors, cm. 224 X 60 x h 236, has 3 rods, a chest of drawers and supporting shelves. The side doors are upholstered with soft capitonné padding, also available with fabric supplied by the customer.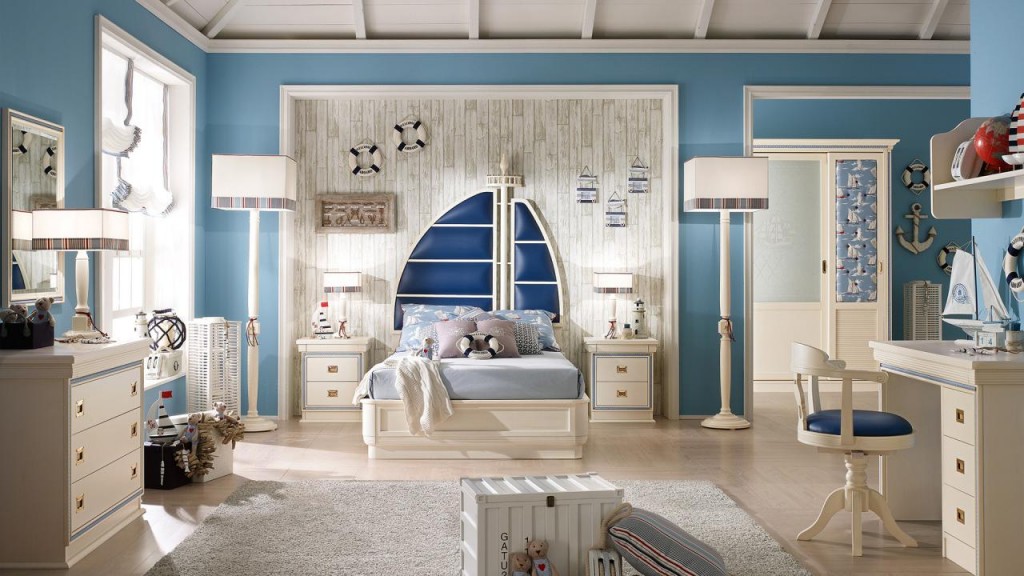 The Cordage line is designed to combine with the entire collection of children's furniture by Caroti, such as the Navigator padded leather headboard, cm. 126 x 7 x h 154 and the Galeone bed with container system cm. 132 X 202 x h 35, for mattresses measuring 110 x 190.
"Stella Marina" Kid's Bedroom is a bedroom designed for girls, and plays with the two-tone Mahogany Fusion with Ivory rope, for a delicate and very feminine effect enriched by the inclusion of drawers upholstered in leather (also available in faux leather).
The design is made specifically with children in mind, so the delicate dressing table, once the mirror is closed, becomes a spacious work desk, cm 166 x 51 x h 78 and the bed is as soft and velvety as a plush toy, glamorous and spacious, just like mum and dad's bed.
Stella Marina (Starfish) is a padded circular bed (for a round mattress with dia cm. 190 x h 18) that plays with its sinuous and fun shape to give the room a romantic and elegant character. The standard covering is made of dual-colour capitonné velvet, but can be customised with the client's fabric. And it can also be paired with the coordinated pouf in the form of Starfish cm. 60 X 60 x h 50.
Would you like to take a dip in your children's imagination? Visit our website and discover all of the proposals for child's bedroom from 0 to 15 years, or visit our showroom.