Concept by Caroti contemporary furniture collection is based on a custom-oriented approach: minimal lines and a versatile design able to adapt to ambitious and heterogeneous personalization challenges, both in modeling and finishing, thanks to a mix of complementary materials and over 1,000 different configurations.
The proposals presented in this collection are the product of interesting collaborations with architects and interior design studios from all over the world who have been able to interpret the philosophy of the Concept by Caroti contemporary furniture collection, realizing original products that are tailor made on the basis of client request.
Self-supporting corner bookcase with showcase
The creativity of the designer meets the production flexibility of Concept by Caroti contemporary furniture. Our customer was looking for a piece of furniture for the living room that was elegant and capacious at the same time, a corner solution different from the common equipped walls. This is how this special piece was created, combining the LIFT open-frame bookcase with 6 shelves and the display case with LIFT spotlights in a single unit.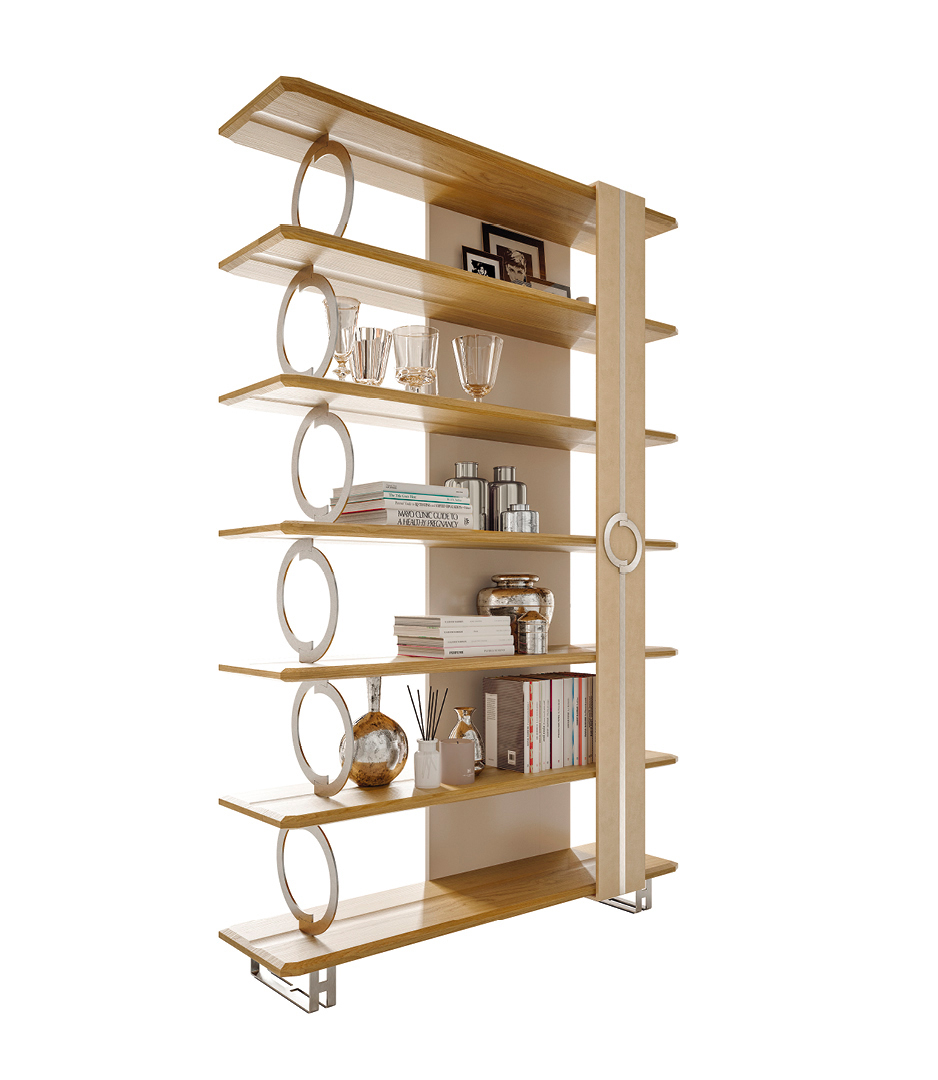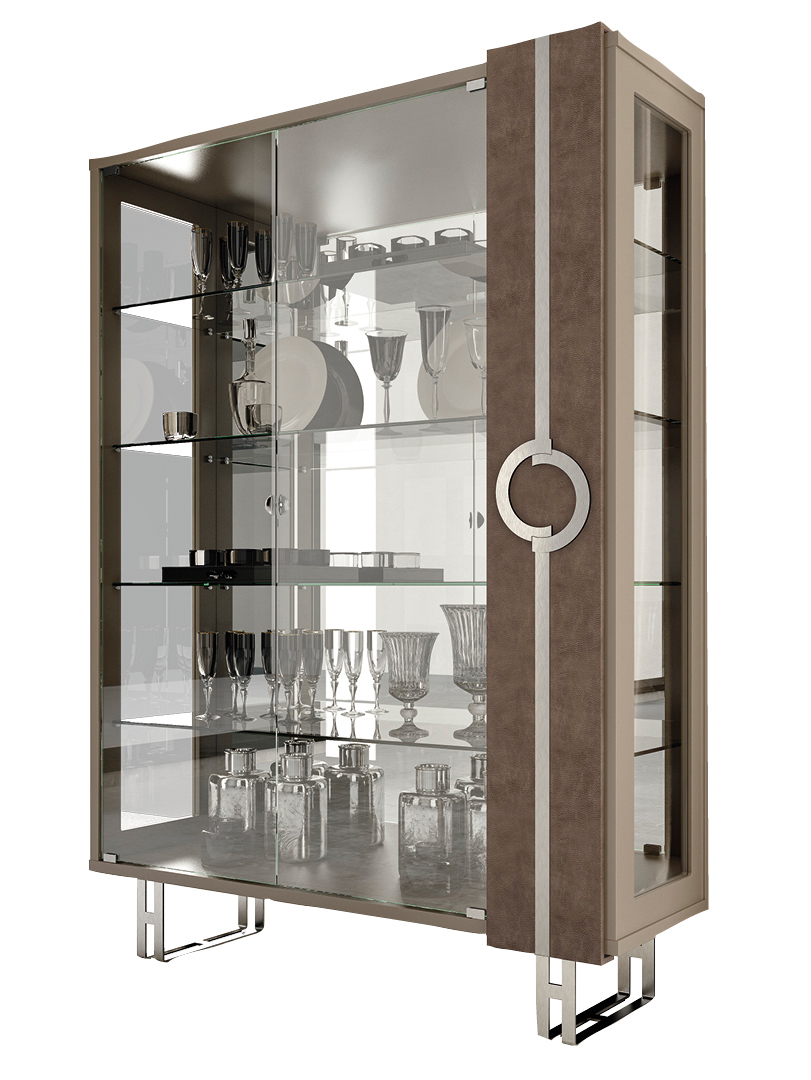 The finishes chosen by the customer were RAL 1001 for lacquering, solid wood with Moka finish, faux leather upholstery, bases and accessories with satin-finish steel effect.
Vanity set or desk? A customized storage unit for the sleeping area.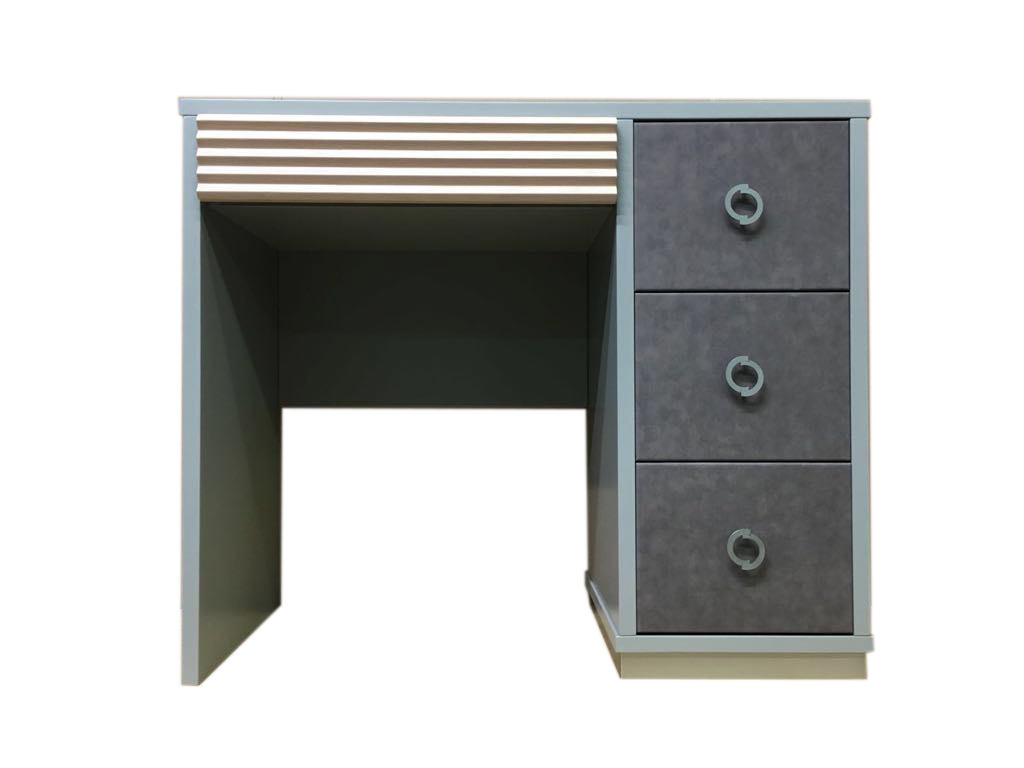 To set up a double bedroom, our client wanted a small storage unit that was as comfortable and practical as a desk but as small as a vanity set. The idea became a reality and gave us the opportunity to propose a new combination with a glamorous and sophisticated style: RAL 7030 lacquering, push-pull notched drawer in Bonseki Iceberg solid wood, drawers with eco-leather covering, base and handles with steel effect satin.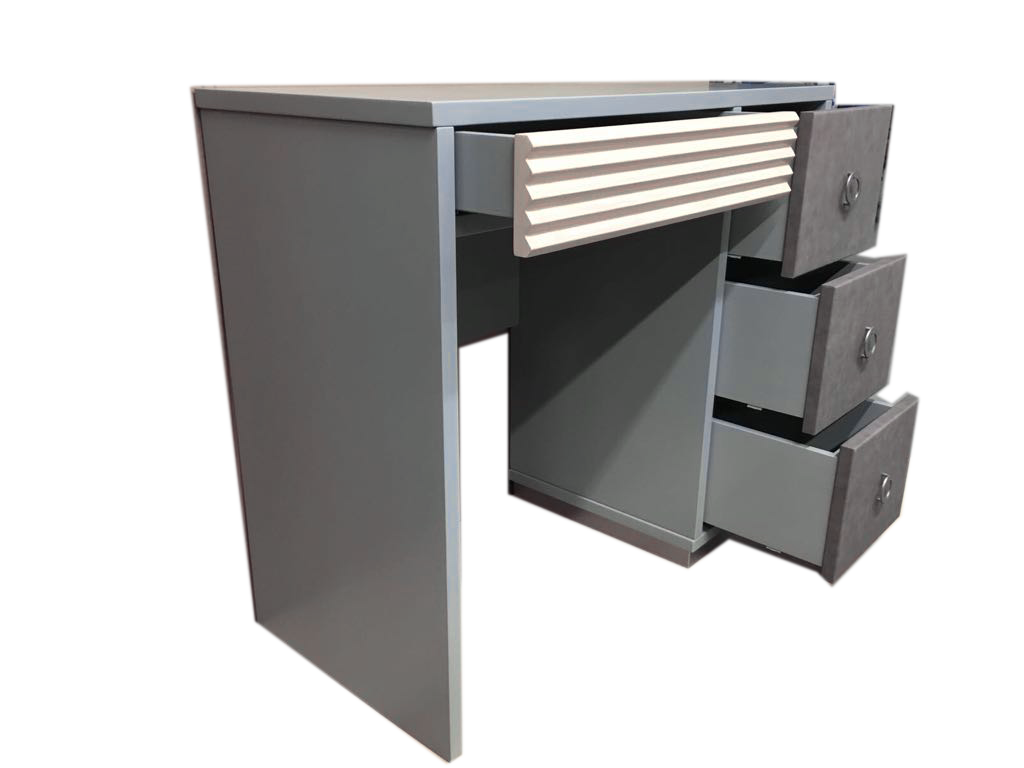 3 ways to interpret an executive desk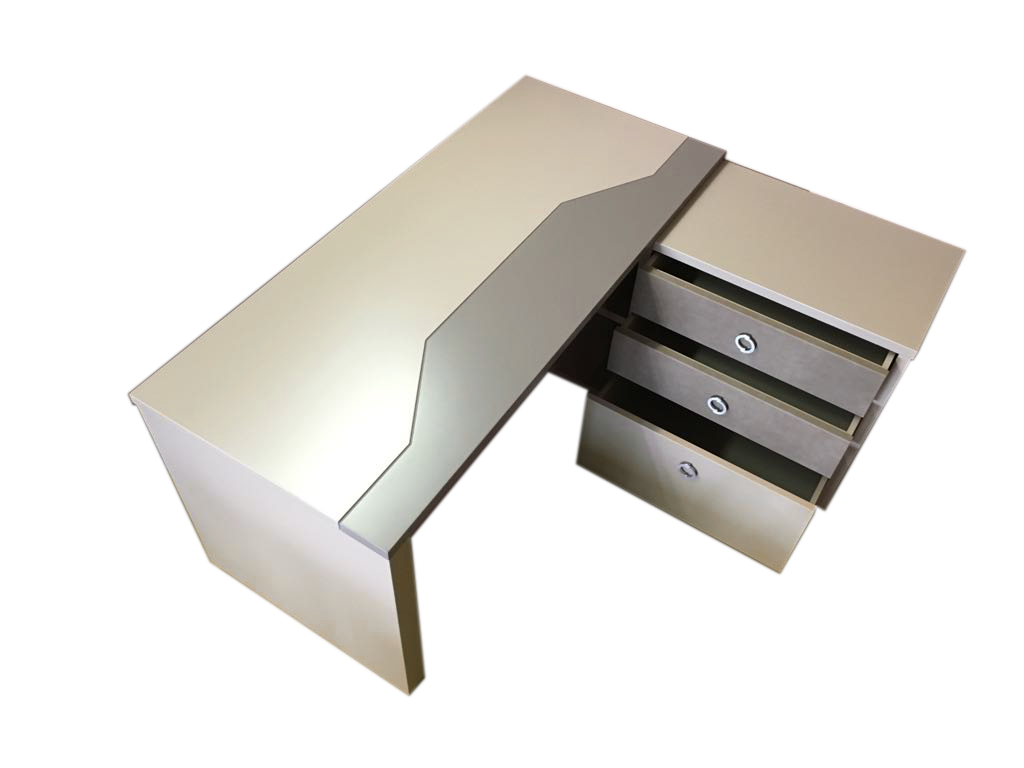 The BOLD desk with 3 push-pull drawers covered and 2 open compartments can be made in various finishes as shown by these creations that denote different styles and tastes, all of them characterized by the pursuit of elegance.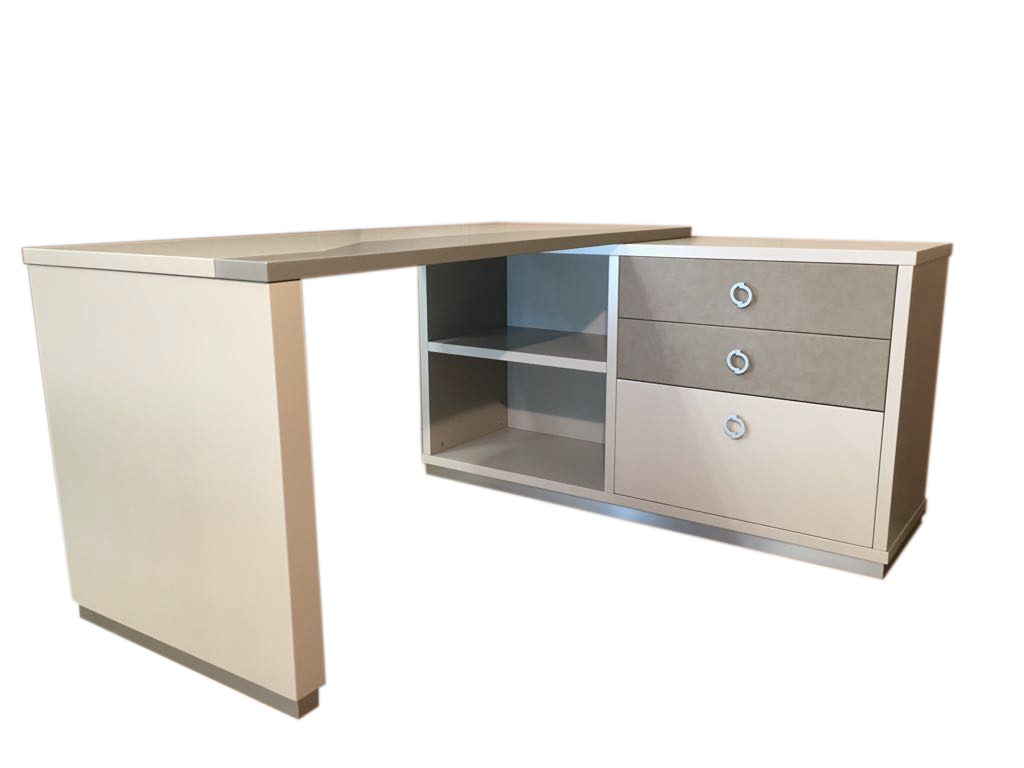 The geometric design of the top has the ergonomic function of a desk pad and can be used as an element of personalization. You can in fact have lacquered finishes with contrasting colors or ton-sur-ton ones, as in this solution that combines RAL 1019 with RAL 7006 together with the faux leather upholstery of the drawers and the swivel armchair with wheels.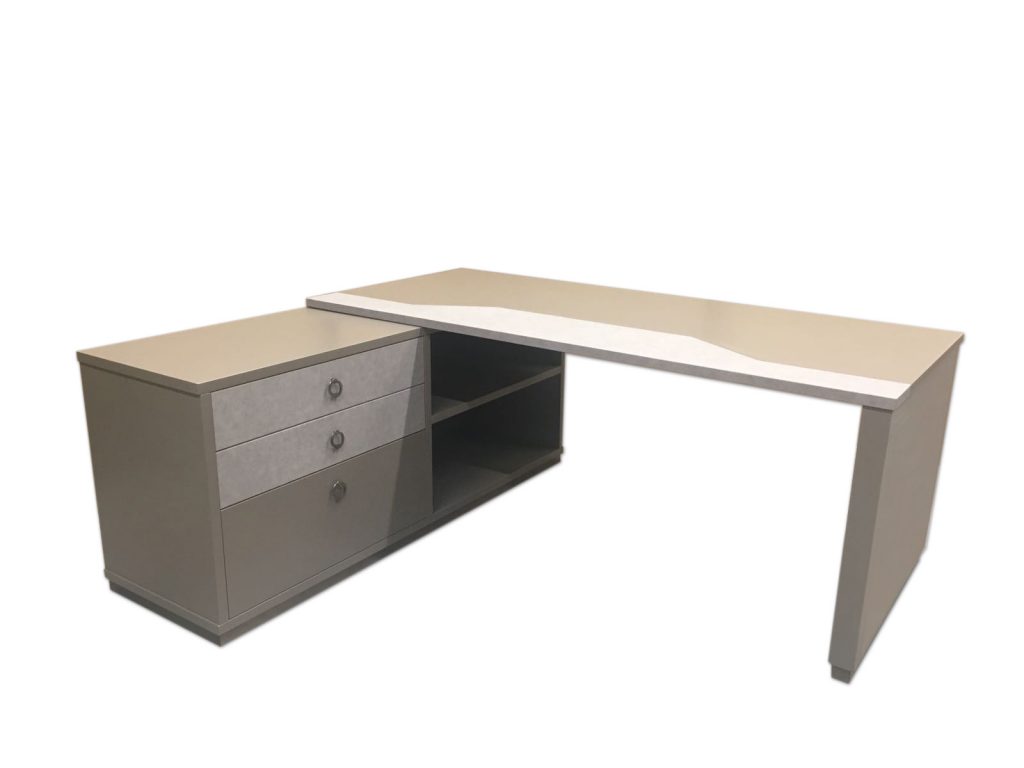 For a more refined effect you can opt for a multi-material finish of the top: RAL lacquering with matt effect and stain-proof eco-leather. In this creation, for example, we have chosen bases and handles with burnished steel effect.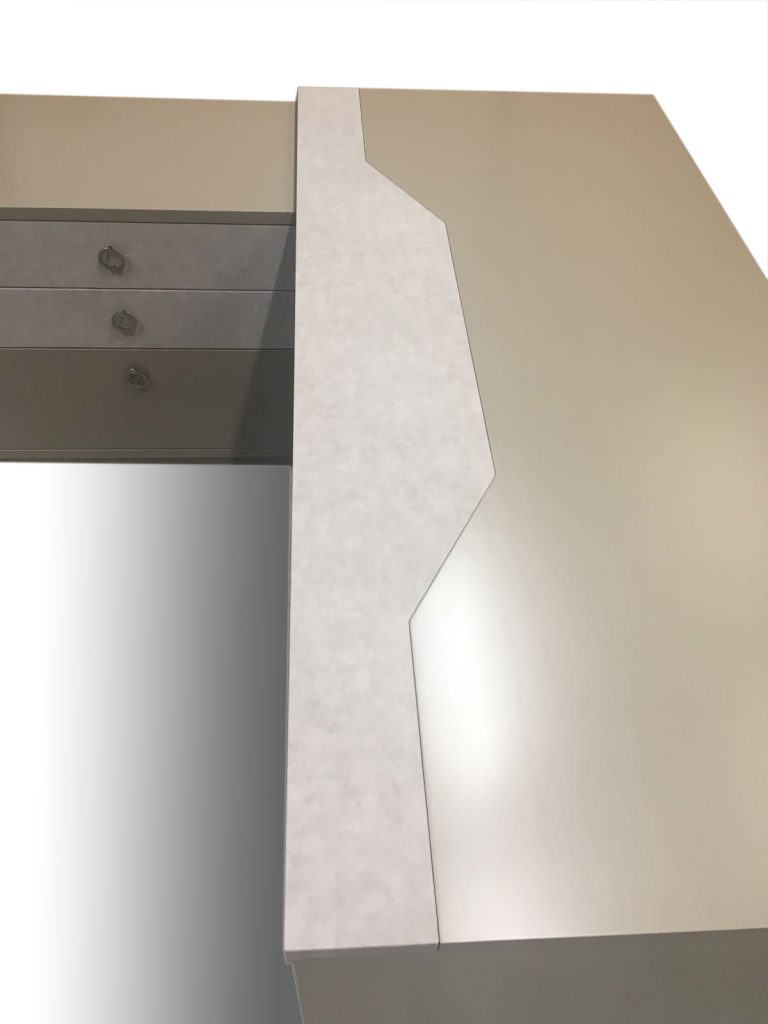 The touch of charm? Soft nubuck lining for the top and Petra marble effect decoration for the side.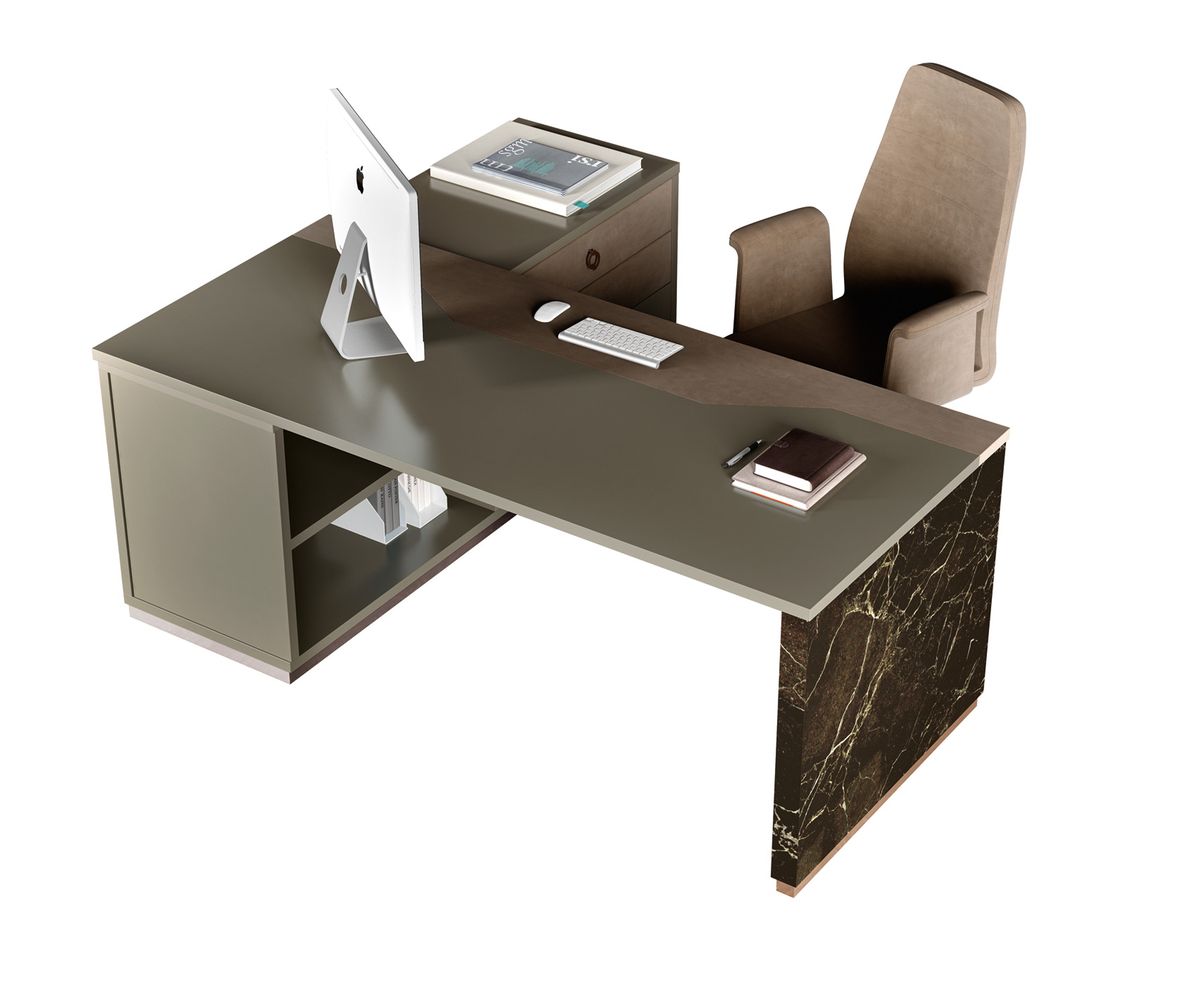 Modular bookcase for contract projects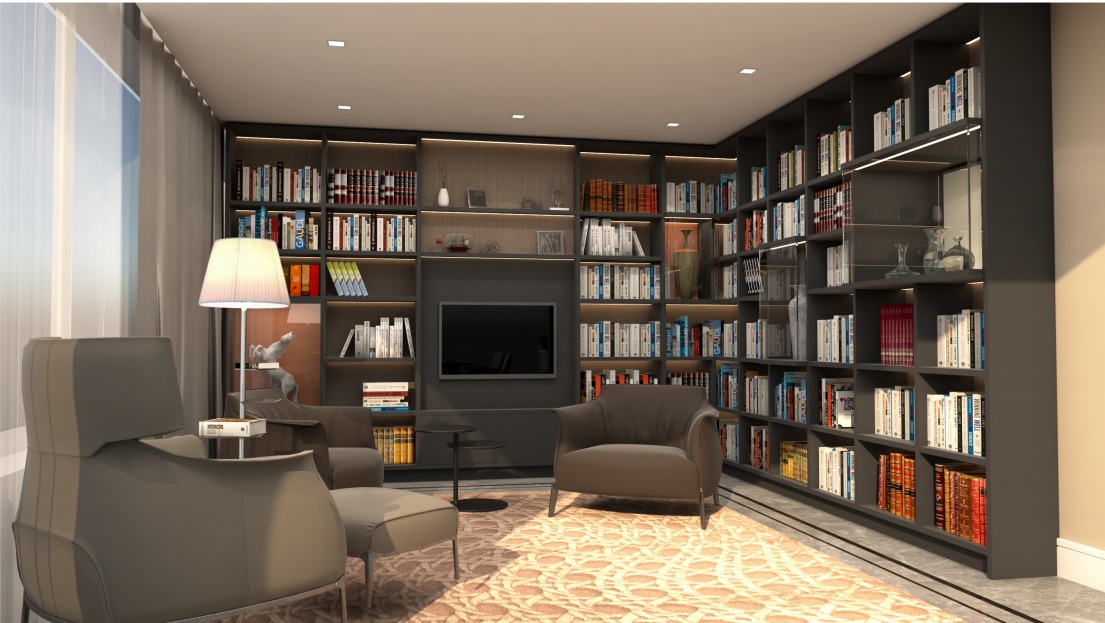 Mondrian is a program of modular bookcases composed of open compartments and doors with a push-pull opening system, where the apparent simplicity of the geometries is the frame of a blockboard structure made in solid 30 mm, a composite wood that guarantees a high structural resistance to the furniture. All the modules can also be customized and made for any desired height, as in this corner wall-mounted composition designed for a lounge suite in a boutique hotel: the back of the cabinet was made of Iceberg ash burl to create a strong contrast with the intense Nero Segnale lacquered finish; each module has also been fitted with a LED lighting system and have compartments with glass doors.
Concept by Caroti is a contemporary furniture system for the living and sleeping areas that can be customized in over 1,000 different style configurations. Industrial, vintage, monochromatic, natural chic: the creativity of designers can express freely.
Experience new moods combining solid wood, RAL lacquers, leather, fabrics, steel, crystal and marble for a unique and original styling.