#Imcozyhere – The discreet conviviality of a cocktail cabinet at home
Why create a bar corner at home – To make your house more comfortable and welcoming, create a more relaxed atmosphere, give your living room a more sophisticated and original air. Creating a pleasing and functional area inside your house, dedicated to those who like to converse in front of a good cocktail or a glass of vintage wine, is no longer something exclusive. Just choose an area to locate a cabinet which can contain what you need and place some comfortable sofas to facilitate conversation and relaxation. Receiving guests in an elegant and comfortable ambience is a timeless art.
How to choose the cocktail cabinet  – The range is wide: from a classical cabinet with elaborate details and finishes to a minimal design with simple and clean lines. Or else try a daring avant-garde design, or make a vintage choice: what matters is creating a comfortable and welcoming ambience which favours relaxation and conversation.
The simplest solution involves choosing a container cocktail cabinet which you can place in the living room or the sitting room to keep everything necessary: bottles, glasses, tasting instruments and tools for making cocktails. This solution allows you to save space and fits perfectly into the style of your home, leaving the sitting or living room a multifunctional area: you can open the cocktail cabinet only when guests come, the rest of the time it will be a free standing container. In our gallery you can see several solutions: discover all the ways to create a bar corner in your home.
A modern and contemporary cocktail cabinet  – The LIFT cocktail cabinet of the Concept collection by Caroti is a tall free installation container measuring cm 152 x 56 x h.148, with 4 leaves and steel base.  The interior is subdivided into 4 compartments with crystal shelves and drawers.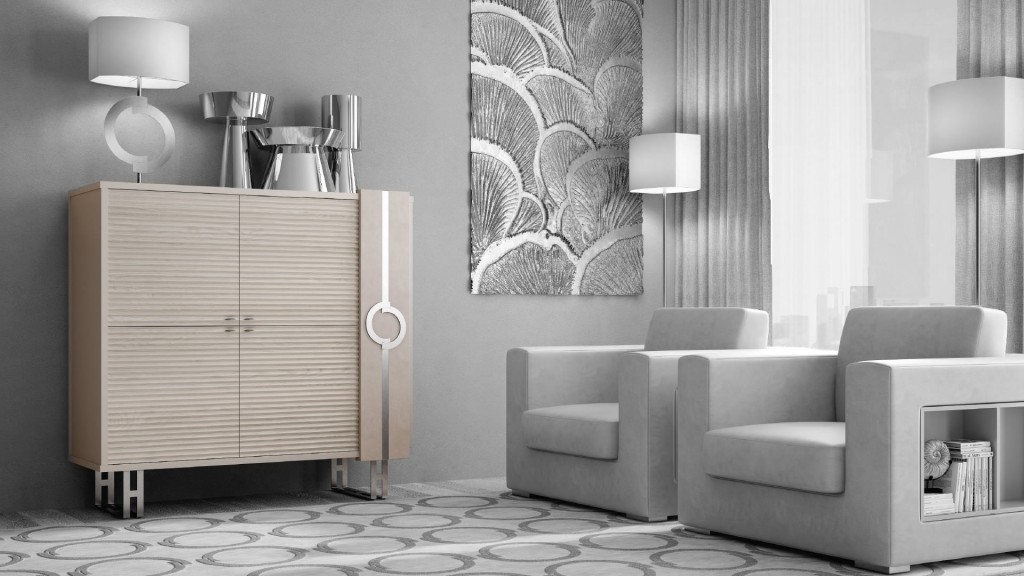 To make the cocktail cabinet fit into the style of your living room or sitting room, you can customise the mix of materials with finishes of your choice: from solid ash, smooth or notched lacquered in every RAL colour, from coating of the leaf available in leather, eco-leather and nabuk to the steel of the accessories available with satin chrome and bronzed finish. Just let your imagination run free and the bar corner in your house will take on a different style: elegant, sophisticated, avant-garde, vintage, delicate, minimal.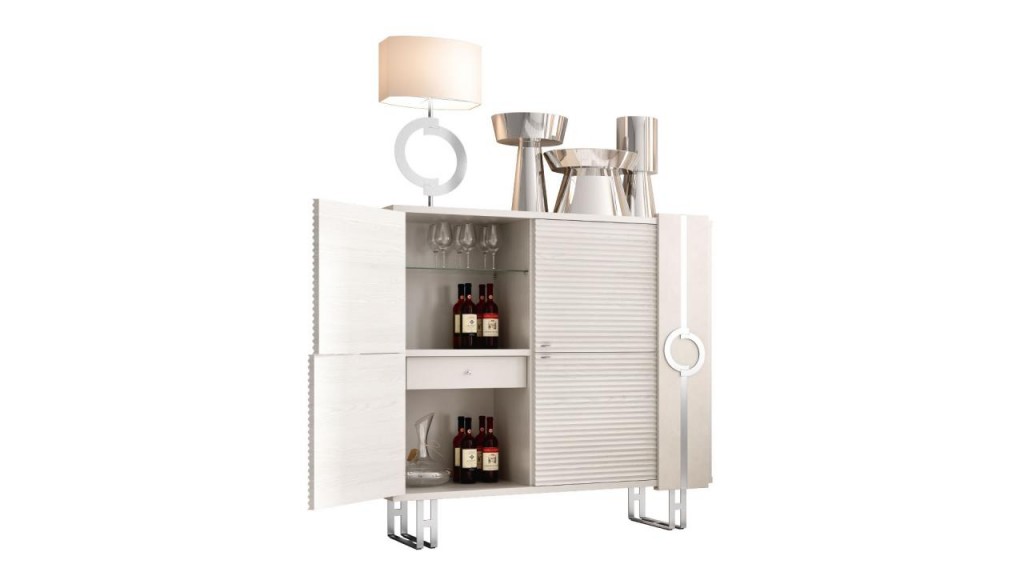 Contact us for more information.
Vintage style cabinet bar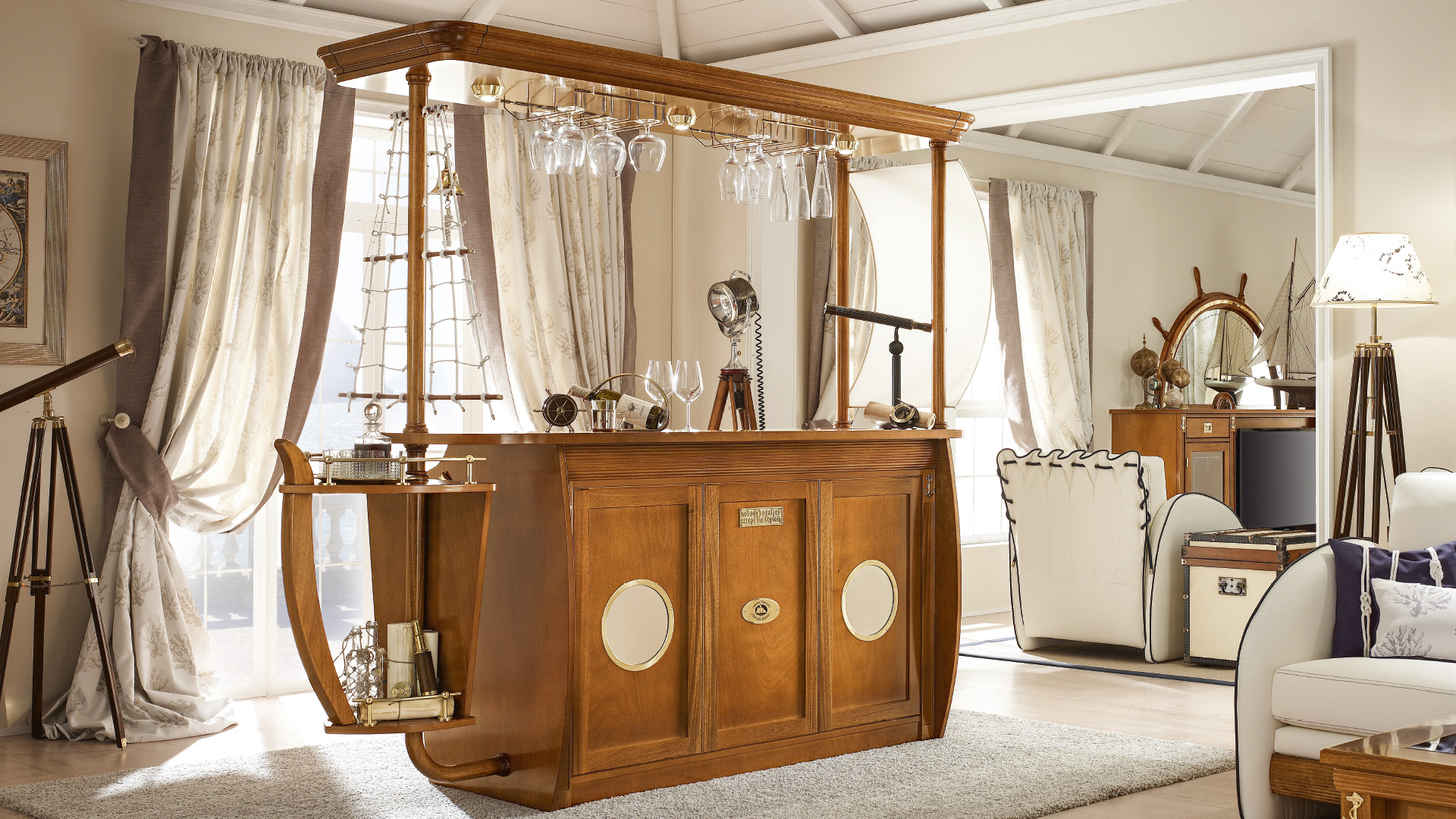 The bar counter Caravella embodies the hospitality and the convivial spirit without forgetting comfort and convenience: the elevated service area and  the spacious work surface are illuminated by built in spotlights, there are also many cabinet spaces,  such as sliding doors, drawers and a hanging glass rack.
In addition, the bar counter is equipped with a series of brass accessories for service, like a bottle opener and various hooks , useful for hanging things.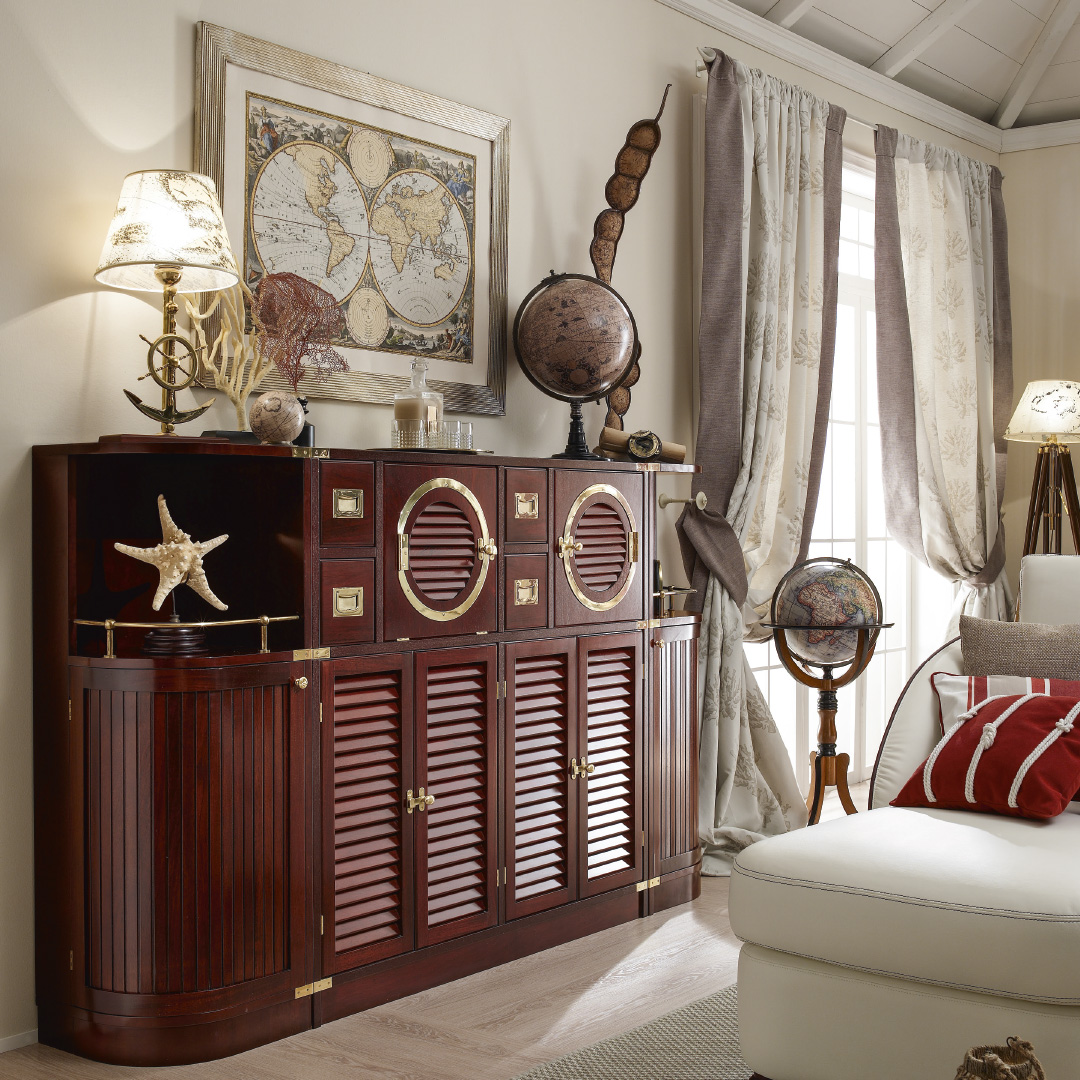 The bar counter  Paradise (210 cm x 38 x h123) has a large capacity, while  its portholes, Persian manufacturing (only assembled by hand) and the captivating and warm classic mahogany  take us on board  the exclusive ocean liners that over a century ago sailed the majestic oceans.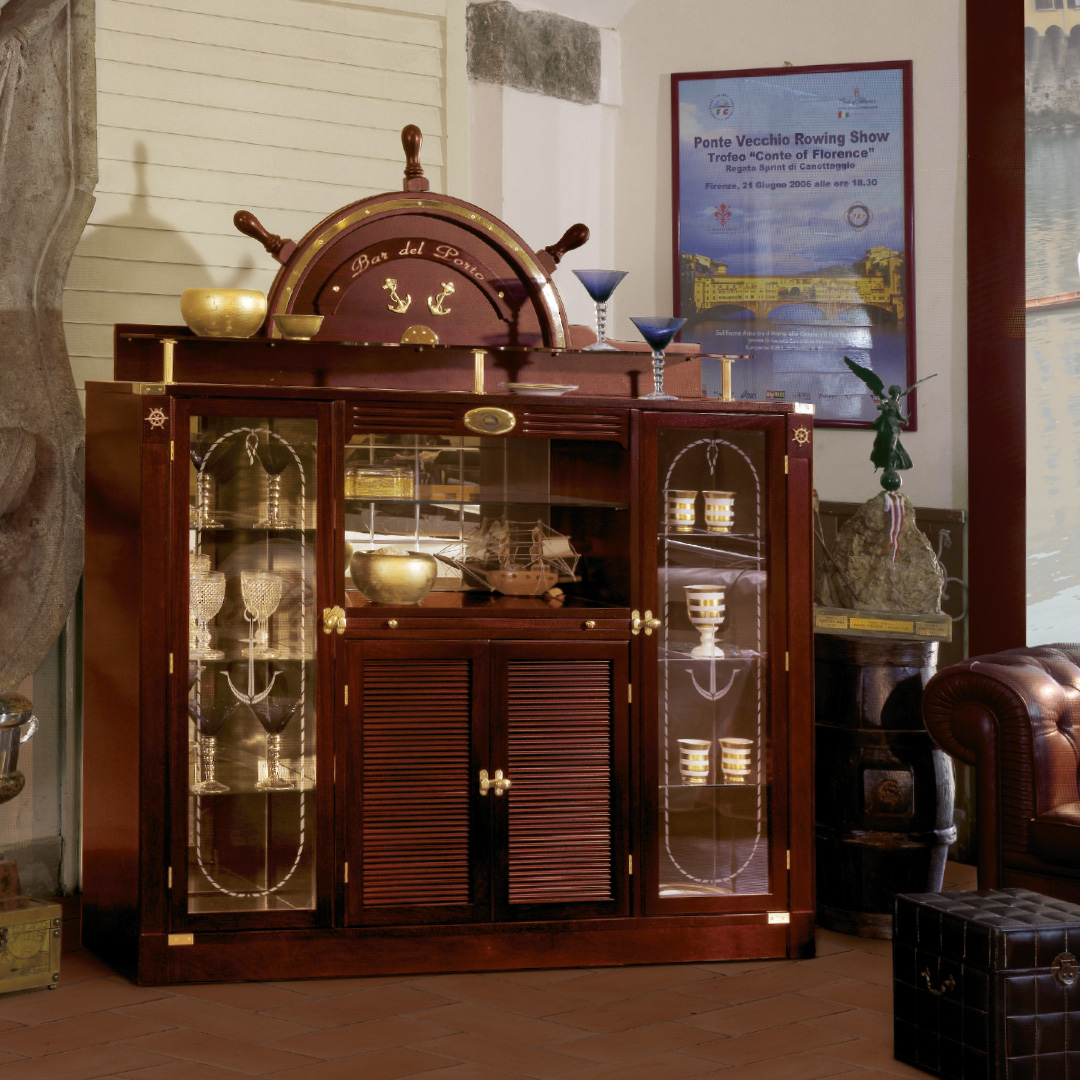 The Port Bar, with its small size – 156 x 38 x H185 cm – and details in chromed brass, revives the marine style in the living room of every house, making it unique. The bar cabinet has shelves, cabinets, 2 showcases and an extractable counter top in sandblasted glass with a  Cordage décor.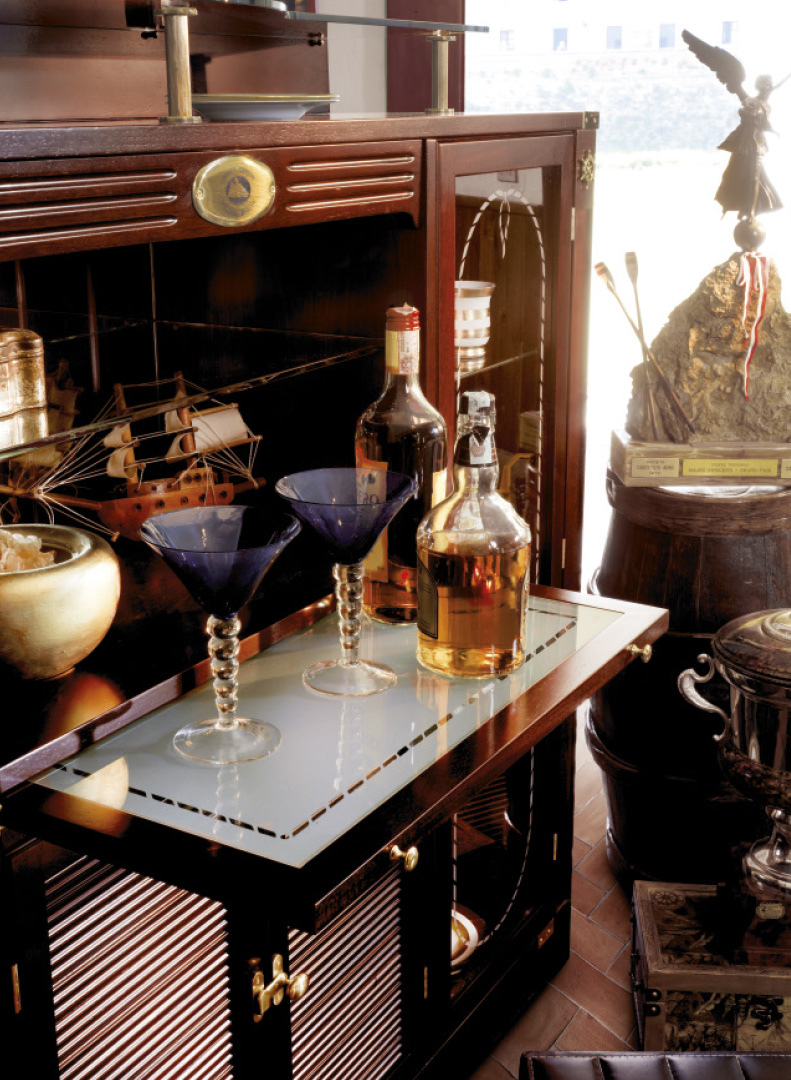 Contact us for more information.