I used to see him leave very early in the morning, and come back for dinnertime with his load of freshly caught fish, which he would sell in the town.
Often, late in the afternoon, he used to untether his boat from the pier of the little port and simply go out to sea all alone, following the wind with his single sail.
It was Antonio, the fisherman. Everybody in the village looked a little askance at him, since he was a taciturn and solitary man. Rumour had it that when he was a young man, he had sailed every sea of the world, and had even been a pirate… I was always curious to know whether it was true.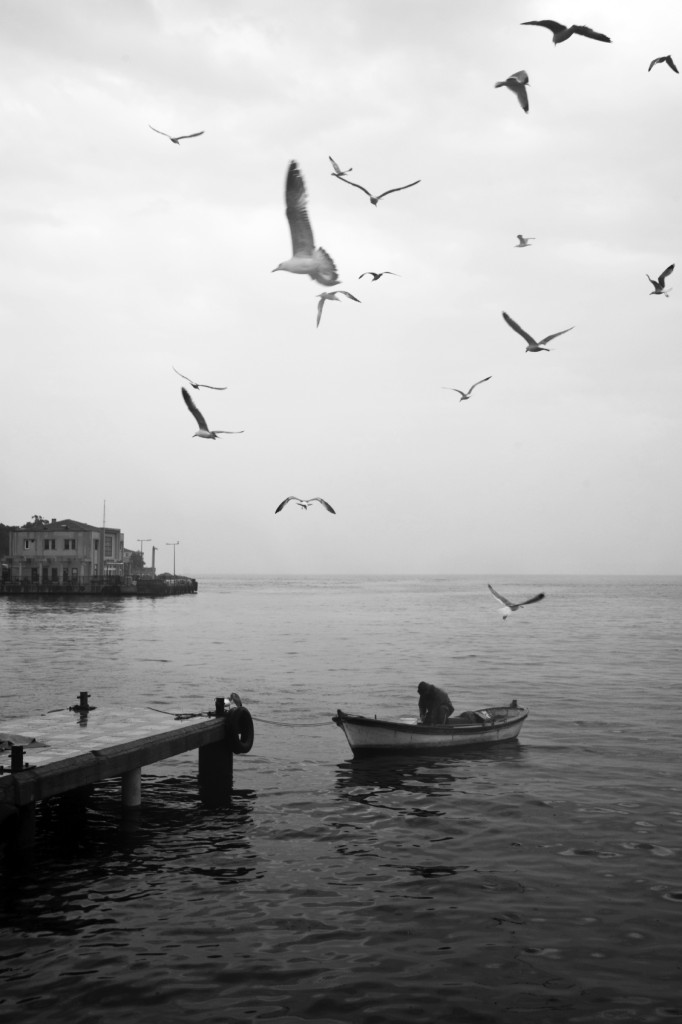 One evening, late in summer, I took a stroll to the port. Not many people were around, since the southwest wind had started to blow and the weather was getting worse. The only person sitting on the bench facing the pier was Antonio, the fisherman. I decided the time had come to start asking a few questions, so I came up to him.
Actually, it was he who started talking. "Nothing is like it seems. Many think the sea is tranquil and monotonous. Actually, the sea is disquiet. The sea shows its true nature when it is driven by strong and impetuous winds, like this southwest wind."
"You have been to sea a lot, havent' you? You know it so well?"
"All my life. I know what one needs to know about the sea: it must be loved and respected."
"And what else?"
"I was born here, right in the house overlooking thie pier of this port. I went to sea on the first ocean liners leaving Italy for America. I sailed on the Atlantic so many times… back and forth…   back and forth… It was during these trips that I learned all I know about sailing on sea."
"I would like to go to sea too!"
"What do you know how to do?"
"I work wood, at the carpenter's shop in the village nearby. And I have the eyes of a lynx, nobody can manage to count as many sails on the horizon as I can!"
Antonio laughed, and so did I. Then he told me:
"A few days ago, I met an old friend of mine, who told me they are looking for people to go on ship at the port of Genoa. It will be months… you have to get to America… if you feel you are up to it".
I nodded.
The day after, I woke up very early, went to the carpenter's shop and told them I was leaving.
I collected the small amount of money due to me, and picked up some more selling off a few old items I had at home and did not need any more. I bought a one way train ticket to Genoa and some clothes. After lunch, I went down to the port to look for Antonio and say goodbye to him. He saw me from afar, waved his hand in greeting and when I came close to him, he said: "There is a nice wind calling me, I am going out to sail".
I asked whether I could go with him, because the next day I would be leaving.
Many years have gone by since that sunset which I saw in the middle of the sea, following the light northwest wind on the boat with Antonio. That is how we said goodbye to each other.